Hello,



I finally got around to dehydrating watermelon and cantaloupe last week. My end game was to see how they would rehydrate in a thermos, which is how I eat most of my dried fruits on the trail these days. If the results were good, I would rotate them into the afternoon fruit cocktail options.

Yesterday, I asked the readers of the BackpackingChef Facebook page if they were drying watermelon and how they liked it. Most liked it; some didn't:

"It's a very sweet piece of candy," "tastes like nectar," "like honey jerky," "tastes like cotton candy," "I don't like it rehydrated, too mushy," "sweet and chewy like candy," "love it," "bite size, sweet and flavorful morsels," "didn't enjoy it, it had a roasted flavor," "sweet and tender," "watermelon candy, "doesn't have a fresh watermelon taste, but oh so addicting," "didn't like it… tasted too "cooked," "a yummy snack," "wasn't my favorite… dehydrated to a taffy/jerky stage, too intense a watermelon flavor."

I agree with the consensus that dried watermelon tastes like chewy candy. When I let a piece dissolve in my mouth, the flavor reminded me of cotton candy.

When drying something new, I experiment with different methods to see how things work out. I sliced the watermelon both thick and thin, dried it with and without non-stick sheets, and varied the temperature between 135° F and 155° F.

Slicing it thin and drying it directly on mesh sheets without non-stick sheets at the higher temperature worked best.

The thin-cut watermelon pieces dried uniformly to a pliable, dry state. Thicker pieces took much longer to dry. The watermelon placed on non-stick sheets turned gooey. The higher temperature reduced drying time by about four hours. While this was the first time I ever dried fruit at a high temperature, it worked well for this juicy fruit.
Preparing Watermelon for Drying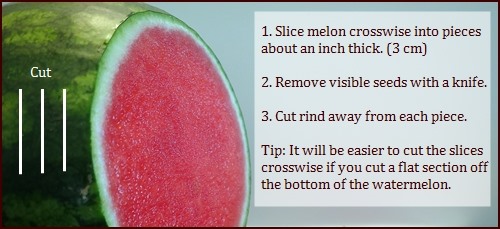 Wash the watermelon and then slice it crosswise into pieces about one inch to one-and-a-half inches thick. Tip: If you cut an initial slice off the bottom, that will help you make even cuts by keeping the watermelon from rolling around.

Knock off any visible seeds with a knife and then cut the rind away from the flesh.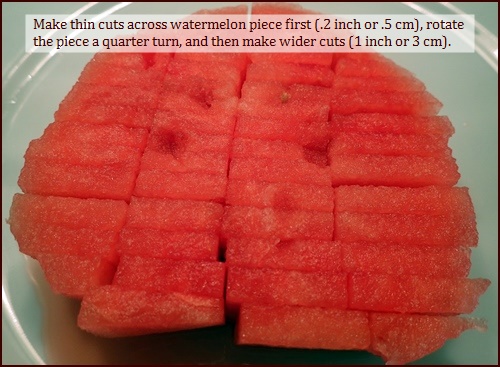 Make thin cuts all the way across your watermelon round, a quarter inch or less.

Rotate the watermelon round a quarter turn after you make the thin cuts and then make the wider cuts, about one inch.
Dehydrating Watermelon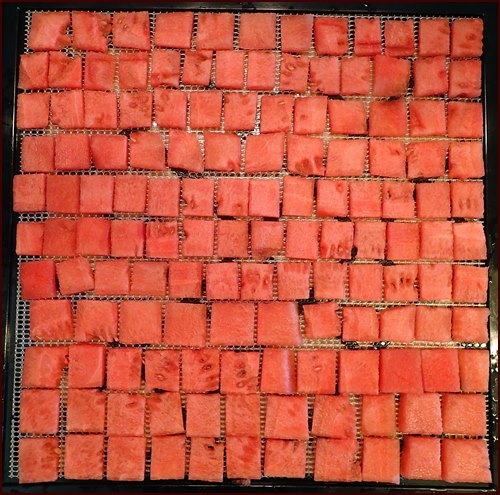 Place watermelon pieces directly on mesh dehydrator sheets. Tip: place a non-stick sheet in the bottom of the dehydrator to catch any drips.

Dehydrate at 135° F to 155° F, either temperature will work. The higher temperature may shave four hours off the drying time. Mine were dry after ten hours, but your drying time may be shorter or longer depending on variables such as humidity, watermelon juiciness and thickness of your cuts, quantity of watermelon in the dehydrator, dehydrator model, etc. At the lower temperature, expect the drying time to be in the range of twelve to fifteen hours. I would not attempt to dry watermelon in a dehydrator that does not have a fan. As I say on my Excalibur Dehydrator page, you will grow a beard waiting for the food to dry if the dehydrator doesn't have a fan.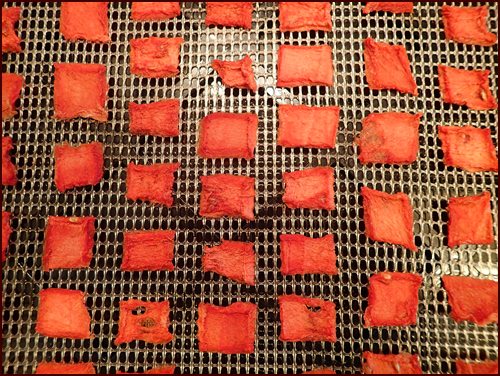 As you can see in the photo above, dried watermelon shrinks alot. The sugar in the fruit condenses, giving it that intense candy flavor.

My official taste-tester, Dominique, was ready for a sample. She's not a big watermelon eater, but she liked it, and took some to work with her. Dominique likes cantaloupe much more than watermelon, so I was not surprised that she liked the dried cantaloupe better. It tasted more like the original fruit, not like candy.

I dried the cantaloupe the same way as the watermelon, except that I cut it into wedges before slicing it into thin pieces.

When drying watermelon and cantaloupe, the quality of the melon you start with makes a big difference. It's a mystery what's inside. We squeeze and sniff for a good one, but sometimes they are not as good as the last one we ate: not as sweet, a little mushy. If you dry melon that is overripe or tastes just so-so, the results will be so-so.
Cantaloupe or Watermelon Cocktails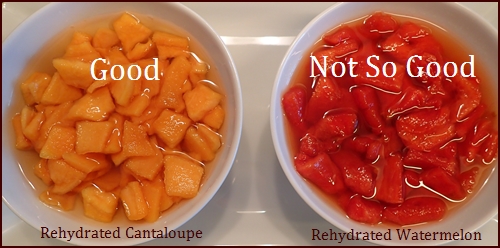 The next experiment was to see how well the cantaloupe and watermelon rehydrated in a thermos. Because I like to sip a little fruit juice with my afternoon fruit cocktail, I rehydrate with twice the amount of water required. For one serving, I combine a half cup of dried fruit with one cup of cold water and wait two hours.

Back to the taste-tester, Dominique:

Cantaloupe Cocktail – pretty good.

Watermelon Cocktail – awful.

How can I describe rehydrated watermelon? Its texture is like fillet of salamander, if one were to serve it sushi-style, fresh from the creek.

The cantaloupe cocktail was tasty. The fruit had a little crunch to it and the extra juice had a pleasant cantaloupe flavor.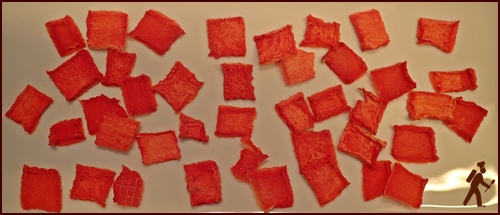 If you enjoy fresh cantaloupe and watermelon, you will probably like it dried. Dried cantaloupe tastes very close to the original, whereas dried watermelon turns into something more like candy. Before ascending that next mountain, a few pieces might be just the energy kick you need.

Watermelon dries a little sticky, but not as sticky as pineapple. Vacuum seal it or store it at home in an air-tight container. If it sits out, it will quickly absorb moisture from the air. It's ok to pack it in a Ziploc bag for a short backpacking trip. You will probably eat it pretty fast.
Trip to Brittany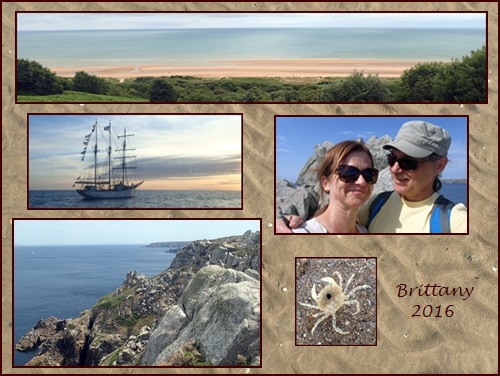 In July, we spent two weeks in Brittany, on the northwest coast of France. The first week we stayed in a restored rock farmhouse, and the second week we stayed in a restored rock fisherman's house. In this part of France, most homes are made of rock with slate roofs, many of them very old and rustic. Both houses we stayed in had exposed beams in the ceilings. As we saw in Normandy last year, parcels of land are divided by thick hedgerows. Homes are often clustered together behind rock walls, very close to narrow streets.

We visited several ancient cities, including Saint Malo, a walled, port city with origins dating back to the 1st century B.C. Built at the mouth of the Rance River facing the English Channel, Saint Malo's wall and cannons repelled many invaders over the centuries, until WWII. After the bombing, it was rebuilt.

One day, we took a ferry across the channel to the British island of Jersey. Another day we went back to visit the Normandy American Cemetery and Utah Beach.

Several days, we just walked… along rugged cliffs overlooking the sea, through coastal grasses and wildflowers, around aqua-colored bays filled with sailboats. We walked along sandy beaches, examining shells.

I took a dip in the ocean – a must when visiting the coast – and on the last day we ate mussels, oysters, clams, shrimp, snails, longostino lobsters, and a big crab at a seaside cafe. Truth be told, Dominique ate mussels – a specialty of this region – and I ate everything else.

Next month, I'll prepare food for an eight-day hike on the Appalachian Trail in Virginia and West Virginia. The September newsletter will detail the menu and food-drying activities. Until then…

Happy Trails,


Chef Glenn & Dominique

P.S. If you have any questions or comments about this issue of Trail Bytes, please reply to this email or use the contact form at BackpackingChef.com.

Click to purchase my backpacking cookbook, Recipes for Adventure. Thank you!

If you received this newsletter from a friend and would like to subscribe (it's free), subscribe here.

Visit my BackpackingChef Facebook page for the lastest posts.