Healthy, Hearty & Homemade Backpacking Recipes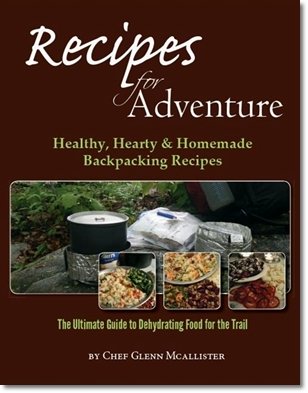 The Ultimate Guide to Dehydrating Food for the Trail

In Recipes for Adventure: Healthy, Hearty & Homemade Backpacking Recipes, I show you how to dehydrate a wide variety of healthy food and how to create backpacking meals for your next adventure. Homemade trail meals are easy to prepare and memorably delicious.
Step-by-step instructions with over 200 full-color photos.
Over 75 backpacking recipes for meals, snacks and desserts.
Create unlimited variations of the recipes by interchanging different meats and vegetables.
Dehydrate fruits, vegetables, meats, scrambled eggs and more.
Dehydrate potatoes, beans and corn into bark, my "secret" ingredient in flavorful and saucy backpacking meals.
Comfortably carry a week's worth of dried meals securely with well-organized food packing techniques.
Cook trail meals with nothing more than a small pot, stove and spoon.

Breakfasts
Scrambled Eggs with Ham & Cheese, Sweet Potato Bark Porridge, Pizza Grits and more…

Lunches
Fish & Chips Chowder, Ratatouille, BBQ Bean Bark Stew, Taco Mac & Cheese and more…

Dinners
Chicken Cacciatore, Beef & Bean Chili, Spicy Shrimp Chowder,  Mexican Beef & Rice, Kickin Veggie Mac & Cheese, Seafood Raminara, Unstuffed Peppers, Easy Cheesy Rice & Beans and more…

Sides
Peas & Carrots, Cheddar Mashed Potatoes, Fruit Cocktail, Mashed Sweet Potatoes and more…

Desserts
Banana-Mango Pudding, Rice Pudding, Pineapple Upside Down Cake and more…

Snacks
Dried Fruit, Sweet Potato Bark, Pumpkin Pie Bark, and more…
The e-book:
Purchase Recipes for Adventure as an e-book and you will immediately receive it as a PDF download. Save it so you can refer to it whenever you need it.

The e-book can be viewed on computers and mobile devices using the free Adobe Reader apps.

Photos are always on the left-hand pages and instructions and recipes are on the right-hand pages. Viewing it with two pages on the screen gives you the complete picture. Print out recipes as needed.

Navigate the e-book easily with the clickable Table of Contents.
Above: 2-page view of e-book on computer screen.

The Print Edition:
The Print Edition has the same content and color photos as the e-book.

The page size (8½ by 11) is twice the size of the e-book pages, so more content is printed on each page.

Colorful design elements define the sections.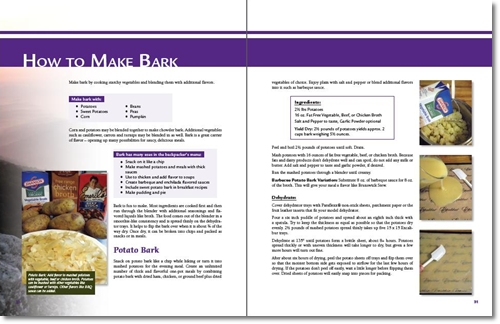 "I made the Root Bark Stew. AMAZING! I had no idea I could dehydrate this kind of stuff. "Wet" stuff. You opened my eyes to a whole new world." –DS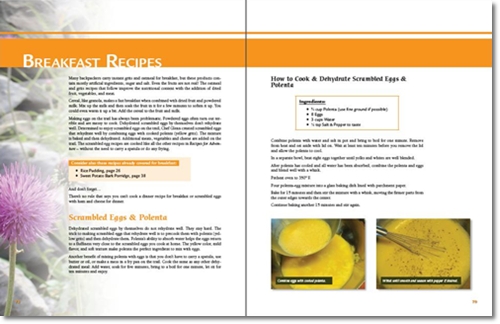 "I just started reading through Recipes for Adventure  and I LOVE IT! You've already answered so many questions for me, many that I didn't even know I had. Thanks so much for a great resource." –Katie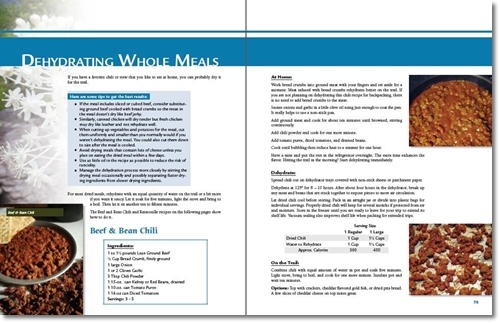 "Just a quick note, IT'S AWESOME! Looks great, worth the wait." –RP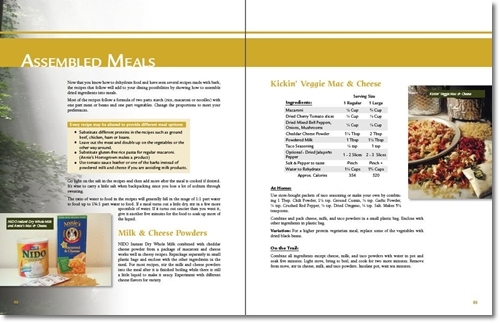 "This is fantastic! Thank you for all the hard work." –SC
View the Print Edition Table of Contents.
Purchase Recipes for Adventure

More Reader Comments:

"I just wanted to thank you again for your wonderful book. Your recipes and methods for making meals have become very popular amongst my kayaking and hiking friends. I have been asked to put together food for several trips and the requests keep coming in.  The book is easy to follow and the pictures always match what I make.  I recommend your book to everyone.  My absolute favorite meal is the ramen noodles and kraut.  I was just loading my Excalibur with a load of polenta eggs for my famous breakfast egg burritos and just had to "call" to say thanks." -Debbie

"I cannot thank you enough for assembling such a terrific volume of information! Your notes have already completely changed the way my husband and I camp and hike. Our new dream now is to experiment with long distance sailing so this information will be extremely useful for that activity as well.  The book is very complete, thoughtfully organized, and wonderfully detailed." –Kellie

"Just a big thank you for all the work you do to keep the vision going. I bought your book right away and it simply is the BEST food resource available for the backpacker and home cook for that matter.  I bought a motorcycle last September and the Son-In Law and I are going to spend a few days camping off the bikes this summer and definitely will take my dehydrated meals along." –Mark
"I've done some extensive camping in several states, Canada and South America, as well as canoeing the boundary waters. Preparing, storing and packing food is always a challenge. You have THE BEST tips, guides, recipes, etc, I've ever seen. My future trips will be significantly more enjoyable from now on because of what you've put out here. AWESOME job!" –Harold

Share this page with friends on social media.