Hello,



For the July newsletter, I blended and dried fruit to make fruit shakes on the trail. This month I experimented with blending and drying vegetables to make veggie shakes on the trail. My first attempt, which combined tomatoes, carrots, celery, and apple,turned out a little browner than I had hoped for.

It tasted good and had a thick texture, so I knew I was on the right track. I added pickled beets to the second batch and cut back on the celery. This gave me the red color I wanted and it tasted very similar to V8 Juice.
How to Make Veggie Shakes for the Trail
Ingredients:
1 lb. Tomatoes
1 lb. Carrots
⅓ lb. Celery (4 oz.)
1 Apple (approx. ½ lb. or 8 oz.), peeled
Juice of ½ a Lemon or Lime
1 Cup Sliced Pickled Beets
2 Tbsp. Pickled Beet Juice (from beets jar)
½ Cup Vegetable Juice (like V8)
2 Tbsp. Fresh Parsley
1 Tbsp. Fresh Basil
½ tsp. Salt
¼ tsp. Pepper
Blend:
Depending on the power of your blender, dice vegetables as necessary and blend to a smoothie-like consistency. I grated my carrots first since my blender in Switzerland is not as powerful as my Blendtec in the USA. To help the vegetables blend better, I blended the diced celery, grated carrots, and diced apple with the vegetable juice and beet juice first, then combined that with the other ingredients to finish blending.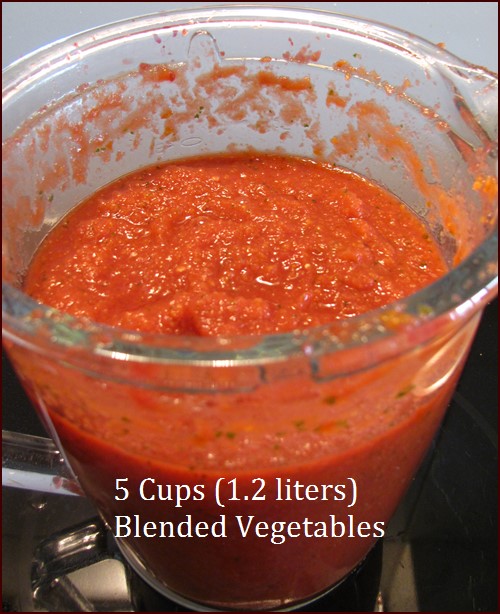 Dehydrate:
This recipe produced five cups of blended vegetables which was perfect to spread one cup on each of five Excalibur Dehydrator trays covered with non-stick sheets.
I dried the blended vegetables at 125° F for thirteen hours. The dried vegetables peeled off in small strips rather than a whole sheet like fruit leather. I tore the strips into smaller pieces and dried them for an additional two hours. Once the pieces where completely dry with no tackiness remaining, I crumbled them into even smaller pieces by rubbing them between my hands.

Yield: The dried yield of the recipe was 2⅓ cups which weighed 4.5 ounces (127 grams). This was enough to make nine veggie shake servings.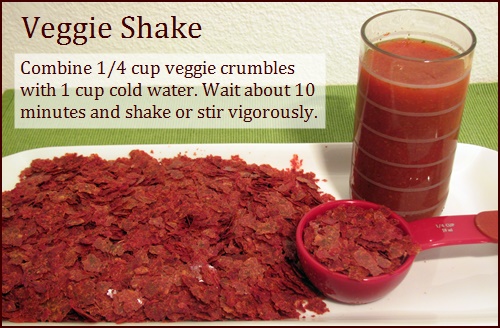 How to Make a Veggie Shake
Combine ¼ cup dried veggie crumbles with 1 cup cold water. Wait ten minutes and shake or stir vigorously. (Shaking is easier) I'll shake mine in my 24-ounce Thermos Food Jar, but any container with a lid will work. Your nutritious veggie shake will be thick like a smoothie and delicious.
Soup Option
For our backpacking trip in October, Dominique said she wants hot vegetable soup and not cold vegetable juice. This dried veggie mix makes a great soup base.
Vegetable Soup with Beans & Rice
2 Servings:
Ingredients:
½ Cup Dried Veggie Crumbles
¼ Cup Dried or Instant Rice
¼ Cup Dried Kidney Beans
¼ tsp. Salt & Pepper to Taste
3 Cups Boiling Water to Rehydrate
Combine all ingredients with 3 cups boiling water and let sit for fifteen minutes or more. Stir or shake. This quantity fits perfectly in a 24-ounce Thermos Food Jar.
Substitutions: I had dried rice and beans on hand, so that's what I used. Quinoa could also be used as a starch and any vegetables such as corn, spinach, broccoli, etc. Chicken would be good in there, too.
---
New Shared Recipes
I posted two new shared recipes on Wednesday. Robin shared her plant-based Mushroom Stroganoff recipe and Lindsey shared her simple ramen noodle recipe for Peanut Noodles.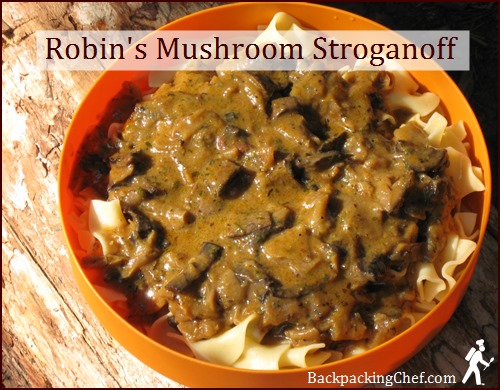 View the new shared backpacking recipes. Thank you Robin and Lindsey for sharing.

That's it for this month. I hope you enjoy a healthy veggie shake or soup on the trail. We're heading to Normandy, France on Saturday for a week of exploration. I'll share my impressions about Normandy and dissect a modern day military issued MRE (meal-ready-to-eat) in the September newsletter.

Happy Trails until then,


Chef Glenn & Dominique

P.S. If you have any questions or comments about this issue of Trail Bytes, please reply to this email or use the contact form at BackpackingChef.com.

If you received this newsletter from a friend and would like to subscribe (it's free), click here.

Visit my Facebook page for the lastest posts.