Share Your Best Backpacking Recipes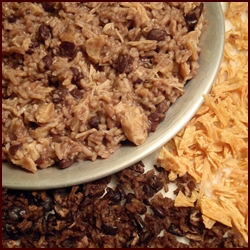 Share your best backpacking recipes with BackpackingChef.com readers.
I will publish your recipes and index them on this page with credit to you as my Guest Chef.
Share breakfast, lunch, supper, or dessert recipes. Let's see your best creations such as Squidbilly's Wife's Jamaican Jerk Chicken shown at right.
Thanks to everyone below for sharing your recipes. They look great!
---
---
Best Backpacking Recipes for Supper



New: Lentil Surprise Stew
No meat lentil stew. Can be cooked on the stove, but it's faster in an Instapot pressure cooker. Shared by Eric Payne.

Chicken, Rice, & Beans with Jamaican Jerk Seasoning & Coconut Milk. My hubby's favorite backpacking meal! Shared by Squidbilly's Wife.
Classic Italian Chicken Cacciatore over noodles. Shared by Chris Tarricone.
Chicken Carbonara is an Italian cream sauce based dish which includes pasta, pancetta(bacon), a creamy Alfredo sauce and chicken. Shared by RollingStone.
Chicken in a Penang tomato sauce served with rice. Shared by Tassie.
Uses the "squeeze bag" method to mix and pour the dumpling mix into the boiling water. Easy prep at home and on the trail. Shared by Scottpash.
Chicken, mushrooms, veggies, melted cheese with couscous. Shared by Tom.
A vegetarian option instead of using ground beef or turkey. Shared by Calla's Dad.
Thai Spicy Peanut Noodles with Chicken. Shared by Moof.
Thai Curry with Rice Noodles. Spicy and easy to make. Enjoy hot or cold. Shared by Cheryl.

Tom Ka Gai Rice & Chicken. A spicy Thai meal based on Tom Ka Gai soup with coconut ginger rice. Shared by RollingStone.
More Backpacking Recipes with Rice:

Southwest Beef & Rice. Uses an easy to dehydrate package of frozen Southwest vegetables. Shared by Moof.

Rice & Sausage Dinner. Summer sausage, a Knorr Rice Side, mushrooms and green onions go into this easy backpacking rice recipe. Shared by GreyWolf.
Pineapple-Ginger Rice. Easy rice recipe makes a tasty side or add ham to make a meal. Shared by Margo D.
Cajun Red Beans & Rice. Dehydrated red beans, ham and rice with Cajun seasoning. Shared by Poet.
A hearty Red Lentil Indian flavored meal. Zondra dries her Indian Dal into bark and serves it with vegetables and rice. Shared by Zondra Skertich.
Italian-style Pasta Sauce Recipes:
Pasta with Red Sauce & Meat. Made with tomato powder and spices. Shared by Moof.
Cheesy Vegetarian Spaghetti Sauce. A dehydrated vegetarian spaghetti sauce made with lots of cheese, meat substitutes, and spices. Shared by Lance "CreakyKnees" Delo.
Beef & Italian sausage in an Italian-style Bolognese sauce served over Penne pasta. Shared by Katherine Phillips.
SierraJud's White Bean Chili, Mr. Dog's Chili Corn, Tucson Damselfly's Gluten Free Chili with Quinoa, Cram's 4-Way Chili.
A wild game or lean beef stir fry meal cooked and dehydrated at home with quick prep on trail. Shared by Mephitus.
Dehydrated shredded beef and vegetables with rice noodles. Prepared on the trail in a cook-in bag. Shared by Tuscon Damselfly.
Moof's Beef Stroganoff. Home crafted sauce mix with just the right amount of spices. Scaled up for big appetites. Shared by Moof.
Lucky's Beef Stroganoff. A quick and delicious stroganoff meal with rice instead of noodles. Shared by Lucky.

A hearty vegetarian version of beef stroganoff. Shared by Robin.
Beefy trail tacos with salsa and cheese. Shared by Tracy Stewart.
Meatloaf & Rice
Make a meatloaf bark with rice. Shared by Chris Tarricone.
A hearty trail meal of Knockwurst sausage and cabbage. Shared by Chef Russ.
Shelly's Salmon Cakes, Paul's Spicy Salmon & Noodles, Heather's Smoked Salmon Chowder.
Clam Chowder. Shared by Shelley Lauzon.
Fettuccine Alfredo with Clams. Shared by Mephistus.

A classic succotash recipe with a little extra heat. Shared by Michael Pinkerton.
Spam, salsa, onions, cheddar cheese in tortillas wrapped in foil. Shared by Shelley Lauzon.
Skip's Instant Black Bean Soup, Justin's Stuffed Pepper Soup, Paul's Quick Backpack Chili, Leslie's Thai Pumpkin Carrot Soup, Chris' Chicken Soup and more.
Dawat's Foil Wrapped Veggie Dinner, Scott's Stick Bread. There's a form on this page to share campfire recipes and tips.
---
Backpacking Food Ideas for Lunch
You don't always need to pull out the pot and stove for a trail lunch, especially on shorter trips where perishable foods like bread and cheese will keep for a few days and overall backpacking food weight is not as big of a consideration.

If you have a favorite trail lunch idea to share, or to read some ideas already shared such as Erika's Curried Salmon Salad Sandwich, Longskirt's Turkey BBQ Sandwich, PasnThru's Beef & Bean Burritos, and Sloppy Joes by Chef Russ click here:
Backpacking Food Ideas for Lunch.
P.S. These recipes are great for dinner, too!

---
Best Backpacking Recipes for Breakfast



4-Ounce breakfast bars with 400 calories. One batch makes 30 servings. Shared by PasnThru.
A great collection of recipes that use fresh (heavy) ingredients and/or require a frying pan: John's Canadian Hash Browns, Heather's Salmon Scramble, Jim's Breakfast Burritos, Shelley's Flat Bread, Shelley's Applesauce Oatmeal Pancakes, Tony's Cinnamon Breakfast Bannock, Tory's Chocolate Chip Plopcake, Brian's Apple Crumble and Megan's Banana Crunch Breakfast.
---
Best Backpacking Recipes for Dessert



Easy to heat up, one-pot dessert with Graham crackers and brown sugar. Shared by Front Row.
Fruit Leather Recipes
Lots of fruity concoctions shared by readers. Turn fruit leather into fruit pudding with hot or cold water or eat it as a snack while hiking.

---
Let's see Your Best Backpacking Recipes
Thanks again to everyone who has shared their best backpacking recipes. They sound great!

Click here to share your best backpacking recipes.
---