Hello,



Dominique and I are heading out in the morning for a 5-day backpacking trip on the Appalachian Trail in Shenandoah National Park.

In addition to packing dried meals and fruit, we will carry a large assortment of snacks, a few bagels to go with breakfasts, tortillas and a block of cheese to go with lunches, and a bag of powdered drink mix with electrolytes. The extra goodies made our total food weight higher than usual, but we wanted to splurge a little. Total weight was just over fourteen pounds.

Below is the menu followed by a description of how I dried the food in four loads in my 9-tray Excalibur Dehydrator: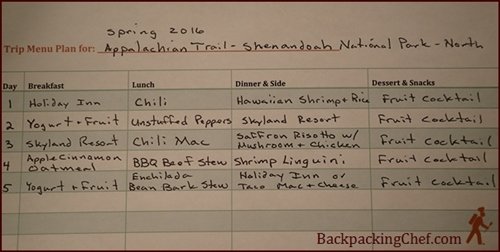 We will stay at Skyland Resort on the second night and will eat dinner and breakfast there. We probably won't need the dinner we are carrying for the last day since we will finish the hike that day, but it's good to have an extra meal, just in case.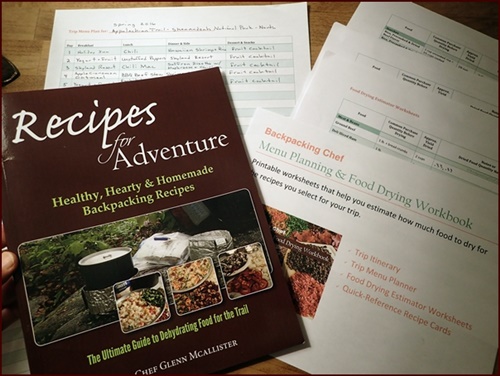 I selected recipes from Recipes for Adventure and used the workbook to figure how much of each food to dehydrate.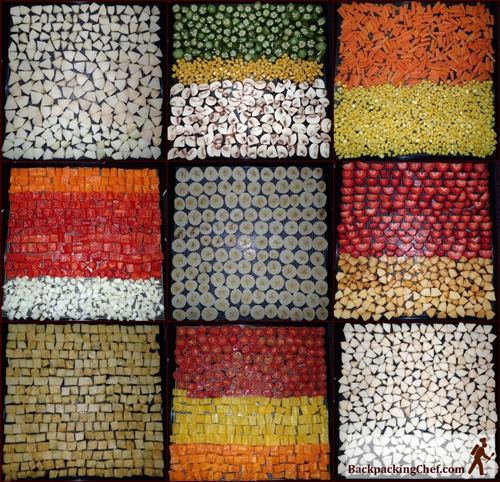 Load # 1 Fruit & Vegetables
I prepped the fruit and vegetables in the afternoon and dried it overnight. That took care of all the fruit and vegetables for the trip. Most of the fruit went into fruit cocktail mixes for our afternoon breaks. The rest went into breakfast meals packaged with yogurt or oatmeal.
Quantities Dried: 3 apples, 15 oz. frozen okra, steamed, 14.4 oz. frozen corn, steamed, 8 oz. mushrooms, 1 lb. carrots, steamed, 7 bell peppers, ½ sweet onion, 5 bananas, ¾ lb. strawberries, 2 peaches, ¾ whole pineapple, 1 pint cherry tomatoes, 3 pears.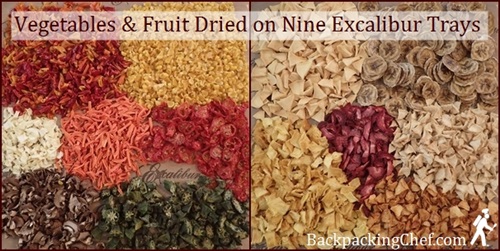 With the water gone, the vegetables weighed 11 ounces and the fruit weighed 15.6 ounces.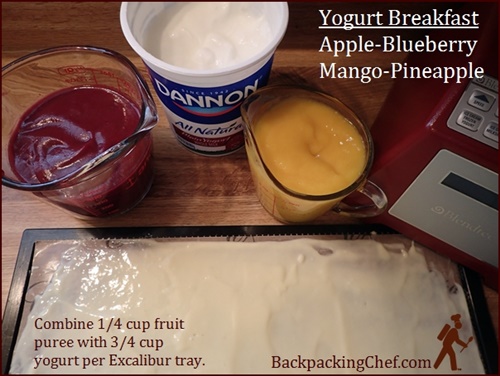 Load # 2 Yogurt
The yogurt took up eight Excalibur trays. I dried additional fruit pieces on the ninth tray.
A hearty serving size for a no-cook breakfast is two trays. Each tray yields approximately ½ cup yogurt bark. This load will provide two trail breakfasts for me and Dominique.
I cooked three apples and one cup of blueberries to make one puree. The other puree included one mango and one cup of pineapple, both uncooked. After we rehydrate the yogurt on the trail using the squeeze bag method, we will combine it with rehydrated fruit pieces and granola.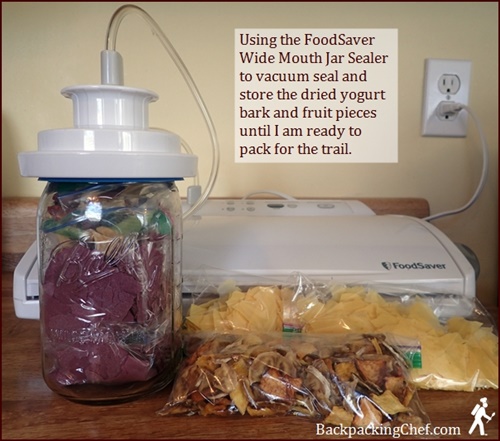 The yogurt stayed fresh vacuum sealed in wide-mouth jars until I was ready to bag it and seal it with our daily rations.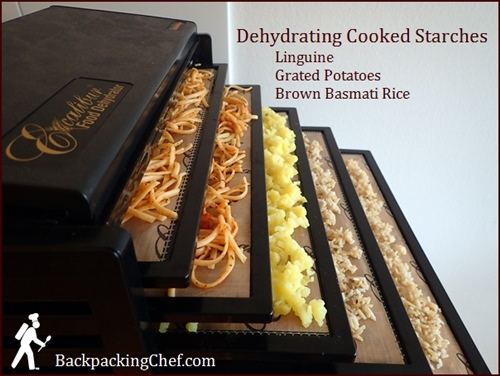 Load # 3 Starches
I cooked the rice in chicken and beef broth to be paired with the matching meat. For the saffron & mushroom risotto, I went ahead and added the chicken since that is a complete meal.
Even though I cut the recipe for BBQ Potato Bark in half, I still ended up with one tray more than I needed.
The elbow macaroni on one tray was from two boxes of Back to Nature Mac & Cheese. I boiled the macaroni for six minutes. It will be used in two meals: Chili Mac and Taco Mac & Cheese.
The linguini will be used in one meal: Shrimp Linguini. I boiled it for six minutes, cut it into smaller pieces and coated it with a little marinara sauce. Shrimp Linguini is a slight variation from my Seafood Raminara recipe, using the heftier linguini instead of ramen noodles.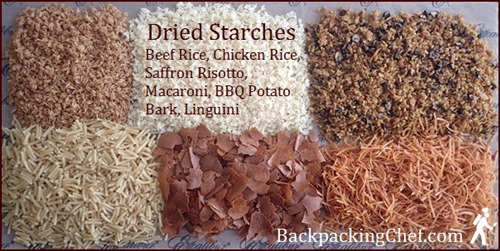 The precooked and dried starches will rehydrate well in the meals they are included in with minimal cooking on the trail.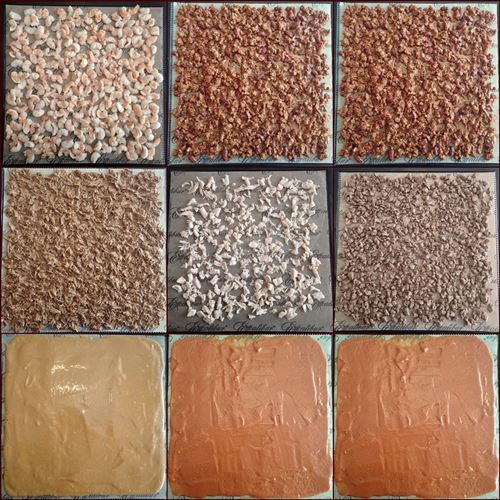 Load # 4 Meat & More
1 tray shrimp, 2 trays chili, 1 tray BBQ beef, 1 tray chicken, 1 tray ground beef, 1 tray enchilada bean bark, 2 trays marinara sauce.
Notice that the middle left tray with BBQ shredded beef was very full. I pulled it apart with my fingers and redistributed it twice while it was drying to ensure that it all dried completely. I did the same with the chili.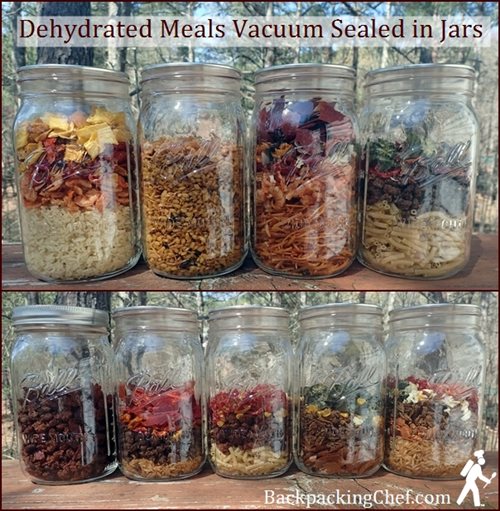 Dried Meals in Vacuum Sealed Jars
Since I had to wait a week after I finished drying the food for a few snack items to arrive from Switzerland, I vacuum sealed the meals in wide-mouth jars to keep them fresh. I vacuum sealed the meals in bags today.
Top: Dinners for Two
Hawaiian Shrimp & Rice, Saffron Risotto with Mushroom & Chicken, Shrimp Linguini, Taco Mac & Cheese
Bottom: Lunches for Two
Chili, Unstuffed Peppers, Chili Mac, BBQ Beef Stew, Enchilada Bean Bark Stew
Lunches will be prepared in one thermos, so the portions are smaller. We will supplement lunch with tortillas and cheese. I also doubled the portion of meat in the lunches.
Next month I'll have a trip report and will let you know how the shrimp linguine turned out. I tried a new method of seasoning the shrimp before I dried it that gave a wonderful boost to the flavor.
Happy Trails,

Chef Glenn & Dominique
Update
This hike is featured in my trail journal. Click the link to learn more about the book. 1001 Miles on the Appalachian Trail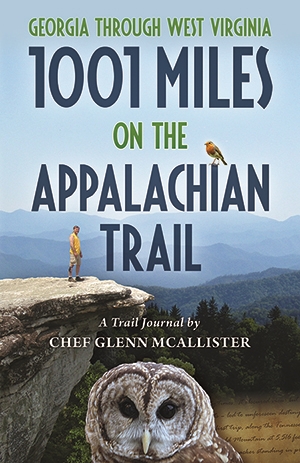 P.S. If you have any questions or comments about this issue of Trail Bytes, please reply to this email or use the contact form at BackpackingChef.com.

Click to purchase my backpacking cookbook, Recipes for Adventure. Thank you!

If you received this newsletter from a friend and would like to subscribe (it's free), subscribe here.

Visit my BackpackingChef Facebook page for the lastest posts.