1001 Miles on the Appalachian Trail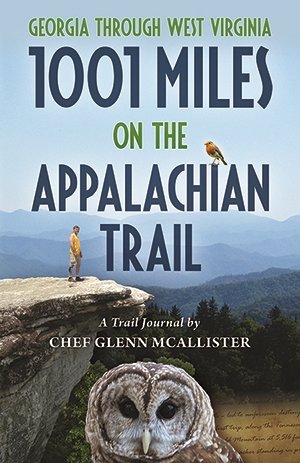 Download Chef Glenn's Appalachian Trail Journal for free with the purchase of any Recipes for Adventure book. Free Download.

Introduction
I walked 1001 miles on the Appalachian Trail, between Georgia and West Virginia, in seven hikes over seven years. The first night on the trail, I sat in a brown cinder block shed with Eddie from Easton—a man who ate, rather than drank, two spoonfuls of instant coffee for breakfast. From that night forward, I wrote down, with half a pencil, under the light of my headlamp, what I remembered from each day. The trail never shorted me details.
Fire attracted me—whether it waved inside a circle of rocks or blazed the sky. At Wesser Bald Fire Tower, I watched the sun set over the Nantahala Forest. Fire colors fanned brightly across the mountains, then dimmed like campfire embers as the sky darkened and filled with stars. My soul peered out my eyes and saw eternity.
Sunrise at Dragon's Tooth, Appalachian Trail in Virginia

Another time, at sunrise, I sat on a boulder with four early risers at Dragon's Tooth. The orange glow touched our faces and awed us to silence. In those moments, looking to the horizon or circled around a campfire, we stoked a warm friendship.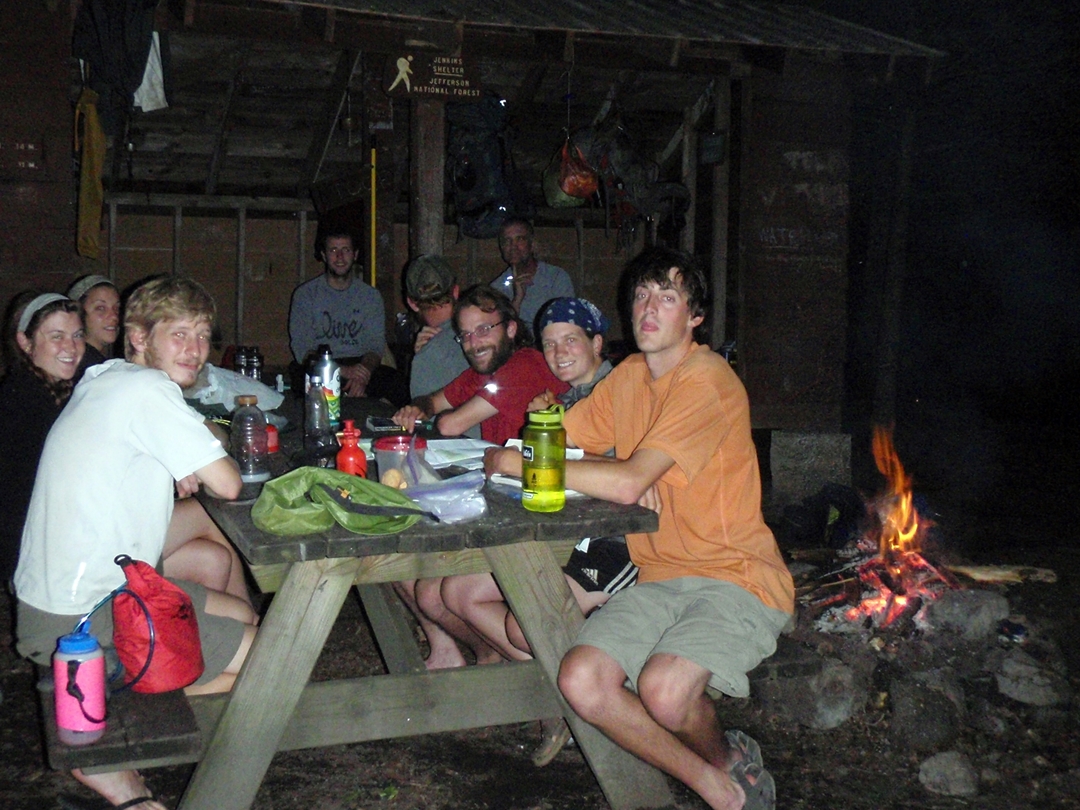 Thru-hikers staying up past "hiker midnight" in Virginia

Hikers typically went to sleep by 9:00 p.m., hiker midnight. If a fire was going, conversations sometimes stayed lively past 10:00 p.m. I stumbled onto a bachelor party that carried on past 1:00 a.m. Nights were not always quiet when hikers went to sleep. Campers could snore ferociously. I heard them snoring in tents thirty feet from mine. In shelters, three or four people sometimes snored synchronously. And then there were owls, which typically hooted early in the night. Once, I heard coyotes yapping far off in the dark. Near creeks or ponds, frogs pulsed the nights with chirps, peeps, and bellows.

I had a nice chat with "Big Country" on this log on the Appalachian Trail in Georgia.

I usually hiked alone, but I talked to people every day. In a quick reading of body language, I knew if a person coming down the trail wanted to chat. It didn't matter if the person was young or old, male or female—the trail lifts the usual barriers that keep us from talking to each other in supermarkets and subway trains. Hikers told great stories: like the young man who was bitten by a rattlesnake while crossing a road and sought help from the resident snake expert at Lowe's Home Improvement store, or Yogi the Kitten, who was rescued along a highway and carried all the way to Maine, or the bear-and-broccoli-soup incident.

Yogi the thru-hiking kitten on the trail in Virginia

At road crossings and hostels, trail angels appeared. They offered rides, cheeseburgers, and beds with clean sheets. Some people wielded pickaxes and shovels—the volunteers who build and maintain every inch of trail. How did they move and position those rock slabs into staircases? Why did they route the last mile over what resembled a blast zone?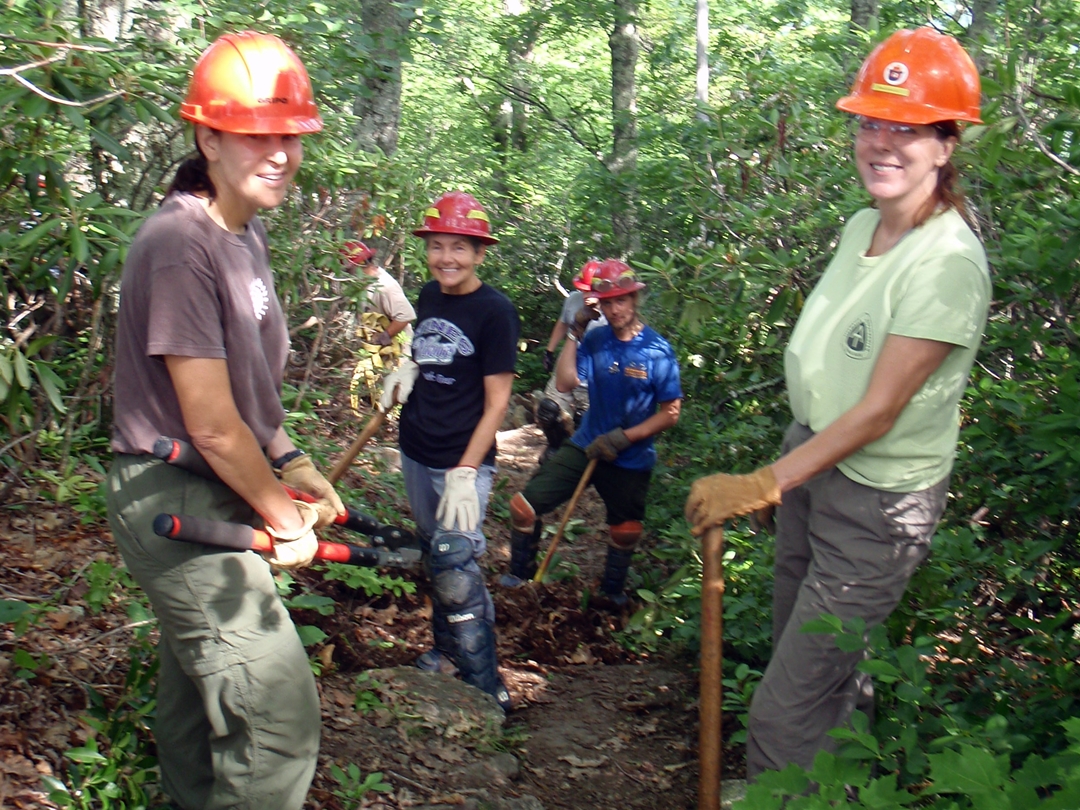 Members of the Tidewater Appalachian Trail Club doing trail maintenance in Virginia

Rocks. I mention them over two hundred times—not counting boulders. Tectonically shaped into points, deposited liberally where your feet must land, rocks are cold hard facts. When I groaned about sore feet one night, a seasoned thru-hiker quipped, "No pain, no rain, no Maine." His lack of sympathy reminded me of my father, who once said that eating horseradish would put hair on my chest—so I ate it. My sisters declined. Rain blesses the pages slightly less than two hundred times—from drizzle to downpour. I heard thunder more times than I saw lightning, but two close strikes were enough.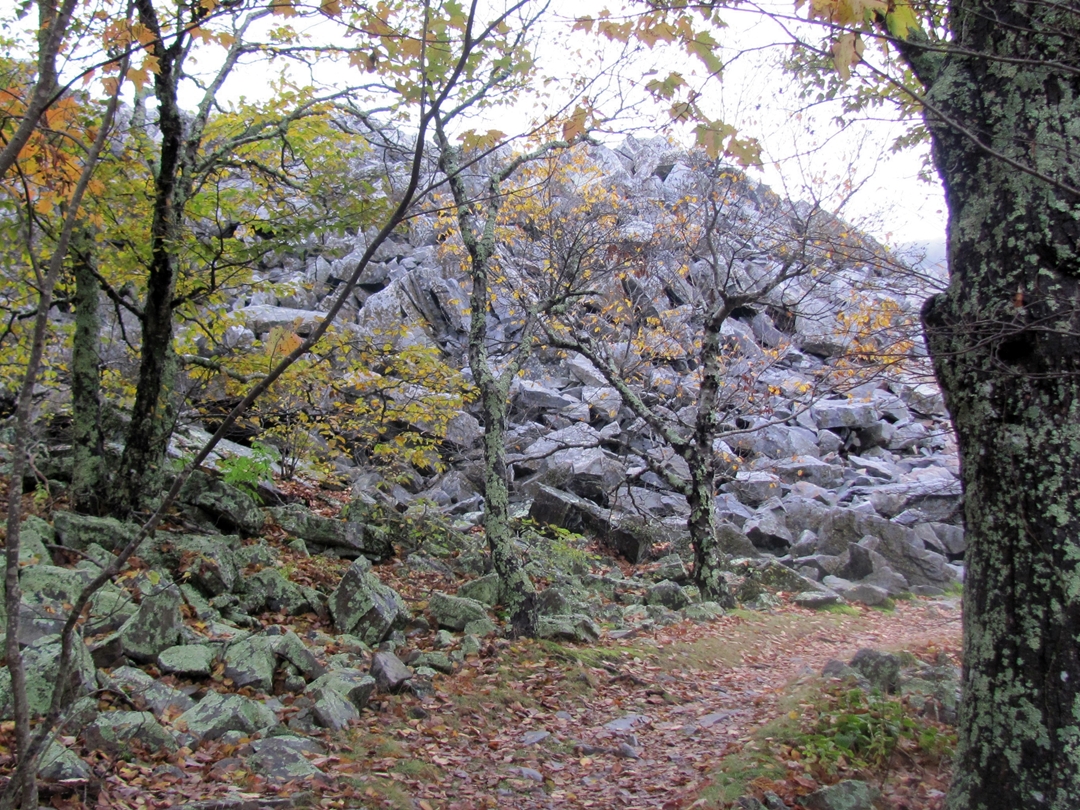 Blackrock Summit on the Appalachian Trail in Shenandoah National Park, Virginia

Fog settles onto the pages fifty times. It obscured views but mysteriously—if you believe in connecting dots—led to unforeseen destiny…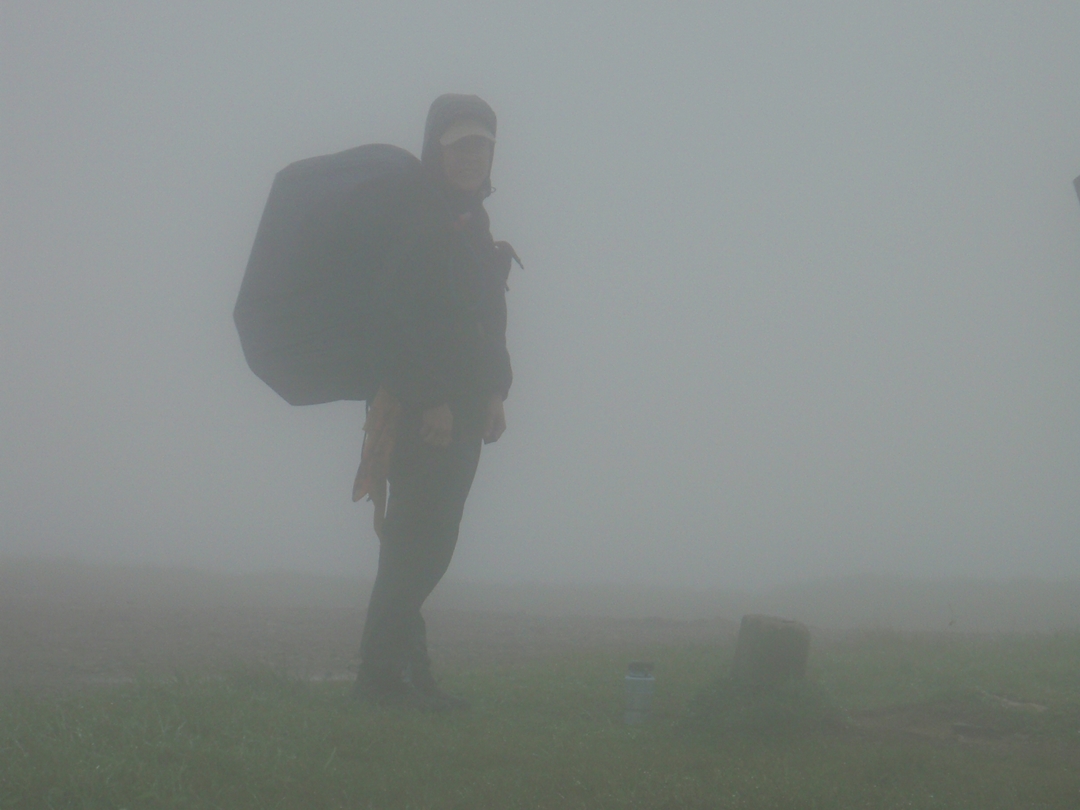 Kendra on Bald Mountain

On the fourteenth day of the first trip, along the Tennessee—North Carolina line, fog socked in Bald Mountain at 5,516 feet. At the summit, I saw the humpback shape of a backpacker standing in profile against the solid-gray background. Her name was Kendra, from Nashville. The contrast was so interesting that we took photos of each other. Kendra said she would send me an email when she finished her hike so we could exchange photos. Two weeks later, the email came.

She said she posted my photo on Facebook. I had no interest in social media, but, curious to see the photo, I signed up. Within days, I reconnected with all my friends from high school. Meanwhile, a Facebook user in Switzerland was looking for possible relatives in the United States who had the same last name as hers. She found some: a family of kids from my high school, distant relatives of hers, whom I had reconnected with after thirty-five years. Nine months after meeting Kendra in the fog, I received a message through Facebook that said, "Hello. Your activities sound great. I live in the middle of the nature far away in Switzerland. Have a nice day. Dominique." I married Dominique two years later and moved to Switzerland. Looking up at Matterhorn or down from Säntis, I was mesmerized by the snowy mountains. But it was the woman who moved me.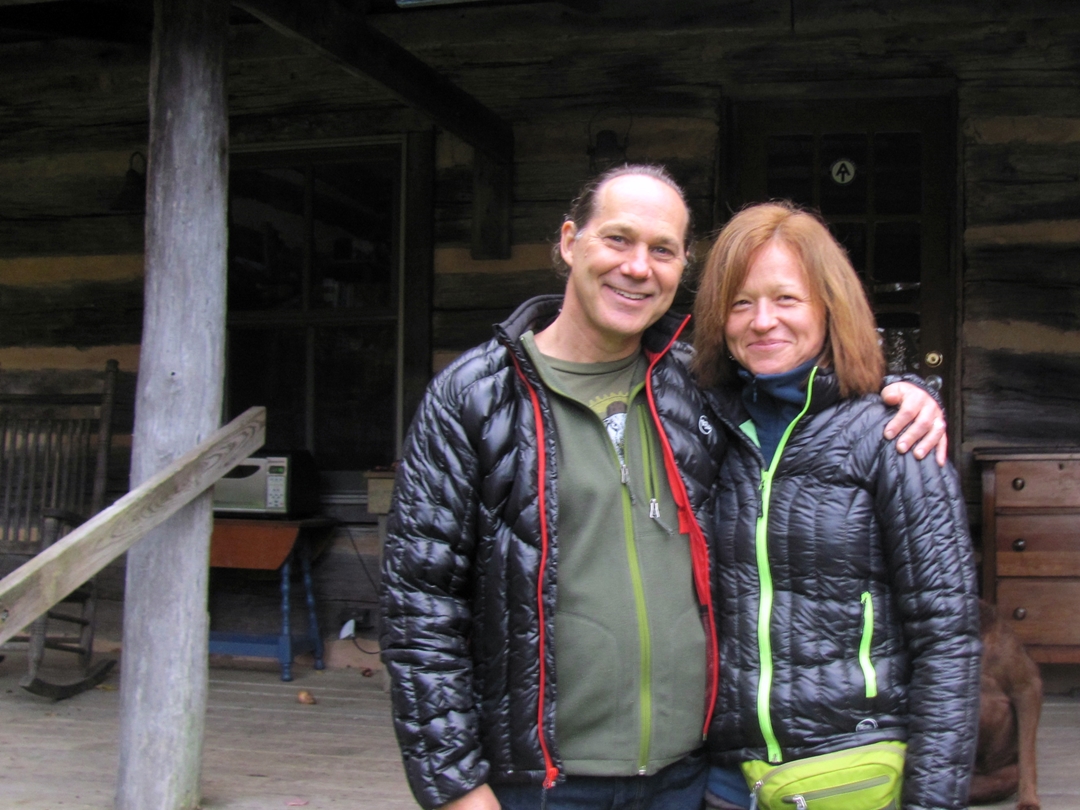 Chef Glenn & Dominique at Woods Hole Hostel, Appalachian Trail, Virginia

The first two hikes of the journal occurred before marriage. I started with a twenty-eight-day hike through Tennessee and North Carolina, over Hump and Little Hump Mountains, and through the Great Smoky Mountains National Park. The next hike was twenty-nine days through Southern Virginia, over the ridgetops of Tinker Cliffs, Angels Rest, McAfee Knob, and Dragon's Tooth.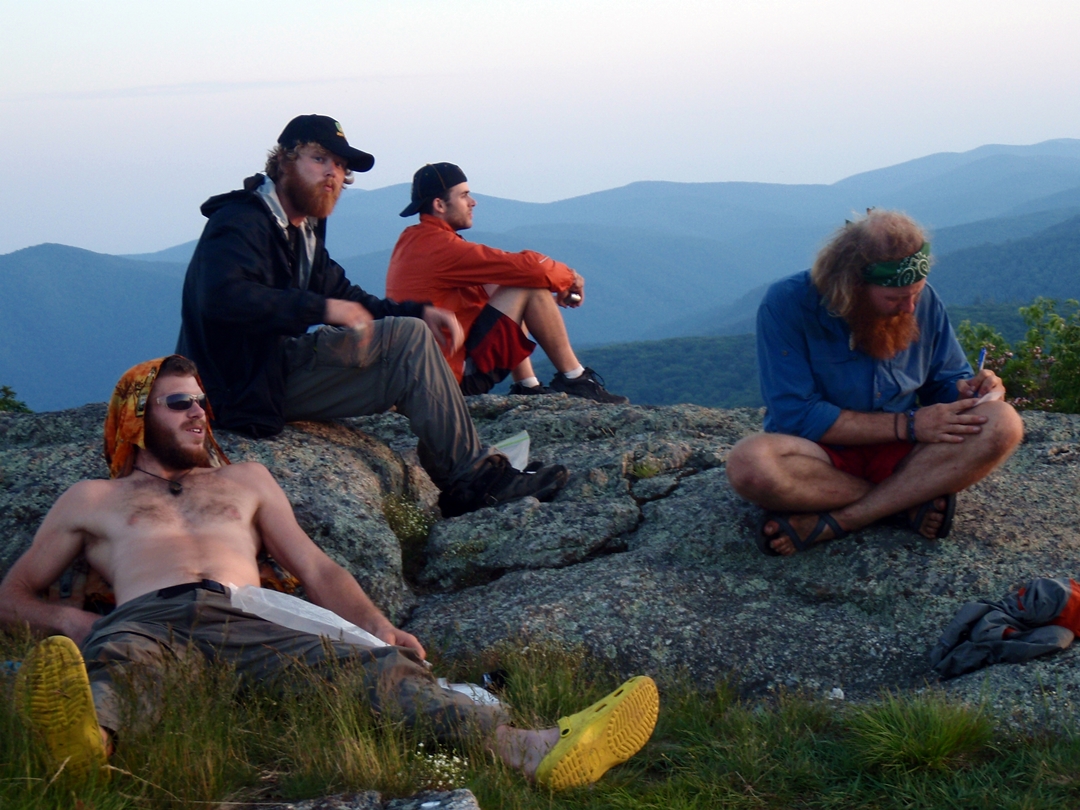 Thru-hikers waiting for the sunset at Spy Rock, Appalachian Trail, Virginia

After marriage, I hiked alone the first trip back, through my home state of Georgia. Dominique hiked with me the next trip in Shenandoah National Park. She loved the fog—"perfect weather for thinking." Next came the Nantahala Forest in North Carolina and then the other half of Shenandoah National Park with Dominique. The last hike took me from Shenandoah to Harpers Ferry, West Virginia, the "psychological halfway point" of the Appalachian Trail.

Scarlet Tanager just above me on the Appalachian Trail in Georgia

I didn't see all the scenery between Georgia and West Virginia. The forest stood unobserved for miles when I turned inward. I thought about family. Was I a good father? A good son? A good husband? I thought about work and money, even though I tried not to. I thought about God and soul. Bodily cues occupied me for miles: Am I tired, hungry, thirsty? What's that pain in my knee? Is that a blister forming on my heel? Thoughts persisted about those nuisances—time and distance: Will I reach the shelter before dark? How far to the next water source? Am I hiking too slowly? Will I hike seventeen miles today? What day is today? Then a deer would bolt, or a bird would whistle—and jolt me back to nature.

This deer nonchalantly stepped off the trail and went around me, late afternoon, Appalachian Trail in Great Smoky Mountains National Park, North Carolina

Deer didn't always run away, especially in the national parks. I was as happy to chat with them as with people, and their twitching ears almost suggested that they understood me. Bears didn't always run away either, but none ran toward me. I saw only a few but often sensed their presence, like a musky odor lingering on a sunny slope or the irrefutable evidence—a pile of scat in the middle of the trail. Bears occasionally visited me in dreams when I slept alone under a tarp, and they occupied my thoughts when I hiked in the dark.

As for the other critters, read on. They are waiting on the Appalachian Trail.
Read Chapter One
Low Gap, TN to Nantahala Outdoor Center, Wesser, NC, 315 miles, Southbound, 28 days. Read Chapter One

---
Buy any book (Recipes for Adventure I or II, The Menu Planning & Food Drying Workbook, or The Action Guide: Dehydrating 31 Meals) and download 1001 Miles on the Appalachian Trail for free.
Also available in paperback.

---
Appalachian Trail Photos

Click any image to start slide presentation.

View 500+ more photos of the Appalachian Trail from Georgia through West Virginia:

Appalachian Trail Photo Journal

"No matter the span of time or distance you tackle, the Appalachian Trail can change your life. It happens all the time. It happened to me." - Chef Glenn

Reviews:

"Reading 1001 Miles on the Appalachian Trail makes me want to do something adventurous." - Erin
"Received your book yesterday and just finished. Congratulations on such a wonderfully written book. It is a beautiful love story between you, Dominique, and nature." - Annette
"Hi Chef. I read your book about the trail and really enjoyed it. I hiked from Springer to the roller coaster in 2015 with your recipes. Thanks!" - Denis
"Glenn's eloquently written journal entries paint vivid pictures of the wildness of the AT, the fascinating variety of characters he met along the way, and the unexpected love story that unfolded between Georgia and West Virginia." - Lindsey
"I enjoyed reading of your encounters with the hikers and colorful personalities in towns and on the trail. You have a good insight into people, and you make the effort to bring out their best, so that little miracles can be manifested. It seems life, and hiking, is about relationships with ourselves and those we meet. I liked reading of  your relationships with the journey/trail." - Bernie
"I really enjoyed reading about your adventures on the Appalachian Trail and reading your recipes and techniques for dehydrating backpacking meals. My husband and I have RV and tent camped all our lives and have decided to take up backpacking as a way to grow closer and challenge ourselves. I feel like I know you personally after reading about your and Dominique's hikes and I just wanted to thank you for putting all of this really helpful information out there for new-comers to enjoy and learn from." -Emily
Free Download with any book purchase.

Share this page with friends on social media.