Hello,



Dominique and I had planned to eat shrimp linguine on the last night of our Shenandoah National Park backpacking trip in March, but we had to postpone the meal when the trip ended a day early due to the cold weather. Originally planned as a one-pot meal for two, I split the dried ingredients into two servings when we got home. We shared one serving for lunch during a day hike a week later and I prepared the other serving two weeks after that for lunch on an overnight backpacking trip. Both lunches were prepared in a Thermos Food Jar.

This issue of Trail Bytes shows how to dehydrate linguine and shrimp, and how to make Shrimp Linguine on the trail:

Dehydrating Linguine:

When I dried a load of starches for our backpacking trip (rice, macaroni, potato bark), I used one of the nine Excalibur trays for linguine.

Cook the linguine in 4 quarts of boiling water with a teaspoon of salt for 6 - 8 minutes. Break it into quarters before cooking or cut it into smaller pieces after cooking. You want it slightly undercooked for dehydrating since it will get additional cooking on the trail.

Drain, and stir in just enough marinara sauce to coat. This keeps the linguine from sticking together.

Dehydrate at 125° F until crispy dry. (approximately 5 – 6 hours). Pull it apart and re-spread it a couple of times while it is drying. It shrinks as it dries.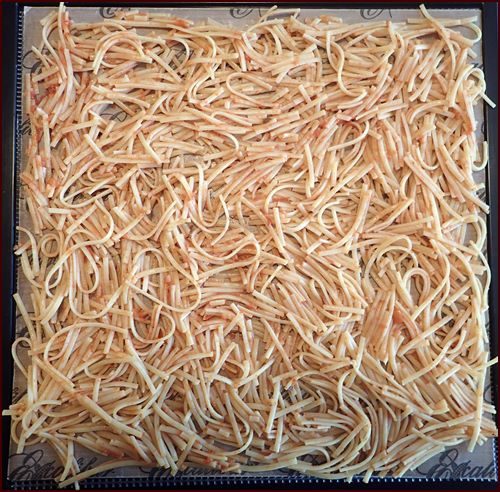 Dehydrating Shrimp:
This method of preparation adds extra seasoning to the shrimp.
Product –frozen, precooked, peel & eat, medium shrimp.
Thaw shrimp, remove tail coverings, and rinse. Cut shrimp as shown in photo below. This will maximize the surface area to come in contact with the seasoning.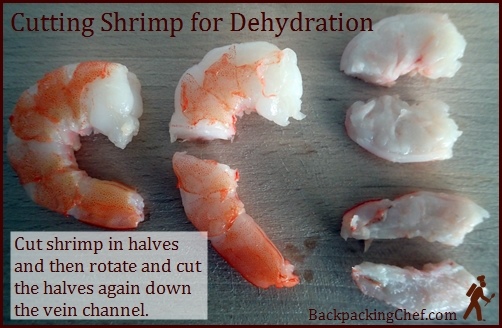 Season the Shrimp:
In a bowl, stir one teaspoon of Old Bay Seasoning (or similar seafood seasoning) into cut shrimp and set aside.
Mince one or two cloves of garlic. Add one teaspoon cooking oil to a small frying pan and lightly cook garlic on medium heat.
Add seasoned shrimp to pan and stir it around for a minute to take on the garlic flavor.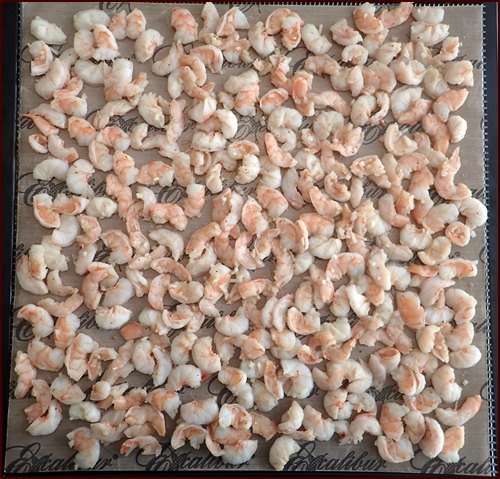 Dehydrate shrimp at 145° F until hard. (approximatly 5 – 6 hours) Break a piece in half and check to make sure there is no moisture inside.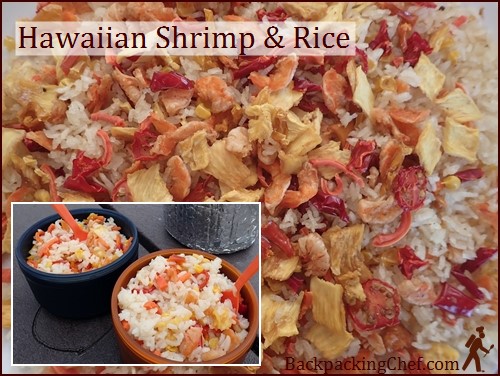 The photo above shows the dehydrated shrimp I used in a second meal: Hawaiian Shrimp & Rice. The recipe is in Recipes for Adventure.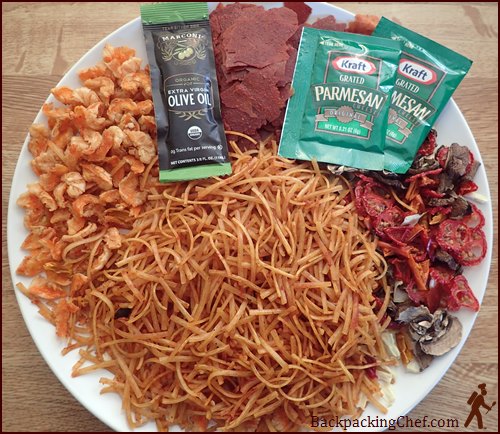 The photo above shows the dried ingredients for Shrimp Linguine. Visit the BackpackingChef website to learn how to dehydrate marinara sauce and how to dehydrate vegetables.

As you can see in the photo, we carried individual packets of parmesan cheese and olive oil to add to the meal on the trail.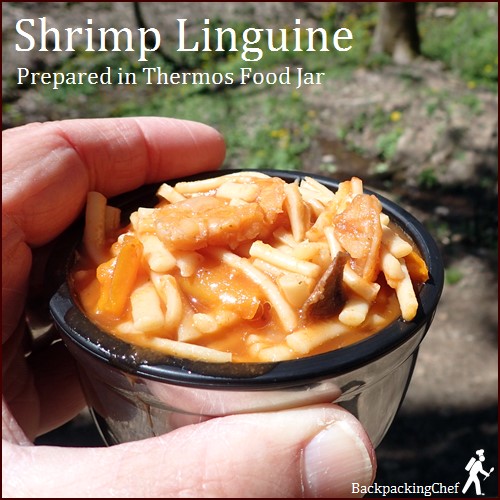 Shrimp Linguine:
1 Large Serving
Ingredients:
¾ Cup Dried Linguine
⅓ Cup Dried Shrimp
⅓ Cup Dried Vegetables (I used a combination of peppers, tomatoes, mushrooms, and onions)
⅓ Cup Dried Marinara Sauce Leather
Pack dried ingredients in a Ziploc bag along with optional packets of parmesan cheese and olive oil.

On the Trail:

Pot Cooking – Place dried ingredients in pot with 1½ cups water. Soak for five minutes, light stove, bring to a boil, turn off stove, and place pot in insulating cozy for ten minutes. Add parmesan cheese and olive oil (optional) after meal is rehydrated.

Thermos Food Jar Cooking – Place dried ingredients in thermos with 1¾ cups of boiled water. Wait at least twenty minutes. Note: I use the Thermos Food Jar (24 oz. capacity) to make hot lunches by adding boiled water in the morning. Add condiments when meal is served.

For more information about rehydrating dried meals in containers such as freezer bags and thermos food jars, see this page: Container Cooking

How was the Shrimp Linguine? Absolutely delicious.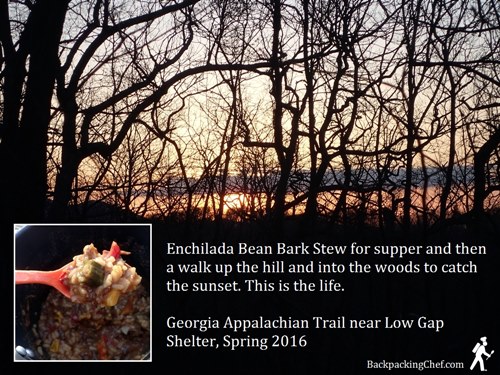 The photo above and the cover photo were taken in April on the Appalachian Trail in Georgia. I took a one-night, in-and-out hike from Hogpen Gap (GA 348) to Low Gap. It was wonderful seeing the swallowtail butterflies fluttering around and wildflowers blooming after the cold trip to Shenandoah. I tent-camped near Low Gap Shelter. By evening, over twenty tents or hammocks were in the area, plus people in the shelter. Several of the backpackers were heading to Maine; others were out for section hikes. Dominique and I are back in Switzerland. We wish you grand adventures and memorable meals wherever you are heading this summer.

Happy Trails,


Chef Glenn & Dominique

P.S. If you have any questions or comments about this issue of Trail Bytes, please reply to this email or use the contact form at BackpackingChef.com.

Click to purchase my backpacking cookbook, Recipes for Adventure. Thank you!

If you received this newsletter from a friend and would like to subscribe (it's free), subscribe here.

Visit my BackpackingChef Facebook page for the lastest posts.