Hello,



This month's newsletter and recipe are dedicated to my dad, Robert McAllister.

I remember vividly the moment my parents let me out at the University of Georgia, eight hundred miles from home. Ma's eyes were fixed on me, the youngest child and only boy. They pulled out of the dormitory parking lot in the station wagon, and poof, they were gone. I stood there at the curb alone, teetering between life as I had known it, and life as it would unfold.

Looking back forty years to those college days, which flew by in four fabulous years of football games and fraternity parties, I never dreamed that one day I would write about food – as a serious occupation. When I did crack a book, it was to learn the ins and outs of business administration. That was my father's path, too; his career at AT&T put me through college. As a bonus for good behavior – I was never expelled – he slipped a twenty into an envelope every week, with a short note concerning family news.

Writing about food inextricably brings me back to family. When I wrote about dehydrating peaches last month, I thought about the sweetest, Jersey-grown peaches you'll ever taste, and the peach pies my mother used to make. My sister carries on with the recipe. Ma's been gone twenty years now, but her love is still here, as are memories of Janice and me licking batter off the beaters that ma would hand us when she made brownies.

When I wrote about dehydrating tomatoes, I thought about my father showing me how to grow them – one scoop of peat moss, and one scoop of cow manure in each hole. We watered that garden every day, and we ate a lot of bacon, lettuce and tomato sandwiches in the summers. Dad passed away peacefully at home last week, aged 88. Over the years, whether there were hundreds or thousands of miles between us, love was ever present, and that love carries on. Today, my two-year-old granddaughter picks tomatoes from the garden with her mommy and daddy.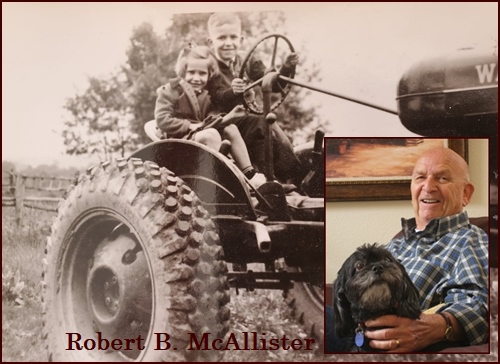 Dad with his sister, Mary, visiting the family farm in South Carolina. Inset: Dad and Pepper.
When dad was studying at Rutgers, his fraternity served chicken five nights a week; he could bear it no more. Years later, when ma made "Shake & Bake" chicken for us kids, she had to make something else for him. Dad was a Northerner with a taste for Southern cooking, passed to him by my grandmother, who grew up on a farm in South Carolina. The South lost a good woman when grandpa stole her away to New Jersey. Dad's requested meal on chicken night was always grits and sausage. Ma would first cover his plate with Velveeta cheese, then top that with slices of Jimmy Dean sausage and a hefty portion of instant grits. The preparation improved over time to include real cheese and coarse-ground grits.
This month's recipe is for a backpacking breakfast version of Country-Style Grits & Sausage. You may recall from a previous Trail Bytes, that I presented a homemade seasoning blend to make lean ground beef taste pretty darn close to pork sausage. Lean ground beef is a safer choice for dehydration and storage, since real pork sausage is high in fat.
Country-Style Grits & Sausage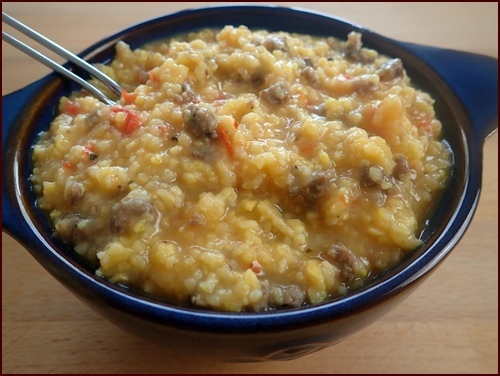 Previously dried Country-Style Grits & Sausage, rehydrated for breakfast.
The new recipe, which includes coarse-ground yellow grits, faux sausage, and tomatoes, is dried as a whole meal, rather than the meal being assembled from separately dried ingredients.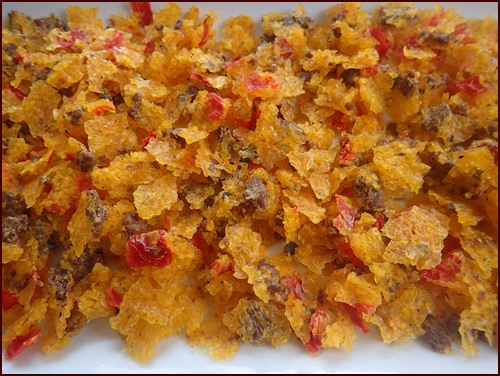 Dehydrated Country-Style Grits & Sausage.
You'll find the recipe and dehydrating instructions at the top of a newly revamped Breakfast Recipes page on the website.
The new page has lots of backpacking breakfast ideas, and you'll find easy navigation to topics we've covered in Trail Bytes, like Bircher Muesli, Backpacker Pancakes, Dehydrating Yogurt, Fruit Tortillas, Hot Peach Crunch, and more.
Visit the new Backpacking Breakfasts page.
Thank you for allowing me to visit you each month with these newsletters. We're practically neighbors. Dominique and I send our best wishes that your adventures be filled with good food and the love of family and friends. Make some memories.
Gute Gesundheit,

Chef Glenn & Dominique
P.S. To contact me, please reply to this email or use this contact form.
If you received this newsletter from a friend and would like to subscribe (it's free), subscribe here.
Visit my BackpackingChef Facebook page for the lastest posts. Be sure to "follow" the page to continue seeing posts.