Recipes for Adventure Action Guide: Dehydrating 31 Meals

31 Dehydrated Meals
Ready for
Adventure, Travel, Work & Emergency
Step-by-Step Instructions

PDF Download, 54 Pages

Buy Now
"When you keep a supply of dehydrated meals on hand – for adventure, work, and travel – you're automatically prepared for emergencies."
Step-by-Step Instructions:
Ingredient Options
Menu (31 Meals)
Shopping List
Drying Instructions
Meal Assembly
Cooking Directions
Packing & Storage

Full-color photos throughout
FORWARD
Recipes for Adventure started out as a food drying guide for backpackers who, like myself, wanted to eat healthy, homemade meals on the trail. Light-weight, well-preserved, and easy-to-cook, dehydrated meals turned out to be great for work and travel, too.

As the weekday chef for our family, it's my job to send wife and son off to work with nutritious lunches. Leftovers from the previous evenings' meals usually suffice, but sometimes there are no leftovers. When that happens, I employ dehydrated meals and our thermos food jars. It's a simple task to boil water in the morning. Come lunchtime, their meals are hot and ready-to-eat.

Dehydrated thermos meals go with us on vacations, too. Before heading out for a day of exploration, we boil water using the kettle in the hotel room. Instead of looking for a restaurant that isn't crowded during lunch, we stroll to the nearest park, and open our thermos.

When I wrote about thermos meals in my newsletters, people responded with notes like these:

   "The thermos method is my go to now for hot lunches at work."

   "Just did this when skiing earlier this week."

   "Great for school lunches."

   "I'm making these meals for my truck-driving husband."

   "It's nice not to have to dig everything out for a quick lunch en route."

   "Fixing lunch is quick and easy, so I have more hours in the canoe."
And, there were notes like this one:

"We use your recipes to dry meals for our emergency survival kit."
Recently, friends in Florida and the Carolinas had to evacuate their homes due to hurricanes. In California, my sister evacuated because of a forest fire. Usually, we hunker down during storms. I'm reminded of the Great Blizzard of '93. My family got snowed in for a week, without electricity.

Preparing for emergencies was the impetus for this Action Guide. It's a step-by-step plan to assemble thirty-one meals, using recipes and drying techniques from Recipes for Adventure.

The Action Guide starts with a shopping list of ingredients, as well as a discussion of substitutions you might consider. Dehydration instructions are presented in logical order, followed by directions for meal assembly and storage. And the final step… bon appétit!

Thank you for your trust. It is an honor to help you with your preparations.
Chef Glenn
---
Special Offer: Buy one book, get $5 off each additional book purchased. Details.

---
INTRODUCTION

| | |
| --- | --- |
| This Action Guide draws from recipes and drying techniques found in Recipes for Adventure. It's a sampler of the original, with a focus on action. With action, comes experience; you'll soon be dehydrating like a pro, and will confidently expand your menu with more recipes. | Photo: Curry Shrimp & Rice |
The meals are assembled in large portions, between 450 and 650 calories each. Most people find them quite filling. While sufficient caloric intake is needed during times of heavy exertion, such as while backpacking, nutrition is equally important. Each meal contains starch, meat or beans, and vegetables. You'll get protein, minerals, vitamins, fiber, and energy in every bite.

New in this Action Guide, are instructions for rehydrating meals in thermos food jars. The main difference is that you increase the water by a quarter-cup, compared to cooking meals in pots. Extra water is needed, because you eat thermos meals several hours after the boiled water is added, and the food has more time to absorb water. The large portions featured are ideal to fill 24-ounce thermos food jars.

Also new, is a metric-friendly option to measure ingredients with a digital scale. Quantities are given in both grams and cups. The choice is yours; use a digital scale or measuring cups to assemble the meals. Likewise, liquid measurements are given in cups and milliliters.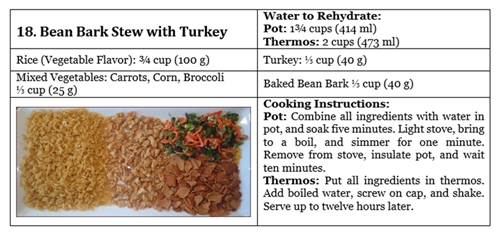 In the recipe assembly card above, note that quantities are given in both cups and grams, so you can choose your method of measuring.
After assembling all thirty-one meals, it's best to vacuum seal them. Vacuum sealing ensures the meals will keep well for up to a year, rather than for a few months if you don't vacuum seal. Considering the effort you put into making the meals, don't just leave them on the shelf. Enjoy your tasty meals regularly, and run through the steps again, as needed, to stay prepared.
TABLE OF CONTENTS
INGREDIENTS: CONSIDERATIONS & SUBSTITUTIONS
Meat
Vegetables
Beans
Bread
Cheese Powder
Pasta
Ramen Noodles or Linguine
Quinoa
Broth/Soup Stock (Chicken, Beef, Vegetable)

SHOPPING LIST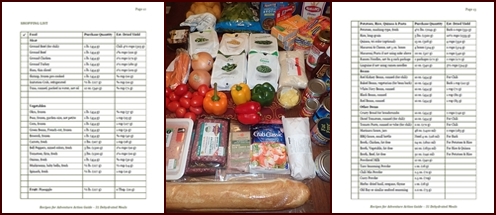 DEHYDRATE THE FOOD


STARCHES

Breadcrumbs
Pasta
Rice
Quinoa
Potato Bark & BBQ Potato Bark

MEAT

Ground Meat Preparation
Chili
Ground Beef
Ground Chicken
Ground Turkey
Ham
Tuna
Shrimp
Imitation Crabmeat

VEGETABLES, FRESH

Spinach
Tomatoes
Bell Peppers
Onions
Mushrooms
Carrots

VEGETABLES, FROZEN

French-cut Green Beans
Corn
Okra
Broccoli
Peas
BEANS & BAKED BEAN BARK

MARINARA SAUCE LEATHER


ASSEMBLE THE MEALS

Measure with cups or digital scale.
1. Chili
2. Chili
3. Chili
4. Tuna Mac & Cheese
5. Tuna Mac & Cheese
6. Ham & Cheese Macaroni
7. Pasta & Cheesy Tomato Sauce
8. Taco Mac & Cheese
9. Mexican Beef & Rice
10. Curry Chicken & Rice
11. Curry Shrimp & Rice
12. Unstuffed Peppers
13. Spinach & Bean Raminara
14. Spinach & Bean Marinara
15. Seafood Raminara
16. Crab Marinara
17. Bean Bark Stew with Ham
18. Bean Bark Stew with Turkey
19. BBQ Beef Stew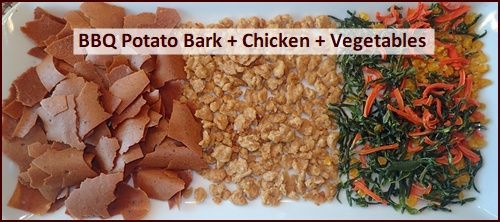 20. BBQ Chicken Stew
21. BBQ Turkey Stew
22. Potatoes & Chicken with Veggies
23. Potatoes & Turkey with Veggies
24. Potatoes & Ham with Green Beans
25. Chicken & Rice Cacciatore
26. Hawaiian Shrimp & Rice
27. Ham & Veggies with Rice or Quinoa (shown with quinoa)
28. Ham, Beans & Veggies with Rice or Quinoa
29. Turkey & Broccoli with Rice or Quinoa (shown with quinoa)
30. Turkey, Beans & Veggies with Rice or Quinoa
31. Chicken, Beans & Veggies with Rice or Quinoa

VACUUM SEAL THE MEALS

RESOURCES

---

Share this page with friends on social media.