Hello,



Dominique and I keep dried food on hand at all times for emergencies, and we regularly draw down our supply for everyday use. In our case, the food goes mainly into thermos lunches that we take with us on walking vacations and weekend hikes. Using up dried food within a year, and replacing it as you go, ensures that the food will reward you with the best taste, appearance, and nutrition.

Another way to use up dried foods is to put them into soups. In my upcoming book, Recipes for Adventure II: The Best of Trail Bytes, there's a chapter on soup. It leads off with tips for turning dehydrated meals into soup.

The photo below shows BBQ Beef Soup made from a dehydrated meal consisting of barbecue potato bark, ground beef, and vegetables. If you own the first Recipes for Adventure, or the Action Guide, you'll be familiar with this recipe.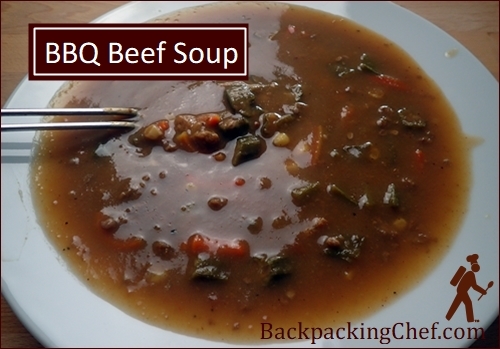 Soup to Sauce
You can also go the other way, and turn soup into a saucy meal. One of our favorite soups is Curry Carrot Soup. For the upcoming Recipes for Adventure II, I changed the recipe slightly from the version presented in Trail Bytes (November 2014) by increasing the spices, and I thickened it with a sweet potato. After drying the soup into bark, I ground it into powder for fast rehydration.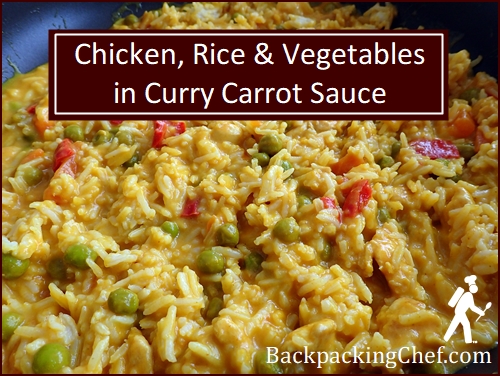 Photo above: A typical meal of chicken, vegetables (peas and red bell peppers), and rice; made colorful and spicy with curry carrot soup sauce.
Trail Bytes has always had two main purposes: Provide recipes that can be followed exactly for successful trail meals; and share methodology and inspiration to help backpackers confidently turn their own backpacking recipe ideas into delicious meals.
If you've been reading along all these years, you know how to dehydrate rice after cooking it in vegetable, beef, or chicken broth; how to precook ground chicken using breadcrumbs or oat flour, so that it rehydrates well; and how to construct meals by assembling different dried foods.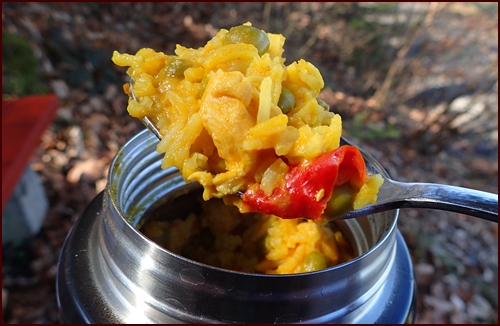 Photo above: Curry Carrot Soup Sauce featured nicely in our thermos lunch during last weekend's hike.
Contest: Construct-a-Meal
Design an original recipe for a backpacking meal assembled from dried ingredients. List the dried ingredients and the quantities in volume or weight measurements.

Examples:
Unstuffed Peppers
½ cup dried rice
¼ cup dried ground beef
¼ cup dried bell peppers
¼ cup tomato sauce leather
Rehydrate with 1¼ cups water
Chicken, Rice & Vegetables in Curry Carrot Sauce
70 grams dried rice (½ cup)
30 grams dried ground chicken (¼ cup)
20 grams dried mixed vegetables (¼ cup)
24 grams curry carrot soup powder (2 Tbsp.)
Rehydrate with 355 ml water (1½ cup)
Reply to this newsletter with your entry by Wednesday, April 7. Photos are welcome, but not required. One winner will receive Recipes for Adventure II: The Best of Trail Bytes. I'll add the best recipes to our Shared Recipes section at BackpackingChef.com.
February Contest Winners
The winners from last month's drawing were: Julie Mann, Ruth from Nova Scotia, Jess McCafferty, Idy from the Bay Area, and Anna Ashby.

Thank you to everyone who replied with a note about favorite recipes and how the meals have made trips more enjoyable. It's clear that the number one favorite backpacking recipe is Unstuffed Peppers.

Selected Note:

Hello Chef Glen & Dominique,

First of all, thank you for the very time consuming work that you put in to find the best way to dehydrate and rehydrate various foods. That you take the time to photograph the results is truly a labor of love.

I have two favored Trail Bytes recipes which I re-found at the same time when I was looking for ways to use quinoa in backpacking foods. The September 2018 Trail Bytes had the recipe for "Quinoa & Bean Cilantro Salad", which we frequently eat in the summer. It is so popular with my family that I can think of only one occasion when I was able to sneak some into the dehydrator. The other recipe which is probably even more popular, is from the July 2014 Trail Bytes - "Inca Stew".

The most memorable time we ate it was during an overnight backpacking trip in June in the Oregon Cascade Mountains. The higher we hiked the deeper the snow until we lost the trail. While the others in my family were trying to find the trail, I sat down and fired up the cook stove to rehydrate Inca Stew. The rehydrated stew provided warm calories, tasted amazing, and helped us to think clearly. We decided to turn back, camp below the snow level all thanks to clearer thinking brought on by nutritious food.

Thank you so much,

Anna
Publication Update:
Recipes for Adventure II: The Best of Trail Bytes
I'm a week or two away from launch. The book is in the hands of a professional editor and a cover designer. It will be offered first as an e-book (PDF download). Based on feedback after the last newsletter, I will begin the process of making it available as a printed book. Estimated availability of Print Edition is October 2021.

Thank you for your support and enthusiasm. I'll be back in touch the moment the e-book is ready in April.

Freundliche Grüsse,

Chef Glenn & Dominique
P.S. To contact me, please reply to this email or use this contact form.

If you received this newsletter from a friend and would like to subscribe (it's free), subscribe here.
Visit my BackpackingChef Facebook page for the lastest posts. Be sure to "follow" the page to continue seeing posts.