Hello,



What would a Trail Bytes newsletter be without a personal story related to the month's food dehydration project? A burger without cheese? A margarita without salt?

How to Dehydrate Cantaloupe and Cantaloupe Fruit Leather, this month's topic, was not exactly ripe with storylines, but then…

I remembered a story about a theft of cantaloupes by a carload of teenage boys. I was an innocent passenger in the back seat of the Thunderbird convertible they were cruising in that night. The driver spotted a delivery truck unloading fruit at the back door of the A & P Grocery. When the truck pulled out, he pulled in with his lights out. The boy in the front passenger seat grabbed a box of cantaloupes. Away from the heist, they busted open the cantaloupes with a tire iron and devoured the evidence. I witnessed the whole thing, but never told a soul until now.
The cantaloupes for this month's experiments were legally obtained. I dehydrated cantaloupe in pieces and crescent-moon shapes, and I discovered green-flesh Galia cantaloupes that are even sweeter than orange-flesh cantaloupes. The new page has two recipes for cantaloupe fruit leather: Cantaloupe with Pear & Mint, and Cantaloupe with Carrot & Ginger.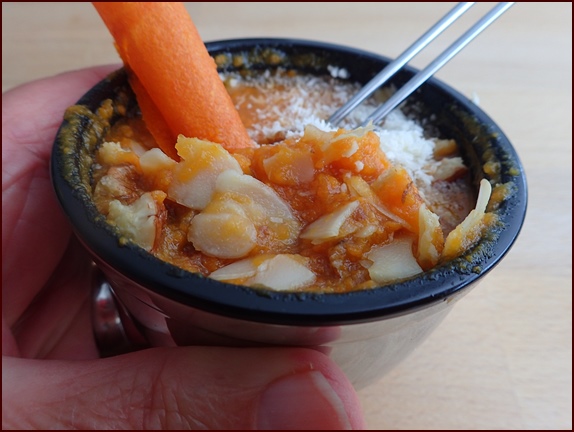 I rehydrated the fruit leather into pudding with cold water in five minutes. Now there's no excuse not to take a pudding pause at that next creek crossing.

Explore the new page:

Dehydrating Cantaloupe and Cantaloupe Fruit Leather


Cheeseburger in Paradise
You probably heard that singer-song writer Jimmy Buffett passed away on September 1. Songs like "Cheeseburger in Paradise" and "Margaritaville," invited fans, aka "Parrot Heads," to sing along with his odes to the not-so-serious sides of life.

We backpackers and paddlers find our paradise in the woods and lakes away from civilization. "Changes in Latitude, Changes in Attitude," as the song goes. But where are the cheeseburgers?

You can dehydrate a cheeseburger, but that hockey puck won't sail when you add water. The trick is to make a deconstructed cheeseburger.
How to Make a Deconstructed Cheeseburger
At Home:
Follow the meatloaf recipe and dehydration instructions in Recipes for Adventure II: The Best of Trail Bytes.
Bake the meatloaf. Cut it into ½-inch burger bites and dehydrate.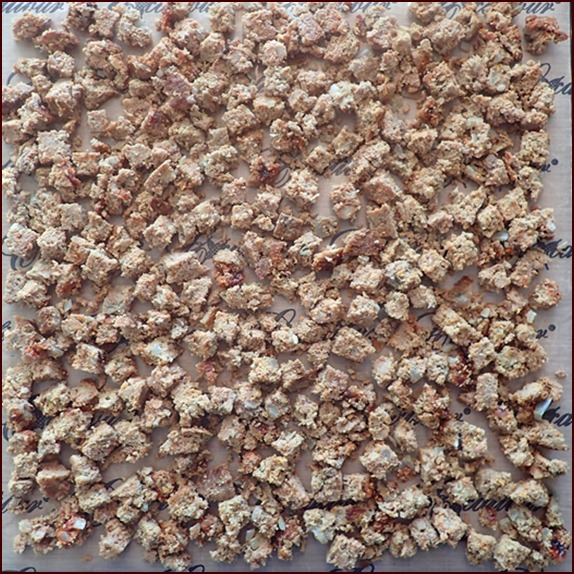 Divide the dehydrated burger bites into individual servings. One cup, about 75 grams, is equivalent to a large burger.

In a separate Ziploc bag, pack a ¼-cup of freeze-dried cheddar cheese.

Pack ketchup or mustard packets and dehydrated pickle slices.

On the Trail:

In the morning, add a tablespoon of cold water to the freeze-dried cheese in a Ziploc bag. Rehydrating it ahead of time will make it soft instead of crunchy.

In the evening, place the burger bites and dried pickles in a pot with a cup of water. Soak five minutes, bring to a boil, and then transfer the pot to an insulating cozy for ten minutes. If eating out of the pot, add the rehydrated cheese after the pot has been in the cozy for eight minutes.

What about the bun? You could, of course, dehydrate a hamburger bun in pieces. If you go that route, drop the dried bread on top of the cheese. The steam will rehydrate the bread while it sits in the cozy. After ten minutes, stir it all together, close your eyes, and think of Jimmy.

Another bread option is to assemble your cheeseburger in a tortilla. Place the rehydrated cheese on the tortilla, cover with the hot, rehydrated burger bites, and roll it up.

If you don't want to clean a pot, add boiled water to the burger bites in a Mylar bag or freezer bag and transfer the bag to a cozy pouch to hold in the heat.
National Cheeseburger Day Sale!
Did you know that Monday is National Cheeseburger Day?

To celebrate, I'm offering an extra $5 off Recipes for Adventure II: The Best of Trail Bytes.

The sale runs today through September 18th.

Save on either the print or e-book formats. The extra five bucks off is in addition to the $5 you save when you buy more than one of my books.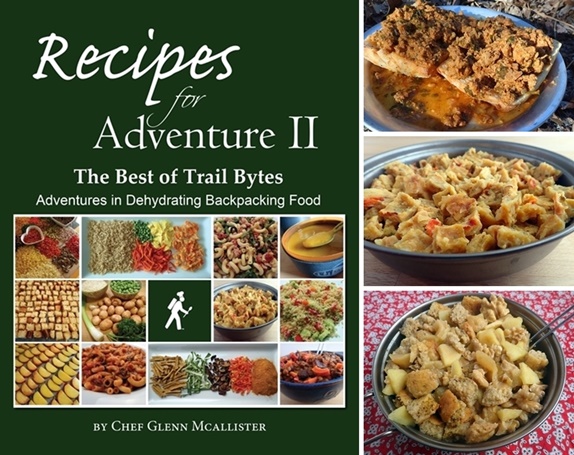 In addition to burger bites, you'll find recipes for meatball bites, omelet bites, and pancake bites.



With any purchase, you'll get a free copy of my trail journal, 1001 Miles on the Appalachian Trail. As you might expect, there's a story in there about a cheeseburger serendipitously appearing just when I needed one.

Thanks for reading Trail Bytes. See you in October!

Freundliche Grüsse,

Chef Glenn & Dominique
Reply to this email with any questions or comments, or use this contact form.

Visit my Backpacking Chef Facebook page for the lastest posts. Be sure to "follow" the page to continue seeing posts.
If you received this newsletter from a friend and would like to subscribe (it's free), subscribe here.