Hello,



Astronaut food has come a long way since Neil Armstrong and Buzz Aldrin first walked on the moon, fifty years ago this month. Today's astronauts can choose from a menu of more than 200 items, including beef steak and lasagna. Earlier space travelers settled for food paste squeezed from a tube, washed down with a glass of Tang.

This month's edition of Trail Bytes was inspired by an article I read last week on the National Public Radio website. The article included an interview with Vickie Kloeris, a former NASA food scientist who oversaw improvements in astronaut cuisine for nearly thirty years.

One improvement was to replace regular bread with tortillas. It's easier to spread peanut butter on tortillas. Bread makes crumbs, too. In microgravity conditions, they float around an astronaut's face like mosquitos. By reducing the water content in tortillas, and vacuum sealing out the oxygen, NASA was able to extend the shelf life of tortillas from ten days to several months. Believe it or not, the tortillas being served in space today are made by Taco Bell, and they last for over a year. I'm not a fan of those, since they contain partially-hydrogenated oils.

Another improvement was to offer astronauts spicier foods. According to Kloeris, food odors don't waft into astronauts' nostrils in microgravity. Astronauts also report getting stuffy noses in space, so they don't smell or taste their food as well as on earth. One of the top spicy foods requested by space travelers is shrimp cocktail, because the horseradish in the sauce delivers the nostril flare they desire.

Putting those two ideas together, I made Shrimp Cocktail Tortillas this week. Served cold for lunch on the moon, or wherever you walk, these spicy wraps will put a bounce in your steps.
Shrimp Cocktail Tortillas
Shrimp Cocktail Sauce
Makes two cups, enough for 1000 grams (2.2 pounds) of shrimp.
Ingredients:
1 15-oz can Whole Tomatoes
3 Tbsp Tomato Paste
1 Lemon (juice and zest)
6 Tbsp grated Horseradish Root *
2 tsp Worcestershire Sauce
¾ tsp Tabasco Sauce
¾ tsp Salt
50 grams Cooked Shrimp Pieces (to thicken sauce)
* Horseradish: I grated my own from a root. You may alternatively use prepared horseradish from a jar. Start with less, taste as you go, and add more horseradish to suit your heat preference. I could have handled more, but I didn't want to make it too spicy for Dominique.
Place all ingredients in a blender and blend just until smooth. Set aside.
Shrimp
Use pre-cooked, frozen shrimp – the kind you buy for shrimp cocktail with the tails still on the shrimp.
Thaw shrimp, remove tails, and cut it into small pieces. Split each shrimp in half lengthwise along the vein channel, and then make four or five cuts crosswise.
Photos above: Dehydrating Shrimp Cocktail before and after.
Dehydrating Shrimp Cocktail
Dehydrate 6 – 8 hours @ 145° F (63° C)

Combine one cup of cocktail sauce with 500 grams (about a pound) of cut shrimp. Place on one Excalibur Dehydrator tray covered with a non-stick sheet. This recipe supplies enough sauce to coat 1000 grams (2.2 pounds) of shrimp – for two trays.

After four hours of drying, pull apart the shrimp cocktail, rearrange it loosely on the tray, and continue drying.

Mine was dry in six hours.

Yield: The dry weight of one tray (500 grams of shrimp plus one cup of sauce) was 114 grams, about 1½ cups.

Packing:

You can make two well-filled tortillas with 57 grams (¾ cup) of dried shrimp cocktail. (Half the yield of one tray.)
On the Trail:
It takes a while for shrimp to rehydrate with cold water, so we gave it a four-hour soak in a thermos food jar. This lines up well with our usual method of preparing thermos lunches in the morning.

To make two tortillas, combine 57 grams (¾ cup) of dried shrimp cocktail with ¾ cup (177 ml) of cold water in thermos food jar. Double this to make four tortillas.

Three or four hours later, stir the shrimp cocktail, and fold it into two tortillas.

How were they?

Dominique said, "Wunderbar." They were refreshingly spicy with a chewy texture. Two tortillas make a hardy lunch serving for one person.

Keep in mind that tortillas can last a week to ten days on the trail. They will likely grow mold if you include them in mail drops for extended backpacking trips. I was able to remove two teaspoons worth of water from a tortilla in the dehydrator, but it was no longer pliable. The experiment gave me an idea for making trail pizzas with crisped tortillas. Look for that in a future newsletter.
---
You might also be interested in making Spicy Shrimp Chowder, a recipe from Recipes for Adventure. I make it with Spicy Corn Chowder Bark, which rehydrates into a spicy sauce, or it can be eaten dry like potato-corn chips.

Here's the link to the NPR article: 50 Years after Apollo 11, Here's What (And How) Astronauts Are Eating.

You will also find an amusing video there of astronaut Shane Kimbrough making a peanut butter and jelly tortilla in microgravity while onboard the International Space Station.

We wish you happy landings wherever you venture this summer.

Freundliche Grüsse,

Chef Glenn & Dominique
P.S. If you have any questions or comments about this issue of Trail Bytes, please reply to this email or use this contact form.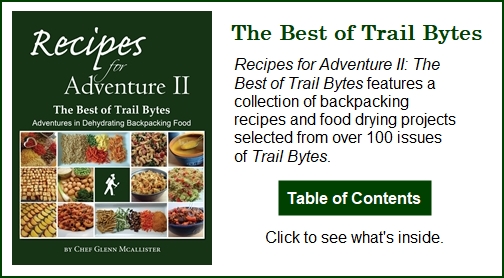 If you received this newsletter from a friend and would like to subscribe (it's free), subscribe here.
Visit my BackpackingChef Facebook page for the lastest posts. Be sure to "follow" the page to continue seeing posts.