Hello,



It's been a year since I dried and assembled the meals for the Action Guide: Dehydrating 31 Meals. Fortunately, none of the meals were needed for emergencies. We enjoyed several of the meals as thermos lunches on our travels and hikes. Others went to work with Dominique and Cèdric.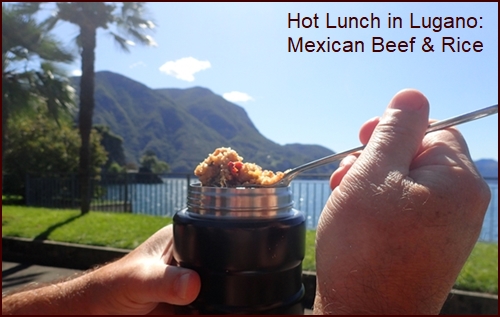 Since I will be dehydrating lots of new food to go into new soup recipes, now is a good time to polish off the last few remaining meals. While making soup out of these meals was an afterthought, it gives me an opportunity to demonstrate how easy it is to turn dried food into soup. In an extended emergency, a single large-serving meal could be stretched into two or three servings of comforting hot soup.
The cover photo at the top shows what one of the meals from the Action Guide, Chicken with Rice and Vegetables, looked like as a soup. All I did to make it a soup was to triple the water and add a little chicken bouillon, salt and pepper, and a few pinches of dried herbs.
Another meal that made an excellent soup was Crab Marinara.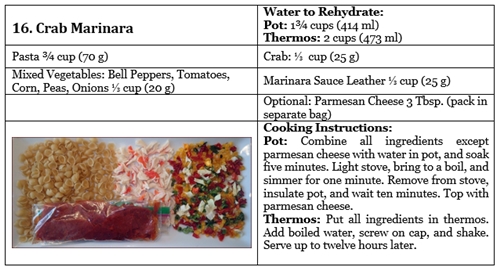 The photo above shows the Action Guide assembly card for Crab Marinara. The photo below shows a closer look at the ingredients: ¾ cup Precooked & Dried Pasta (70 g), ⅓ cup Dried Mixed Vegetables (20 g), ⅓ cup Dried Imitation Crabmeat (25 g), and ⅓ cup Marinara Sauce Leather (25 g).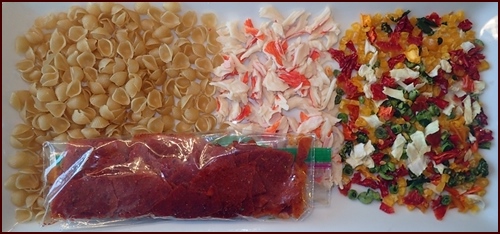 To make it a soup, I tripled the rehydration water specified in the recipe. That translated to 5¼ cups of water (242 ml) instead of the usual 1¾ cups.
Naturally, the meal-turned-soup needed a few pinches of seasonings to make it tasty.
Additional Ingredients:
¼ tsp Salt
⅛ tsp Ground Pepper
⅛ tsp Old Bay Seasoning
Pinch each: Herbs de Provence, Oregano, Basil, and Red Pepper Flakes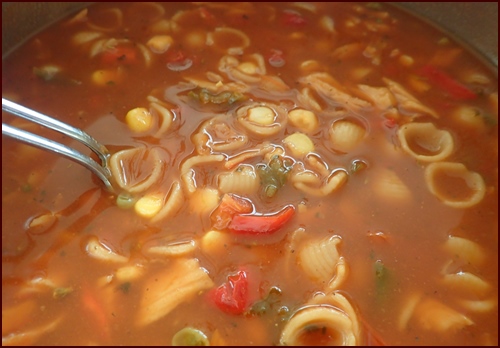 Soup Preparation:
Soak the dried ingredients in the water for a few minutes, then bring to a boil. Reduce to a light simmer for a few more minutes, then take the pot off the heat. For best results, let the soup sit covered for thirty minutes or more off the heat. Adjust seasonings and reheat prior to serving.
How was it?
Hearty and delicious. With the added seasonings, the tomato stock was spot on minestrone. If I were designing this recipe as a soup first, I would use less pasta. But, I was well-pleased with it as a meal converted to soup.
Thank You!
As I mentioned in last month's Trail Bytes, I'm working on new soup recipes using homemade soup powders for stocks. I asked for suggestions on what kind of soups you would like to see in the collection. Thank you to everyone who replied. You gave me over fifty suggestions to keep me busy!
Thanks also for the positive feedback about the website now being "mobile friendly."
One recent improvement at the website is a new unified order page. Previously, I had "add to cart" buttons on several pages. Additionally, I was directing everyone who wanted to buy the Print Editions of Recipes for Adventure and 1001 Miles on the Appalachian Trail to Amazon. While you can still order the paperbacks through Amazon, now you have the option to place your order directly from me. One caveat to that option, due to variations in currencies, shipping costs, and taxes, is that I still need to direct customers residing outside the United States to purchase the print editions though the Amazon fulfillment center in or nearest to your country. All of the publications are available as PDF downloads, and can be ordered on the BackpackingChef website, no matter where you live.
Now would be a good time to ring in the new order form and save some money during our holiday sale.
Holiday Sale
When you buy any one book, get $5 off each additional book ordered. You can order multiple copies of the same book, or a mix of the different publications. The discounts are valid for e-books and printed books ordered through the website. Order soon if you would like to receive any printed books before Christmas.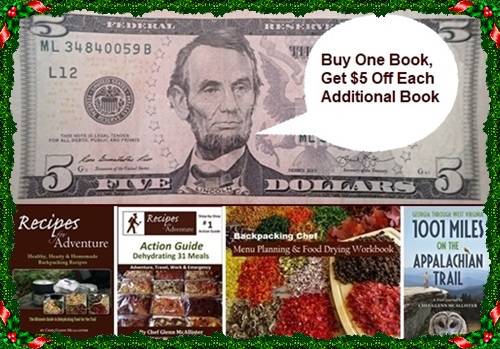 Dominique and I wish you a Joyful & Happy Thanksgiving. In addition to being thankful for the love of family, we're also happy that you have joined our little circle of friends around the campfire. We love to hear from you and to exchange ideas. So, here's this month's question: Do you make turkey or chicken soup with the leftovers? What's your method?
Freundliche Grüsse,

Chef Glenn & Dominique
P.S. If you have any questions or comments about this issue of Trail Bytes, please reply to this email or use this contact form.
Buy these publications from Chef Glenn:
If you received this newsletter from a friend and would like to subscribe (it's free), subscribe here.
Visit my BackpackingChef Facebook page for the lastest posts. Be sure to "follow" the page to continue seeing posts.