Hello,



I hope 2020 is off to a good start for you. This edition of Trail Bytes marks the 100th newsletter that I have sent out since 2010. Thank you for reading along, and for giving me your feedback and encouragement.

If you know someone who could benefit from Trail Bytes, feel free to forward this newsletter to them. They can subscribe here, and I will send them my free eBook, "Home & Trail: An Introduction to Drying Food."

The first newsletter covered, "How to Dehydrate Brown Rice," and it included a recipe for brown rice with ground beef and vegetables. It also announced a new recipe that had been shared by a reader. Today, we have a collection of fifty backpacking recipes shared by readers. Check out the latest recipe shared by Bill D: Barbeque Chicken Stew.

We carry on this month with another grain – barley. You'll see how to use it in a hearty backpacking meal, and in a soup. The recipe includes fennel, a vegetable we haven't covered before, plus a red bell pepper and seasoned ground beef.
About Barley
Barley is a grain. The indigestible hull is removed during processing. If the bran layer and germ are kept intact, the barley is called "dehulled" or "pot" barley. More commonly, the bran layer and germ are steamed off, and the stripped grain is polished and packaged into what is called "pearl" barley. The barley you see floating in your beef and barley soup, with little groves down the centers, is pearl barley.

I used pearl barley, mainly because it was the only kind I could find at the store. If I had found dehulled barley, I would have cooked it for an extra twenty-five minutes with a little less water. It would have turned out chewier than pearl barley, but more nutritious, in the same way that brown rice is chewier and more nutritious than white rice.
Beef & Barley with Fennel
Servings: 4
Ingredients:
1 lb. Lean Ground Beef (< 10% fat) (453 g)
1 cup Pearl Barley (200 g) + 10 grams Bouillon
1 large bulb Fennel
1 Red Bell Pepper
Seasonings for Ground Beef:
½ cup fine Bread Crumbs
10 grams Bouillon (1 Tbsp)
½ tsp. Paprika
½ tsp. Curry Powder
¼ tsp. Garlic Powder
¼ tsp. Onion Powder
Step 1: Season the Ground Beef
Combine breadcrumbs and beef seasonings in a bowl, then sprinkle and rub it evenly into a pound of lean ground beef. Form the beef into a ball and set aside.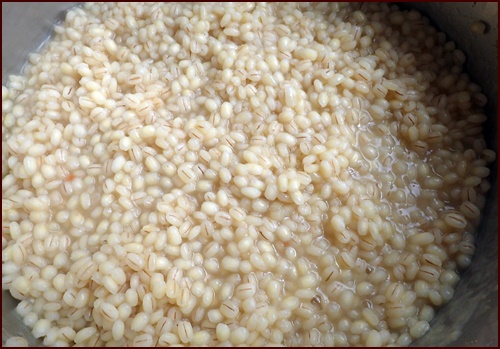 Step 2: Cook the Barley
In a sauce pot, combine one cup of pearl barley with three cups of water, and ten grams of bouillon. Bring to a boil, then reduce heat to a low simmer. Cook for twenty minutes and then remove pot from heat. You will use all of the cooked barley in the recipe.
Step 3: Chop the Fennel & Bell Pepper
While the barley is cooking, chop the fennel into small pieces and dice the bell pepper.
Step 4: Cook the Ground Beef & Vegetables
Pull apart the seasoned beef into small pieces. Coat a frying pan with half a tablespoon of cooking oil. Cook ground beef over medium high heat until browned with no pink remaining – about ten minutes.

Add the fennel and bell pepper, and continue cooking at medium high for another ten minutes, stirring frequently.

Place a lid over the pan, reduce heat to low, and simmer another ten minutes.
Step 5: Add the Cooked Barley
Stir the cooked barley into the meat and vegetables. With lid on pan, continue cooking on low for, that's right… another ten minutes, stirring once or twice. Lastly, remove lid and allow food to cool.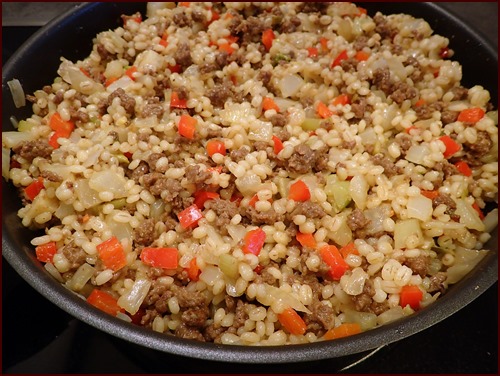 Enjoy!
If you don't plan on dehydrating this meal, serve it nice and hot for dinner. Dominique usually stirs in a little milk or half-cream.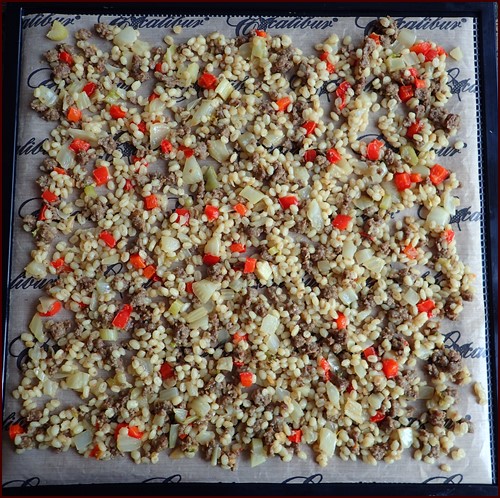 Step 6: Dehydrate the Meal
This recipe yields 9-10 cups wet. Divide into four equal servings, and spread each on its own dehydrator tray covered with a non-stick sheet. (2¼ to 2½ cups per tray).

Dehydrate @ 145° F (63° C) for approximately ten hours, or until no discernable moisture remains. Towards the end of the drying process, remove food from trays and wipe any grease off the non-stick sheets with a paper towel. Squeeze the food between clean paper towels before returning it to the trays to finish drying.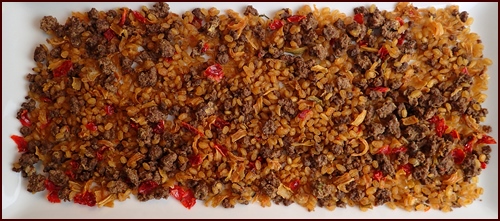 Photo above shows dried beef and barley from one tray. (One serving).
Wet Volume & Weight per Serving: 2½ cups, 420 grams.
Dry Volume & Weight per Serving: 1 cup, 125 grams.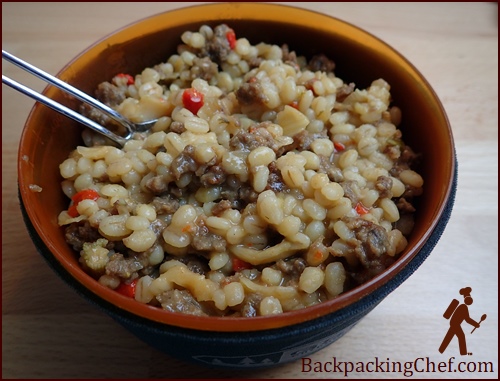 Photo above shows one serving of rehydrated beef and barley.
On the Trail:
1 Serving
Pot Cooking: Combine one cup (125 g) dried beef & barley with 1¼ cups (236 ml) water in pot. Let soak five minutes, then light stove and bring to a boil. Simmer for one minute, then transfer pot to a pot cozy for ten minutes.
Thermos Cooking: Place one cup (125 g) dried beef & barley in Thermos Food Jar and add 1½ cups (355 ml) boiled water. Note that you need 25% more water than with the pot method. Wait twenty minutes up to four hours. If waiting more than four hours, add a little more than 1½ cups water.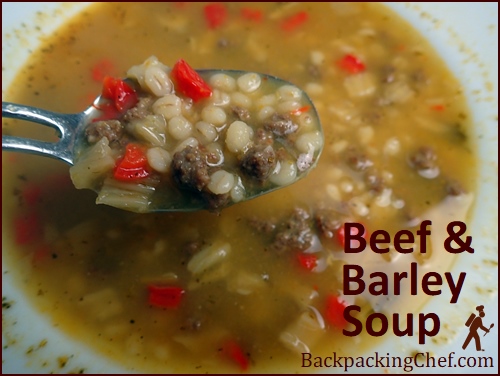 Beef & Barley Soup
Pot Cooking: Combine a half-cup (63 g) of dried beef & barley and one tablespoon (10 grams) of powdered bouillon, with two cups of water in pot. Let soak five minutes, then light stove and bring to a boil. Simmer for one minute, then transfer pot to a pot cozy for ten minutes.

Thermos Cooking: Combine a half-cup (63 g) of dried beef & barley and one tablespoon (10 grams) of powdered bouillon, with two cups of boiled water in thermos. Wait twenty minutes up to four hours.

With either method, add a pinch of salt when serving if needed.
How was it?
Six thumbs up from the whole family! I ate the meal cooked in a pot for an early lunch, and then I ate the soup later in the day after it soaked in the thermos for two hours. Both were delicious. The barley rehydrated well and maintained its firm texture – better than rice. I had added the red bell pepper for color; carrots would work well, too. Cedric said, "Wunderbar," about his meal, cooked in a thermos for dinner, and Dominique loved her soup, also cooked in a thermos. The bouillon that I used for seasoning was a homemade vegetable and herb powder, one of several I have been working on with good results. Of course, you can use your favorite store-bought bouillon until the secret recipes are revealed.
Thank you!
Over these years of sending out the newsletter, I sometimes hear from readers who say that they feel like they know me. That's the best compliment I could receive. I'm pleased to know you, too. Recently, I learned that a website should have an "About" page. So, I finally got that done. If you're curious about what my simple idea was when it all began, read the About Page here.

See you on the trail or back here next month.

Freundliche Grüsse,

Chef Glenn & Dominique
P.S. If you have any questions or comments about this issue of Trail Bytes, please reply to this email or use this contact form.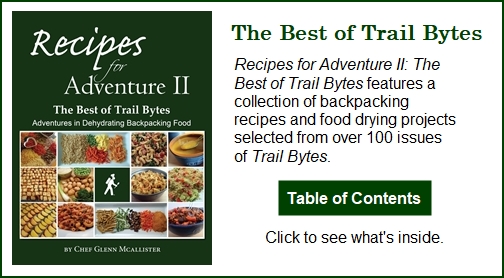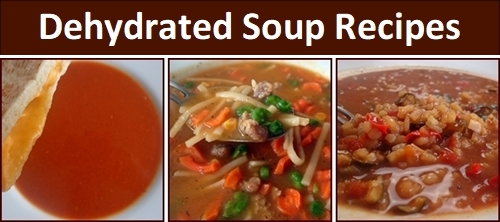 See the full collection: Dehydrated Soup Recipes

If you received this newsletter from a friend and would like to subscribe (it's free), subscribe here.

Visit my BackpackingChef Facebook page for the lastest posts. Be sure to "follow" the page to continue seeing posts.