Hello,



If at first you don't succeed…

Dominique and I are both fond of grits and raspberry jam. For our first backpacking trip as a couple, I precooked and dehydrated a pot of grits with raspberry jam. I should have taste-tested that experiment before the trip. Seconds, darling? Nein danke.

Back in August's newsletter, I detailed how I precooked and dehydrated coarse-ground, yellow grits with sausage-seasoned ground beef and tomatoes. That was a winner in the taste category, but the precooked and dried grits were resistant to rehydrating. It took a good bit of spirited stirring to break down the grits bark.

An easier method is to use fine-ground grits, which cook faster than coarse-ground grits, with no need to precook and dehydrate. The photo below shows the grits I buy here in Switzerland. The only difference is that the grits on the right are ground finely. They are labeled as "Polenta." Some of the germ is removed in processing. Instant grits, on the other hand, have had the entire germ removed.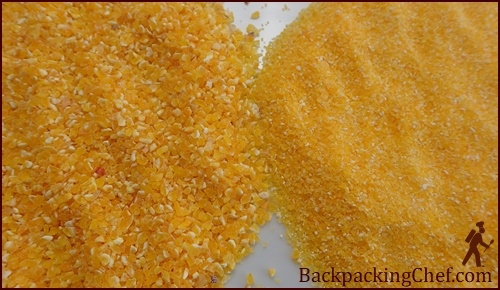 Easy Cook, Easy Cleanup
Grits often leave a starchy residue inside the pot. You can minimize starch-clinginess by adding the grits after the water reaches a boil, rather than before. I like to include dehydrated ham or ground beef in trail grits. Since they need more time and heat to rehydrate, I place them in the pot with water, wait five minutes, and then turn on the stove. Once the meat and water have reached a boil for one minute, I add the grits.

After cooking the grits for just thirty seconds, I transfer the pot to an insulating cozy. Ten minutes later, the grits are good to go. If you eat your grits in a separate bowl, slosh some water around in the pot while you're eating to keep any residual starch from drying in the pot.
Say Cheese
Cheese sticks to the inside of a pot even more than grits, and then it sticks to whatever you use to clean it off. Avoid this cleanup problem by adding the cheese to the hot meal right before you eat it.

You may be wondering why I didn't just eat the grits right out of the pot, which of course, is sound practice for the solo hiker. I was thinking more of two servings, one for me, and one for my raspberry jam-loving wife. But, how could I avoid cleaning up two additional bowls?
Tortilla Grits Bowl
The photo above shows one of the bowls that comes with a GSI-Dualist Cookset. I pushed an eight-inch tortilla into the bowl, which required overlapping the tortilla in two places. This tortilla trick will also work with collapsible bowls.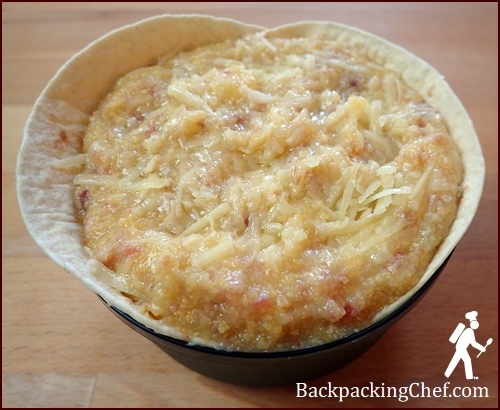 The photo above shows one serving of ham and cheese grits. I added the cheese to the grits in the bowl.

One Serving: ¼ cup fine-ground grits (45 g), ¼ cup dried chopped ham (25 g), 1½ cups water to cook (355 ml), 1 ounce fresh cheddar cheese (30 g). Bring dried ham to a boil before adding grits. Wait ten minutes before serving. Double recipe for two servings.
Tortilla Raspberry Roll-up
Once Round One of breakfast is over, spread raspberry jam on the tortilla and fold it up. You can find single-serving packets of jam online. Alternatively, if you really want to score points, you could heat and rehydrate dried fruit or fruit leather while you're eating the grits.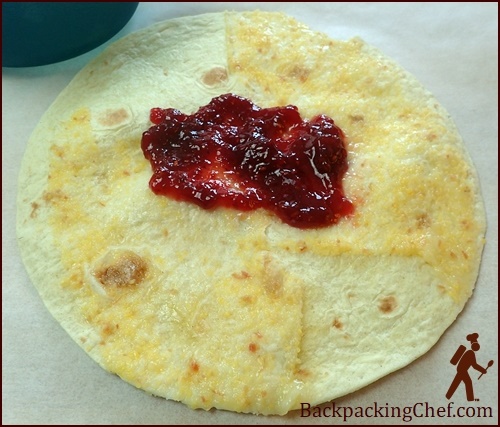 I probably used two packet's worth of raspberry jam for this example, but when you're on the trail with your sweetheart, might as well live it up.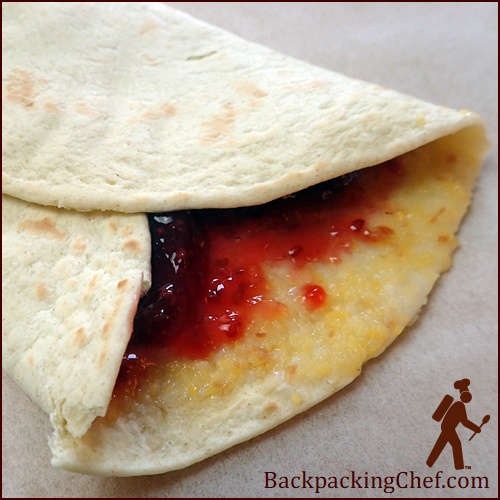 Now that I've got my grits and raspberry jam sorted out, these backpacking menu items are Dominique Approved. Sehr gut, Liebling.
We've been hiking in snow during most of January. Fortunately, the ground skiers flattened some of the paths which we followed. As always, we prepared dehydrated meals in our thermos before we headed out.

Hope the weather is invigorating in your neck of the woods. See you next month.

Freundliche Grüsse,

Chef Glenn & Dominique
P.S. To contact me, please reply to this email or use this contact form.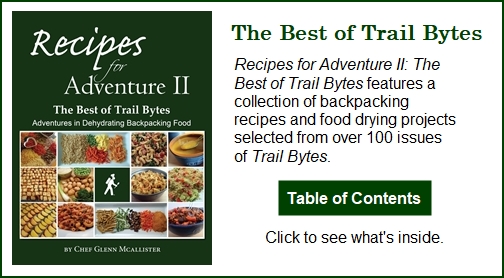 If you received this newsletter from a friend and would like to subscribe (it's free), subscribe here.
Visit my BackpackingChef Facebook page for the lastest posts. Be sure to "follow" the page to continue seeing posts.