Hello,



The new book is ready!

Below are the Table of Contents and Introduction, or you can jump over to the website to read them there.

Order Page: Recipes for Adventure II: The Best of Trail Bytes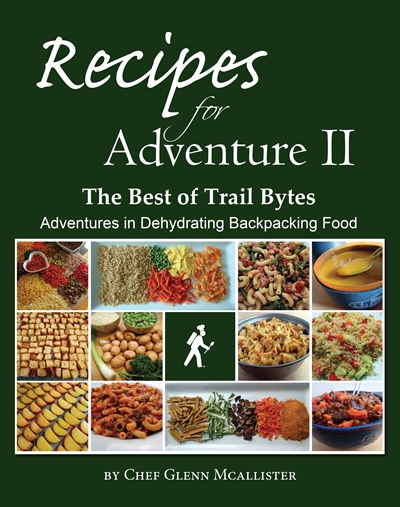 Table of Contents
Chapter One: Breakfast & More

Omelet Bites

Omelet Bite Recipes

Country-Style Grits & Sausage-Seasoned Ground Beef

Canadian Bacon Bits 'n' Grits

Overnight Bircher Muesli: A No-Cook Breakfast

Pancake Bites

Cream of Pancakes
Chapter Two: Soups & More

How to Turn Dehydrated Meals into Soup

Vegetable-Soup Powder

Potato-Broccoli Soup

Potato-Leek Soup

Butternut Squash Soup

Sweet Potato & Carrot Soup

Cream of Cauliflower Soup

Curry-Carrot Soup

Tomato-Carrot Soup

Gazpacho: A Zesty Tomato Soup Served Cold

Fish Chowder

How to Dehydrate Stuffing with Chicken Soup
Chapter Three: Tofu & More

How to Dehydrate Tofu

Recipes with Dehydrated Tofu

Tofu & Chickpeas Curry Bark
Chapter Four: Beans, Lentils, Quinoa & More
Pressure-Cooking & Dehydrating Beans

Rice with Red Beans & Vegetables

Three Sisters Stew

How to Make and Dry Zucchini Ratatouille

Cooking and Dehydrating Quinoa

Quinoa & Bean Cilantro Salad

Inca Stew: Quinoa with Sweet Potatoes & Vegetables

Dehydrating Baked Sweet Potatoes

Green-Lentil Chili

Red-Lentil Curry

Green-Lentil Stew
Chapter Five: Beef, Poultry, Shrimp, Canadian Bacon Bits & More
Meatloaf

Meatballs

Dehydrating Ground Beef with Seasonings

Dehydrating Ground Chicken and Turkey

Turkey with Rice & Vegetables

Chicken Cacciatore (Whole Meal)

Pressure-Cooking and Dehydrating Chicken

Dehydrating Shrimp

Shrimp Linguine

Dehydrating Linguine

Shrimp-Cocktail Tortillas

Dehydrating Canadian Bacon Bits
Chapter Six: Potatoes, Barley, Macaroni, Couscous & More

How to Make Instant Potato Powder

Creamy Potatoes with Ground Beef & Vegetables

Rumbledethumps: Potatoes, Cabbage & Turnips

Dehydrating Grated Potatoes

Grated Potatoes and Chili

Grated Potatoes with Sauerkraut & Ham

Grated Potatoes with Vegetables & Meat

Beef & Barley with Fennel

Beef & Barley Soup

Barley Risotto with Peas & Mushrooms

Barley with Peas & Mushrooms Soup

Dehydrating Macaroni

Tuna & Macaroni San Marzano

Dehydrating San Marzano Tomatoes

Dehydrating Olives

Dehydrating Olive Paste for Tortillas

Homemade Tomato-Sauce Powder

Beefy Macaroni & Tomato Sauce

Couscous Salad with Cucumber-Salsa Dressing

Couscous Salad (Not Dehydrated)
Chapter Seven: Fruits, Desserts & More
Baked Pumpkin-Spice Apples

Grated Apples with Lemon Juice

Dehydrating Peaches

Banana Pudding

Banana-Berry Smoothie

Dehydrating Blueberries, Raspberries, and Strawberries

Apple-Blueberry Fruit Leather and Pudding

Tortilla Fruit Tarts

Sweet Potato Pudding

Dehydrating Watermelon
Chapter Eight: Food-Dehydration Guidelines

Foods to Avoid in Dehydrated Meals

How Long Will Dehydrated Food Last?

Home Storage of Dried Foods

Vacuum Sealing Dehydrated Meals
---
Order Page: Recipes for Adventure II: The Best of Trail Bytes
---
Introduction
What's New in Recipes for Adventure II?
With appreciation that BackpackingChef.com and Trail Bytes are now viewed by an international audience, the book has metric equivalents for weight, volume, and temperature. You'll still see the usual cups and tablespoons, but now you can also see measurements in grams and milliliters and temperatures in Fahrenheit and Celsius.
Cooking directions show how to rehydrate meals in a thermos food jar as well as in a pot. Thermos cooking lets you prepare dehydrated meals in advance—for work, travel, and trail. Meals rehydrate better with longer soak times. A thermos holds its temperature for hours, whether you're rehydrating a stew with boiled water or a macaroni, quinoa, or couscous salad with cold water.
Chapter One wakes up the breakfast category with Omelet Bites and Pancake Bites, along with Overnight Muesli, Canadian Bacon Bits 'n' Grits, and Peach Crunch Breakfast. For something hot and creamy, try the Cream of Pancakes topped with pecan pieces.
Chapter Two features the all-new soup category, which begins with techniques for turning dehydrated meals into soup. It's a good practice to use up dehydrated food when the hiking season is over; making soup is an easy way to do it. The chapter has several delicious soup recipes, including a super-healthy vegetable-soup powder that can be used as the base for creating unlimited soups by adding dehydrated meat, tofu, vegetables, starches, or beans. The thickest offering in the collection is fish chowder, and for something even more filling, try dehydrating stuffing after dipping it in chicken soup.
Chapter Three covers how to dehydrate tofu. With one simple step, the problem of tofu not rehydrating well is solved. Tofu absorbs flavors well, which carry over to dehydrated meals. Learn how to precook tofu with vegetable, curry, and taco seasonings. You don't have to be vegetarian to enjoy Spicy-Tofu Tortillas and Tofu Noodles with Vegetables & Rice.
Continuing with plant-based proteins, Chapter Four highlights beans, lentils, and quinoa. Recipes include 3 Sisters Stew, Green-Lentil Chili, Inca Stew, Red-Lentil Curry, Quinoa & Bean Cilantro Salad, and Zucchini Ratatouille. Since sweet potatoes go well with these meals, there are also instructions for dehydrating baked sweet potatoes.
Where's the beef? It's in Chapter Five with chicken, shrimp, and Canadian bacon. In Recipes for Adventure, the breadcrumb trick was introduced as the best way to dehydrate ground beef that rehydrates well. Now there's a gluten-free method, plus a seasoning trick that makes ground beef taste like sausage. You'll also find instructions for making and dehydrating meatloaf and meatballs. Dried chicken has always been tough to rehydrate. Dehydrating canned chicken is one solution, but new methods are presented for drying pressure-cooked chicken and drying ground chicken and turkey. Dehydrated shrimp recipes include Shrimp Linguine and Shrimp-Cocktail Tortillas. Lastly, learn how to dehydrate Canadian bacon and use it in recipes like Canadian Bacon Bits-a-Roni.
Chapter Six explores starches: potatoes, barley, macaroni, couscous, and more. Potato bark can take a bit of spirited stirring to rehydrate back into mashed potatoes. It also has a reputation for puncturing vacuum-sealed bags. Learn how to turn potato bark into potato powder that rehydrates almost instantly. For more texture in meals, try dehydrating grated potatoes. They're tasty with sauerkraut and ham. Meals with barley are a nice change from rice. Recipes include Barley Risotto and Beef & Barley with Fennel. The chapter includes instructions for dehydrating Italian-seasoned San Marzano tomatoes, olives, and tomato sauce. The sauce is ground into tomato-sauce powder. Those items are used in recipes like Tuna & Macaroni San Marzano and Beefy Macaroni & Tomato Sauce. For something refreshing at lunchtime, try the Couscous Salad with Cucumber-Salsa Dressing.
Memorable backpacking meals deserve a special dessert—because you're special, and you deserve it. There are plenty of ways to create them in Chapter Seven: Baked Pumpkin-Spice Apples, Grated Apples with Lemon Juice, Peach Granola Clusters, Hot Peach Crumble, Banana Split Pudding, Tortilla Fruit Tarts, Apple-Blueberry Fruit Leather, Banana-Berry Smoothies, and more. You might want to start with this chapter first.
Chapter Eight wraps up Recipes for Adventure II with a review of best practices for dehydrating food, plus safe methods to store and pack it. You'll find tips to reduce the problem of vacuum-sealed bags losing their seals due to contact with the sharp edges of dried foods. With proper handling, the meals you take to the trail will reward you with great taste, appearance, and nutrition.
The e-book is available for immediate download. The print edition is in the works and should be ready by October or early November. Order the e-book here:
Recipes for Adventure II: The Best of Trail Bytes
Thank you to everyone who has purchased the Recipes for Adventure books and to the readers of Trail Bytes. Your encouraging words to "keep up the good work" made this project possible.
Bon appétit.

Chef Glenn & Dominique
P.S. To contact me, please reply to this email or use this contact form.

If you received this newsletter from a friend and would like to subscribe (it's free), subscribe here.
Visit my BackpackingChef Facebook page for the lastest posts. Be sure to "follow" the page to continue seeing posts.