Hello,



I wandered into the world of energy bars last week, or was it two weeks ago? After staring too-long at energy bars that you can buy online, considering the nutritional pros and cons of each offering, I came back to familiar ground—the kitchen. It's more fun to make than to buy.

I've always been keen on dried fruits and nuts for energy. My first experiments were quite simple:

Take dried figs, squish them down into round shapes, and cut them into two thinner sections like Oreo cookies.

With the two inside sticky parts facing up, sprinkle a little grated dark chocolate, cinnamon, and espresso on top. Then place two pecan halves on top of one fig half, and cover it with the other half. Crimp around the edges and they hold together well.

Repeat the experiment with dried dates, removing the pits, dusting the insides with the magic powders, and replacing the pits with two peanuts.

Shortly after eating a few of these experiments, I noticed my fingers briskly tapping a little tune on the desk. Next thing you know, I'm watching a video of Iron Butterfly's "In-A-Gadda-Da-Vida," and I'm playing the full drum solo in the air.

That's the power of dried fruits and nuts. Eat some of these energy bombs, then check out the Iron Butterfly video on YouTube, and get your groove on.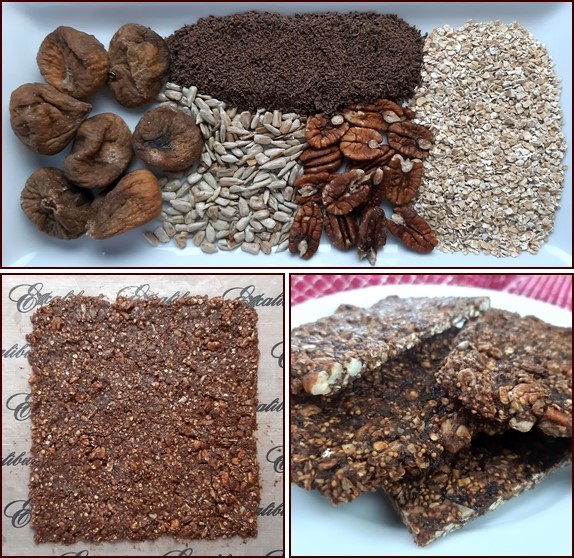 Ultimately, I made some actual energy bars. Visit the new page for the recipe and nutritional profile. We took a few of them on a hike this past Sunday, and Dominique gives two-thumbs-up. The new page includes several more energy bar recipes that Backpacking Chef readers have shared. There's a form on the page if you want to share one of your recipes.
See: Best Energy Bar Recipes.
Contest
I'd like to follow up the energy bar topic with a page on trail mix recipes. Reply with your best trail mix recipes, and I'll pick one winner to receive choice of any e-book. Looking for homemade granola recipes, too.

See you next month.

Freundliche Grüsse,

Chef Glenn & Dominique
Please reply to this email with any questions or comments, or use this contact form.

Visit my Backpacking Chef Facebook page for the lastest posts. Be sure to "follow" the page to continue seeing posts.
If you received this newsletter from a friend and would like to subscribe (it's free), subscribe here.