Hello,



There is some dispute whether French fries originated in France or Belgium. This may be a case for Detective Hercule Poirot. And it's not clear which country was first to serve them up with brown gravy. Canadians make a strong case with "poutine," their traditional dish consisting of French fries, brown gravy, and cheese curds.

I might have guessed the Greeks came up with French fries and gravy, because that's where you can always find them—at an authentic Greek diner—the kind with a shiny chrome exterior and a row of twirling stools inside along the counter overlooking the entertaining operation of fries going down into the oil and coming up golden brown and delicious.

It was in the late 70s, back in my teenage years, when I first discovered French fries and gravy at the Apollo Diner in Randolph, New Jersey. Driving around town at night, past the hour when nothing good happens, with only a few dollars left in our pockets; that was the trusty oasis where I went with my cohorts in crime to top off before heading home.

Regardless of where French fried come from, this month's Trail Bytes brings French fries and gravy to a hiking trail near you. Of course, I couldn't dehydrate fries cooked in oil. After several sacks of potatoes and experiments, the production method that worked was to cut, soak, steam, and season them with vinegar and salt before baking and dehydrating. They are snappy crisp and addictive as dry snacks, or they can be rehydrated and slathered with gravy.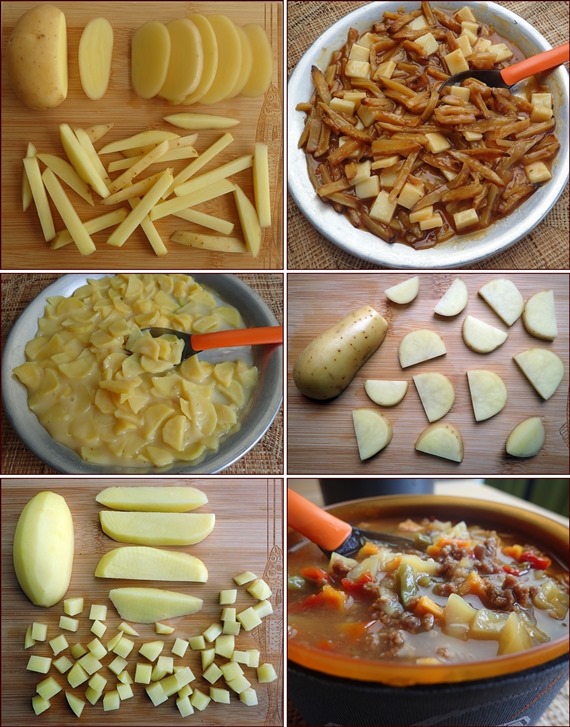 You'll find the complete instructions on my new page:
Guide to Dehydrating Potatoes.
The page features several methods of dehydrating potatoes with recipes for French Fries & Gravy, Potatoes au Gratin, Vegetable Beef Soup with Potatoes, and Grated Potatoes & Chili. From there you can jump to the updated Potato Bark page which has a new recipe for Cheesy Cream Potatoes with Chili.
Saturday is my birthday. We're heading to the Walensee, a nice lake in Switzerland, to do some hiking this weekend. It's supposed to rain. We're going anyway. Dominique has placed her lunch orders for French Fries & Gravy and Potatoes au Gratin, prepared in the thermos.
See you next month!
Freundliche Grüsse,

Chef Glenn & Dominique
Reply to this email with any questions or comments, or use this contact form.

Visit my Backpacking Chef Facebook page for the lastest posts. Be sure to "follow" the page to continue seeing posts.
If you received this newsletter from a friend and would like to subscribe (it's free), subscribe here.