Hello,



Winter came early to Georgia the first weekend of November, so I headed out to the Appalachian Trail with a few of my hiking buddies to enjoy the snowy wonderland. I have been hiking with this crew, shown on the cover and several not shown, for 14 years. On Friday, they will be back for the annual "Walk off the turkey hike." Beats shopping.

On this blustery day, we stopped for lunch at a sun-warmed rocky outcrop with a view of white-dusted mountains across the valley from our perch. I had packed a turkey sandwich and peeled carrots, but later, as the chill of late afternoon blew in and snow bombs fell from tree branches above our heads, I thought about how I would have enjoyed a hot lunch.

Later in the week, I experimented with rehydrating and cooking dried meals in a Thermos 24-ounce food jar that I found in the sporting goods department at Target. The first meal I "cooked" was World Peas Bark Stew – an assembly of pea bark, chicken, rice and assorted vegetables. I preheated the Thermos with hot water per the instructions and then returned the water to the pot to bring back to a boil. I poured the boiling water into the Thermos with the food, screwed the top on, and shook the Thermos several times. This was in the morning and I waited until lunch time to open up the Thermos. The food rehydrated well and was hot and tasty.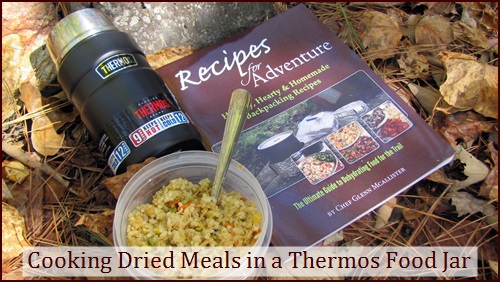 Tip: When cooking any of the recipes in Recipes for Adventure in a Thermos food jar, add 25% more water than called for in the recipe. I tested that with more meals and it held true.
If you have invested in a dehydrator, Thermos Cooking gives you more opportunities to make and enjoy dehydrated meals beyond your backpacking trips. Load your Thermos in the morning before day hikes in the winter, take hot lunches to work with you, or pack hot meals for road trips. You'll save money while eating healthy, homemade "fast food." The 24-ounce food jar is large enough to hold a hot meal for two people.
Theoretically, you could eat a meal right out of the Thermos food jar with a long spoon, although it's not so easy because the mouth of the jar is not very wide. An easier way is to transfer a little of the meal at a time into the cup which screws over the cap. Or, you could transfer the whole meal to a larger container such as a Glad brand Lockware Container. To clean in the field, add some water, shake vigorously, pour out or drink the rinse water as appropriate, and push a paper towel around the inside of the jar with your spoon.
View the Thermos Stainless King 24-Ounce Food Jar at Amazon.com
How about some hot soup in your Thermos? Here's a new recipe that rehydrated beautifully and stayed hot from morning until lunch time.
Curry Carrot Soup
Makes 3 Servings
Ingredients:
2 pounds Carrots, peeled and chunked
1 medium Onion, diced
1 clove Garlic, diced
1 Tbsp. Olive Oil
2 Tbsps. Curry Powder, Mild
6 cups Fat-free Chicken Broth or 6 cups Water seasoned with Chicken Bouillon
Salt & Pepper to taste
Instructions:
Cook onions and garlic in olive oil in a large pan or stock pot until onions are soft, about five minutes.
Add carrots, chicken broth and curry powder and bring to a boil for two minutes. Reduce heat to low and simmer for twenty minutes. Add salt and pepper to taste. I used ¼ tsp each.
Allow the soup to cool and pour into a blender. Blend until smooth.
Spread mixture thinly on non-stick sheets and dehydrate at 135° F for approximately eight hours. Using my Excalibur Dehydrator, I spread one cup of soup per tray.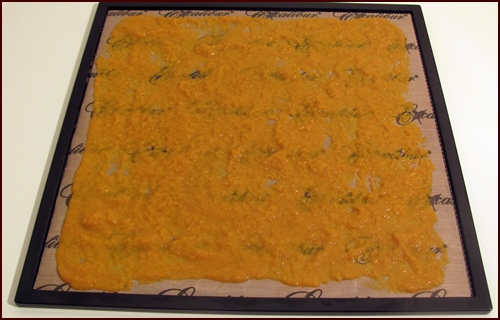 Yield: Each cup of wet soup dried down to ½ cup. You should get approximately six cups of wet soup from this recipe, or three cups dried.
Of course you might not want to dehydrate this soup at all if you have time to prepare it the night before you need it. Just store in the fridge overnight, reheat in the morning and pour into the Thermos. Dehydrating makes sense if you want to stock up on meals for future use such as a backpacking trip or for a long motor trip where you can still boil water in the field.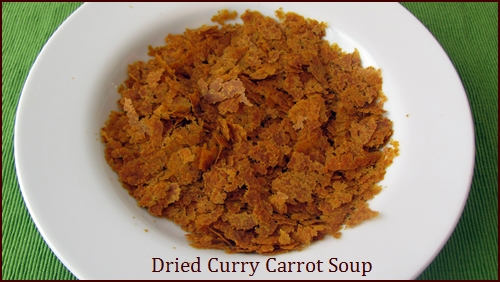 Soup Reconstitution for One Large Serving:
Combine one cup dried soup with two cups boiling water, either in a backpacking pot or right in the Thermos. If using a Thermos, screw on the cap and shake a few times. Reconstituted soup will be ready in twenty minutes. Shake again before serving. This Curry Carrot Soup is delicious and will warm you up on a cold day. Enjoy!
Dominique and I are back in Switzerland for the winter. No snow here at our elevation yet. I make soup at least once a week for dinner, so next month I'll have another soup recipe to share such as the Potato Leek Soup I made last week. We will celebrate Thanksgiving with family and my traditional cooking of two chickens and all the fixin's.
Happy Thanksgiving from our family to yours. May you be blessed with the comfort of good friends and loved ones around your table.
Warmest regards,



Chef Glenn & Dominique

P.S. If you have any questions or comments about this issue of Trail Bytes, please reply to this email or use the contact form at BackpackingChef.com.

Visit my Facebook page for regular postings about our favorite topic, making your own tasty backpacking meals.