Hello,



It's hard to believe that the first Trail Bytes newsletter went out over seven years ago. Normally, I bring you the results of food drying experiments, new backpacking recipes, or stories from the trail, but this month I have something exciting which I have been working on all those seven years.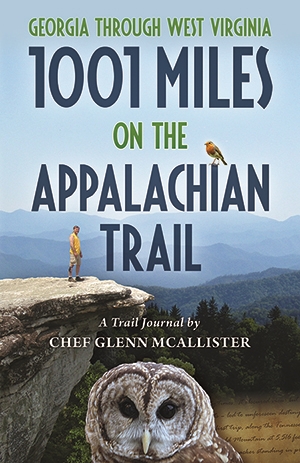 I'm pleased to announce the publication of my new book, 1001 Miles on the Appalachian Trail. If you have enjoyed reading the monthly newsletters, I think you will like the book. Dominique says she loves it, so that's a good start.

My editor wrote this blurb for the back cover:

"Join Chef Glenn on his Appalachian Trail adventures, covering 1001 miles of rugged footpath, inspirational mountaintops, and unbounded nature. Glenn's eloquently written journal entries paint vivid pictures of the wildness of the AT, the fascinating variety of characters he met along the way, and the unexpected love story that unfolded between Georgia and West Virginia."

I've posted the Introduction and first eight journal entries on the website. Follow the links from there to purchase the book in paperback or as a PDF download to view on your computer. A Kindle edition will be available mid-June. Thank you for your support and interest over the years.

Introduction

I walked 1001 miles on the Appalachian Trail, between Georgia and West Virginia, in seven hikes over seven years. The first night on the trail, I sat in a brown cinder block shed with Eddie from Easton—a man who ate, rather than drank, two spoonfuls of instant coffee for breakfast. From that night forward, I wrote down, with half a pencil, under the light of my headlamp, what I remembered from each day. The trail never shorted me details…

Click the link below to continue reading the Introduction and first eight journal entries.

1001-miles-on-the-appalachian-trail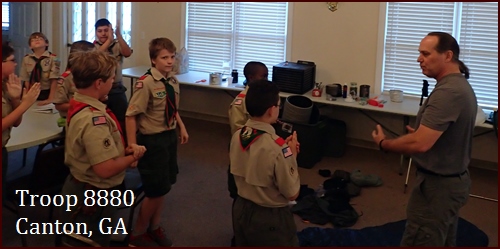 With all the final details of publishing the book that had to be attended to this spring, I wasn't able to get away for a backpacking trip. Nevertheless, Dominique and I hiked a couple of days on the Appalachian Trail in Georgia. Before heading back to Switzerland, I spent a fun evening with Boy Scout Troop 8880 in Canton, Georgia. I spoke to the boys about backpacking food and clothing. They were very curious about whether you can dehydrate things like pancakes, Jell-O, peanut butter, and lasagna. I brought spoons and they all enjoyed the BBQ beef stew that I had made in the thermos. It was good to see the adult leaders investing their time in young people, preparing the next generation of hikers to be good stewards of the land.

See you next month with something from the kitchen. Maybe pancakes?

Freundliche Grüsse,


Chef Glenn & Dominique

P.S. If you have any questions or comments about this issue of Trail Bytes, please reply to this email or use the contact form at BackpackingChef.com.



If you received this newsletter from a friend and would like to subscribe (it's free), subscribe here.
Visit my BackpackingChef Facebook page for the lastest posts. Be sure to "follow" the page to continue seeing posts.