Hello,



After last month's topic of meatloaf, I began musing about meatballs. What could be better than a meatball sandwich when you're dining "On Top of Old Smoky?" Maybe you remember the scout's version of that classic American folk song?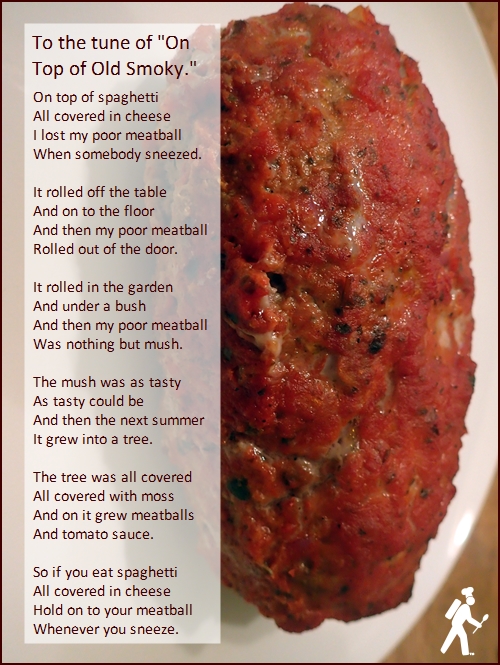 O.K. Enough with the meatball songs. Let's get serious.

Meatloaf and meatballs are pretty much the same thing; they just come in different shapes. So, I started with the basic meatloaf recipe from last month, except that I doubled up on the garlic, added herbs, and topped it with marinara sauce.

Meatball Loaf Ingredients:
1 lb. lean ground beef
1 cup bread, shredded
1 large carrot, grated
1 medium onion, diced
2 cloves garlic, minced
1 tsp. herbs*
¼ tsp. crushed red pepper
1 cup (8 oz.) marinara sauce
*For herbs, I used dried basil and herbs de Provence. A pinch of oregano wouldn't harm.


Combine all ingredients in a bowl and mix well with hands. Form into a loaf.

I initially formed the meat mixture into ten meatballs, ¼ cup each, but then I decided it would be easier to cut the cooked meat into fairly uniform pieces if the meat were cooked as a loaf.
Cooking the Meatball Loaf
Lather the top of the loaf with marinara sauce and set aside the rest until after the loaf is cooked and cut.

Place loaf in a loaf pan lined with parchment paper.

Bake in preheated oven at 400° F (200° C) for forty-five to fifty-five minutes. Internal temperature should be 160° F (70° C).

When fully cooked, remove loaf from pan and separate from parchment paper. Place it momentarily on several layers of paper towels to absorb any grease.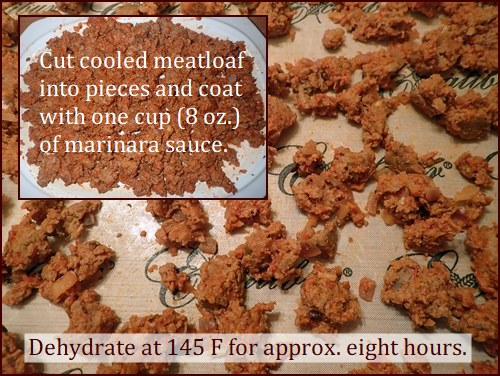 Once the meatloaf has cooled, cut it into half-inch cubes. Coat meat thoroughly with remaining marinara sauce.

Spread coated meat out on dehydrator trays covered with non-stick sheets. I used two trays.

Dehydrate at 145° F (62° C). Mine was dry after eight hours.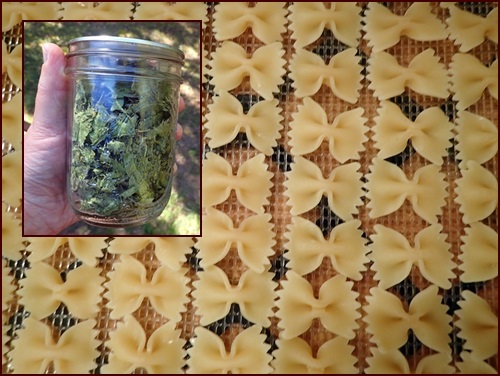 In addition to making a meatball sandwich, I made a traditional pasta meal. I dehydrated bow-tie pasta (farfalle) and used dried spinach that I had on hand. The cooked pasta dried in three hours at 145° F.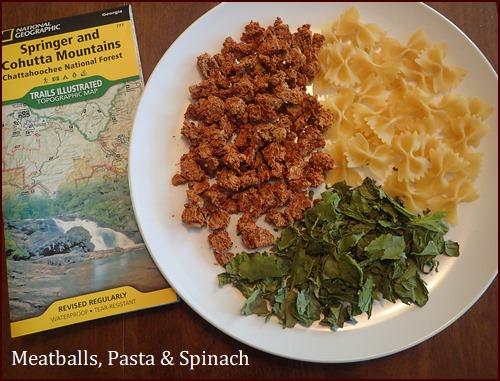 Meatballs with Pasta & Spinach
55 g dried meatballs, approx. ¾ cup
34 g dried pasta, approx. ¾ cup
3 g dried spinach, approx. ¼ cup
1¾ cups water to rehydrate and cook
Add salt and pepper to taste when serving. Parmesan cheese would be nice sprinkled on top.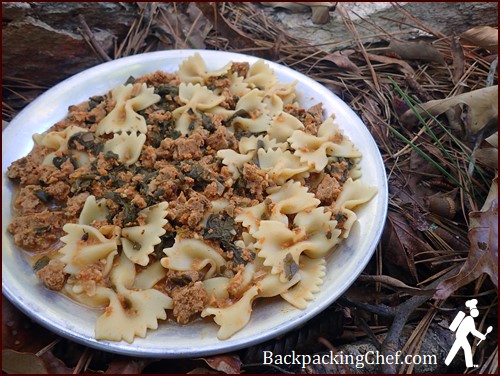 I cooked the meal in a pot using the standard method: Soak ingredients in pot for five minutes, light stove and bring meal to a boil for one minute, remove meal from stove and transfer to an insulating pot cozy for ten to fifteen minutes.

There was a quarter-cup of tasty marina-beef juices remaining, which enhanced the meal.

To increase this meal's tomato-sauciness, add a quarter-cup of marinara sauce leather and keep the water the same.

I enjoyed the pasta and meatball meal, but what I really looked forward to was the meatball sandwich!
Hot meatball sandwich served on Grandpa's old aluminum camping plate.
Meatball Sandwich
75 g dried meatballs, approx. 1 cup
3 g dried spinach, approx. ¼ cup
1 ciabatta roll or similarly stout bread
1¼ cups water to rehydrate and cook
Add salt and pepper to taste when serving.
Knowing that this meal would make an excellent hot lunch, prepared in advance, I used my Thermos Food Jar to cook and rehydrate the meatballs and spinach. After adding boiled water to the ingredients in the thermos, I waited three hours.
A 24-ounce capacity Thermos Food Jar will hold double the recipe, so on our next hike, Dominique will get a meatball sandwich, too.
The meatball sandwich was marvelous. Part of the appeal was that it was different than the usual one-pot meal. There was a quarter-cup of tasty juice remaining after rehydration, which I soaked up with the bread.
Grandpa's old aluminum camping plate doesn't go with me on backpacking trips. I would serve the meatball sandwich in the fry pan lid of my Evernew Titanium Pot. If you don't have a plate or fry pan lid, you could spoon the meatballs onto the bread a bite at a time, reserving some bread to mop up the juices.
Bread won't keep long in a backpack, so I'd plan this meal for the first or second day of a trip.
These meatball recipes are included in Recipes for Adventure II: The Best of Trail Bytes.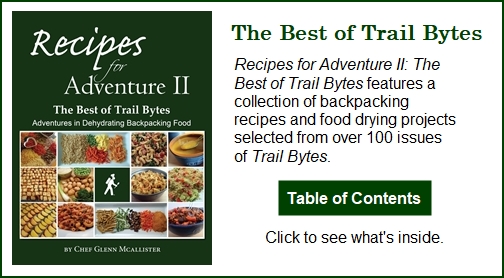 Enjoy the Fall Season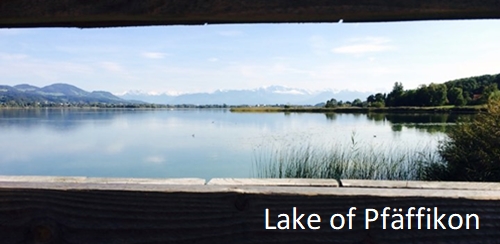 Here are some parting shots from our last walk around the Lake of Pfäffikon, Switzerland, before I flew back to Georgia. Dominique arrives next week.


We always stop at Jucker Farmart, along the Pfäffikersee, to buy apples and pumpkins. They change their gourd creations with the seasons.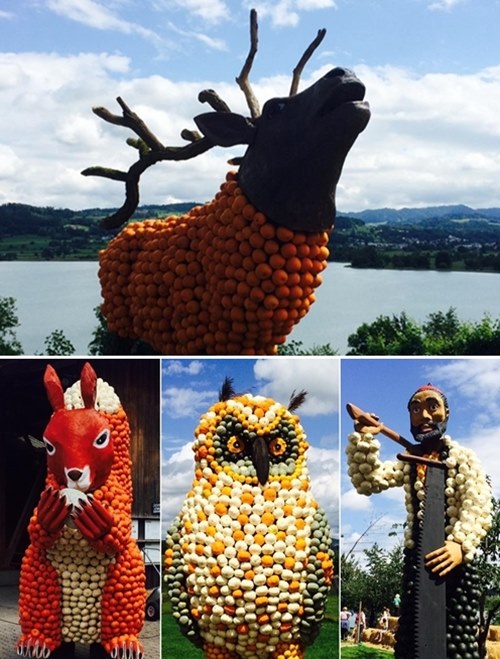 See you next month. Dominique and I wish you happy hiking this fall.

Freundliche Grüsse,

Chef Glenn & Dominique
P.S. If you have any questions or comments about this issue of Trail Bytes, please reply to this email or use the contact form at BackpackingChef.com.

If you received this newsletter from a friend and would like to subscribe (it's free), subscribe here.
Visit my BackpackingChef Facebook page for the lastest posts. Be sure to "follow" the page to continue seeing posts.