Hello,



What to do with the holiday leftovers?

After Thanksgiving, I made chicken cacciatore out of leftover chicken and rice; then dehydrated it. In the process, I documented an easy way to portion a meal and determine how much water is needed to rehydrate it.
Chicken Cacciatore
Serves 2
4 cups cooked rice
12 ounces chopped cooked chicken
1 15-ounce can diced tomatoes including liquid
8 ounces sliced mushrooms
1 medium onion, diced
2 cloves garlic, diced
Pinch each of herbs such as thyme and basil to taste
Salt and pepper to taste, start with ½ tsp salt
1 tsp cooking oil
Cook onions and garlic lightly with one teaspoon cooking oil. Use some of the liquid from the diced tomatoes instead of using more oil.
Add diced tomatoes with liquid, plus herbs, salt, and pepper. Bring to a low simmer for five minutes, then stir in cooked rice and cooked chicken.
Once the ingredients are warmed through after a few minutes, adjust salt and pepper, and let cool.
Spread two cups of chicken cacciatore on each dehydrator tray covered with a nonstick sheet. Dehydrate at 135° F. It should be dry in approximately nine to ten hours.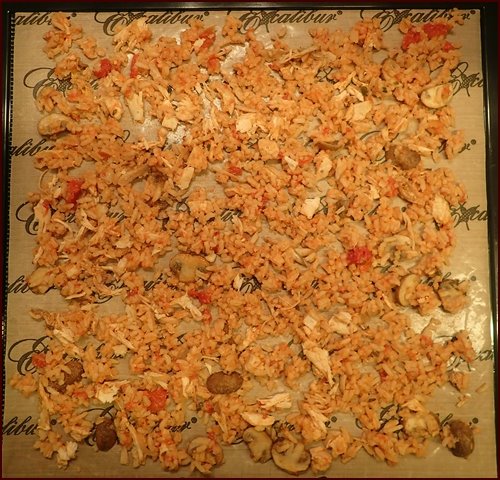 Photo above: Two cups of cooked chicken cacciatore on Excalibur Dehydrator tray covered with nonstick sheet.
Photo below: Chicken cacciatore after dehydrating, reduced to slightly more than one cup.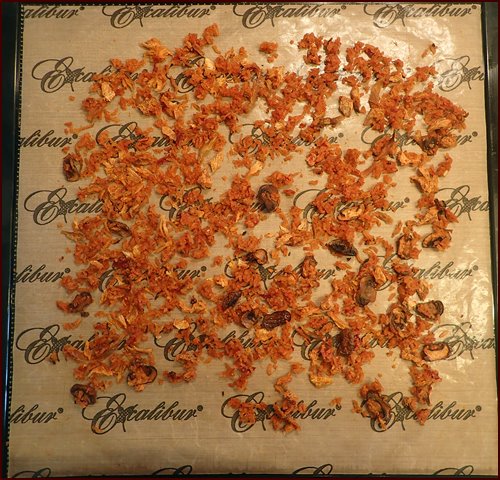 The Easy Way to Portion a Meal and Determine How Much Water is Needed for Rehydration
I started out with two cups of cooked chicken cacciatore on each Excalibur Dehydrator tray for three reasons:
It's a good quantity of solid food to dry efficiently.
It's just the right amount of food for me to eat in one meal.
It's easy to slide the dried food from the tray directly into a Ziploc bag, saving the trouble of measuring again later.
Using a digital food scale, I weighed the two cups of food before drying and then after drying.

Beginning weight of two cups of chicken cacciatore was 14.2 ounces (402 grams).


Dried weight was 3.2 ounces (90 grams).


402 grams – 90 grams = 312 grams of water weight removed during dehydration.
What comes out, must go back in, so at least 312 grams of water would be needed to rehydrate the meal. That amounted to a little less than one and a half cups of water. (I weighed the water). I rounded up to an even cup and half (12 fluid ounces or 3.5 deciliters), since I rehydrated the meal in a thermos food jar over several hours. If I had rehydrated the meal in a pot for quicker consumption, I would have used a little less water.

This strategy of weighing and creating equal portions per tray can be a time saver when dehydrating a large quantity of the same meal. There is no need to weigh the food on each tray if you put two cups worth on each tray. Just use the weight data from the first tray as a guide, and you will know how much water to use for rehydration.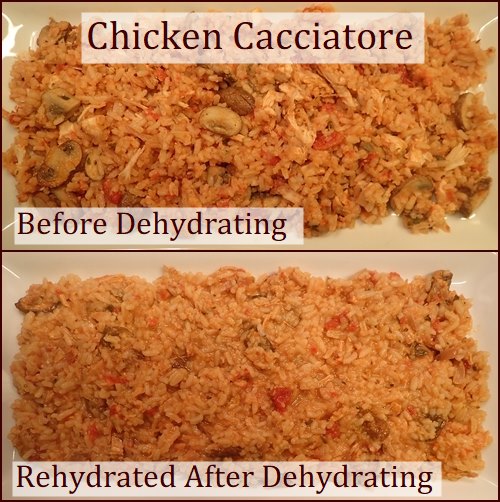 Photo Above: Another look at two cups of chicken cacciatore before drying and then rehydrated in a thermos after it was dried.
How was it?
Tasty. As expected, the chicken was a little chewy, but acceptable. It's best to tear it into small pieces before you dry it.

Are you dehydrating leftovers for trail meals? Let me know what works well for you, or if you have any questions.

Dominique and I wish you good hiking and much happiness during the holidays. See you in 2018.

Freundliche Grüsse,

Chef Glenn & Dominique
P.S. If you have any questions or comments about this issue of Trail Bytes, please reply to this email or use the contact form at BackpackingChef.com.
This Chicken Cacciatore recipe is included in Recipes for Adventure II: The Best of Trail Bytes.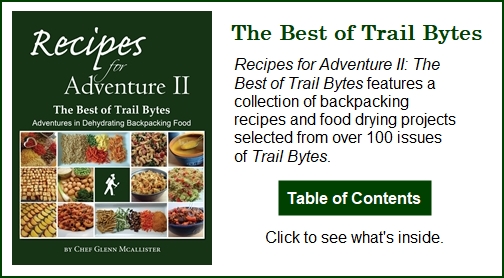 If you received this newsletter from a friend and would like to subscribe (it's free), subscribe here.
Visit my BackpackingChef Facebook page for the lastest posts. Be sure to "follow" the page to continue seeing posts.