Hello,



A backpacking chef's work comes with fringe benefits.

This morning, the reward for writing this newsletter was a bowl of delicious Bircher muesli. Yesterday, the bonus was the fruity aroma wafting through the flat while I dehydrated grated apples, bananas, and berries. Mix in some interesting research, and I confess that putting out the Trail Bytes newsletter is not a bad gig.
Dr. Max Prescribes Cold Porridge for Optimal Health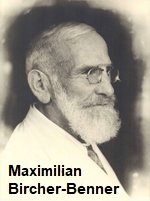 Beginning in the late 1800s, a cold porridge known as Birchermüesli was promoted for its health benefits by Swiss physician, Maximilian Bircher-Benner. He was an early proponent of eating your fruits and veggies, preferably raw in his view. Bircher-Benner opened a sanatorium called "Vital Force" in 1897. Patients were fed a bowl of muesli before every meal. The main ingredient was grated apples, to which he added soaked oats, berries and nuts, a little cream or condensed milk, and lemon juice.

For optimal health, Bircher-Benner also advocated early bedtimes, robust physical activity outdoors, and cold showers. Familiar with Swiss Alpen hiking, he knew a thing or two about the good life of the backpacker. Our adventures in nature put us on the right track for those health benefits, even if a cold shower is hard to come by in the woods.

Bircher muesli is still wildly popular in Switzerland, eaten any time of day. Everyone has their own way of making it. There are no firm rules, except for using soaked rolled oats and grated apples. People soak the oats in milk, fruit juice, or plain water. The usual approach is to soak the oats overnight, but an hour or two is sufficient. Fruits, berries, nuts, and seeds are added, and some folks top it with yogurt.

For this edition of Trail Bytes, I adapted my muesli recipe for backpacking by dehydrating the fruit and berries. I used a thermos food jar to soak the oats and rehydrate the fruit in cold water overnight. Any sealable food container will work in lieu of a thermos.

On the trail, overnight muesli saves fuel and time while providing a nourishing breakfast that will be especially appealing when temperatures rise in the summer. However, I won't be leaving the stove at home - Dominique insists that I brew her a coffee to go with her muesli.
How to Make Backpacker Bircher Muesli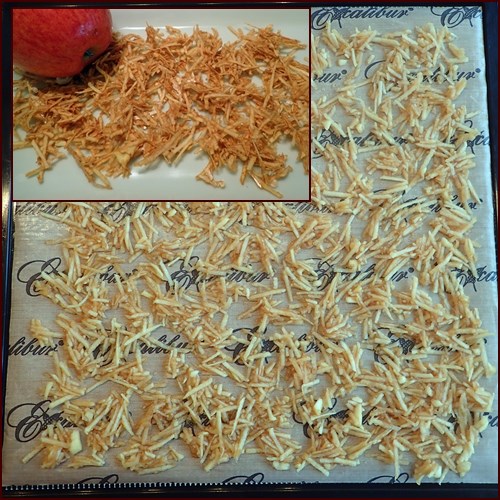 Dehydrating Apples
One small apple is required for each serving of muesli.
To learn how to dehydrate grated apples, see the Dehydrating Apples page. There are lots of other great ideas on the page for ways to dry apples.
Dehydrating Berries
Dehydrate berries directly on mesh sheets at 135° F. Strawberries dry fast, in approximately eight hours. Raspberries and blueberries take about twelve hours.
Raspberries are the most difficult of the berries to dry. Cut them into quarters or eighths with a sharp knife. They mush up a bit in the dehydrator and resist drying because each berry is made up of around 100 drupelets, each one protecting a seed. You may feel like you have more seeds than fruit when done.
Blueberries dry best when cut into halves or quarters. Otherwise, the skin prevents the inside of the blueberries from drying completely.
Strawberries shrink the most when dried, so you can cut them into pieces about a quarter-inch thick rather than into thin slices.
Dehydrating Bananas
Dehydrate banana slices directly on mesh sheets at 135° F for approximately twelve hours.
For this demonstration, I dried five grated apples, three bananas, and 100 grams each of the three berries. I could have fit another apple and banana, plus more berries, in my 5-tray Excalibur Dehydrator.
Backpacker Bircher Muesli
Serves 1
Ingredients:
½ cup rolled oats (50 g)
½ cup dried grated apples (16 g), equivalent to 1 small apple
⅛ cup dried bananas (10 g), equivalent to ⅓ of a banana
¼ cup dried mixed berries (2-3 grams each)
Toppings: walnut pieces, tsp. sugar, pinch cinnamon
Optional: 4 Tbsp powdered milk, makes 8 oz.
1½ cups cold water needed to rehydrate on trail. Packing:
Pack oats and dried fruit in one Ziploc bag. Pack toppings and milk powder in separate bags.
On the Trail:
Combine oats and fruit with 1½ cups cold water in a sealable container such as a thermos food jar. Soak overnight to enjoy muesli for breakfast, or soak it while you walk, for an hour or two, if you want to eat it later in the day. When serving, top with walnut pieces, sugar to taste, and a pinch of cinnamon.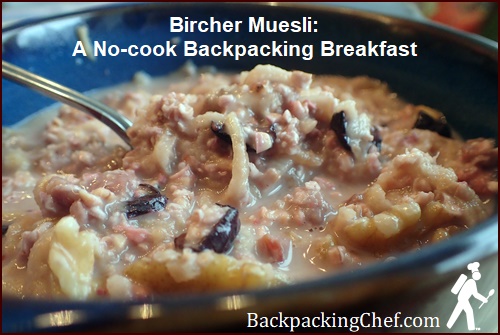 How was it?
Delicious. Dominique enthusiastically approved. We will carry several servings of muesli to supplement our lunches when we hike the Great Glen Way in Scotland this July.
I tested this recipe using both quick-cook oats and slow-cook old fashioned rolled oat. Either way works, but I preferred the texture of the quick oats. I also tried soaking the oats and fruit overnight in milk made from milk powder. That was ok, but I liked the muesli soaked in water better. If you like milk, a good strategy would be to mix up a cup in the morning and pour as much as you like over the finished muesli. Don't forget the walnuts. They add a nice taste and texture to the meal, not to mention additional fat calories for long-lasting energy.
Hunt Backcountry Podcast
Do you think I could talk for an hour about backpacking food? You bet I could.

Join me and host, Mark Huelsing, as we discuss tips and techniques for making do-it-yourself dehydrated meals. If you have any questions or comments after listening to the podcast, feel free to reply to this newsletter.

Listen to Hunt Backcountry Podcast Episode 126
Thanks for reading and listening. I hope my "work" inspires you to make delicious and memorable meals for all of your adventures.
Freundliche Grüsse,

Chef Glenn & Dominique
P.S. If you have any questions or comments about this issue of Trail Bytes, please reply to this email or use the contact form at BackpackingChef.com.
This Bircher Muesli recipe is included in Recipes for Adventure II: The Best of Trail Bytes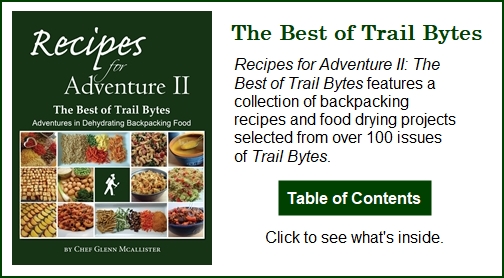 If you received this newsletter from a friend and would like to subscribe (it's free), subscribe here.
Visit my BackpackingChef Facebook page for the lastest posts. Be sure to "follow" the page to continue seeing posts.