Hello,



This month's featured recipe, Quinoa & Bean Cilantro Salad, comes with a garlic breath advisory. Dominique informed me of this when I sampled a spoonful for breakfast. The solution, of course, was for her to try some, too, and she loved it.

In addition to serving this cold salad at home, or at your next tailgate party, you can also pack it for lunch in a thermos food jar, or dehydrate it for a backpacking trip. And this recipe saves time; there's very little cooking involved.

If you use canned beans and corn, well-rinsed, all you have to cook is the quinoa. The other ingredients – tomatoes, bell peppers, onions, and garlic – go in raw with a little dicing. Cilantro, cumin, and fresh lime juice give this salad a bright salsa aroma and taste.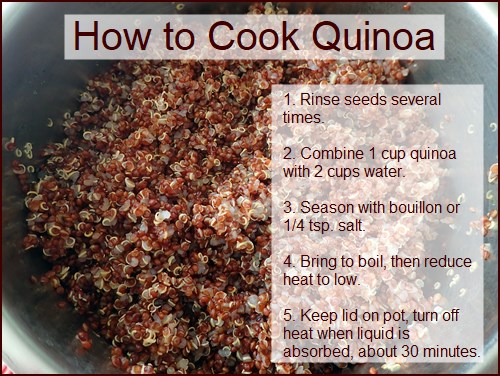 Did you know? Quinoa, pronounced, `keen-wa` possesses nine essential amino acids, making it a complete protein. It has a slightly nutty taste and can be used in place of rice in backpacking recipes.
The recipe calls for three cups of cooked red quinoa. One cup of quinoa seeds will produce the three cups you need. Begin by rinsing the seeds several times to remove any remaining saponins, which taste bitter. Add two cups of water (500 ml), seasoned with a ¼ teaspoon of salt and a chip of bouillon, to one cup of quinoa seeds (180 g).
Bring to a boil, then reduce heat to low and cover pot. Quinoa should be done in thirty minutes, and all water will have been absorbed. Let the quinoa cool while you work on the other ingredients.
Fresh cut cilantro leaves are so important in this recipe, I included it in the name. Use more than called for if you love it!
Quinoa & Bean Cilantro Salad
Servings: Eight 1-cup servings

Ingredients:
3 cups cooked quinoa
1 can red or black beans, rinsed (310 g)
1 small can corn, rinsed, or use frozen corn (170 g)
4 tomatoes, seeded and diced
1 orange bell pepper, diced
1 small green onion, including green stalk, diced *
1 small red onion, diced
1-2 cloves garlic, minced
½ cup cilantro leaves, cut smaller
1 lime, juice only
1 Tbsp red wine vinegar
1½ tsp ground cumin
¾ tsp salt
½ tsp paprika or cayenne pepper
Optional: Something hot, like red or green chilies, or jalapeno peppers. Use sparingly.
* If you don't have a green onion on hand, use more red onion.
Seeding Tomatoes
Cut the white cores out of the center of the tomatoes, then quarter them. Push seeds into a bowl with thumb. Add the liberated tomato juices to the salad by passing gel surrounding the seeds through a strainer.
Dice tomatoes, bell pepper, onions, and garlic.
Add to bowl with quinoa, beans, corn, and seasonings.
Chill salad in refrigerator until ready to serve.
Pack a serving in a thermos food jar in the morning to enjoy for lunch at work or on the trail.
Or, you can dehydrate all or part of the recipe for backpacking use.
The photo above shows a serving of the salad, before dehydration.
Yield: This recipe produces 8½ cups of Quinoa & Bean Cilantro Salad, a perfect quantity to take to your next potluck. If you dehydrate the whole batch, the dried volume will be approximately 4½ cups.
The photo below shows the salad after dehydration.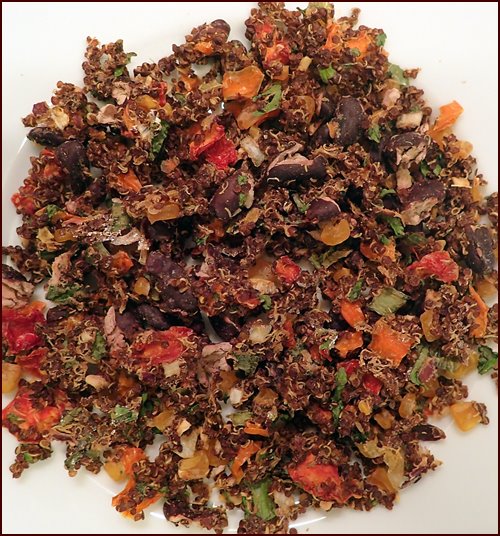 How to Dehydrate: Dehydrate at 135° F for ten to eleven hours using nonstick sheets. Two cups of wet salad fit nicely on one Excalibur Dehydrator tray. I dried half of the recipe, so I only needed to use two trays.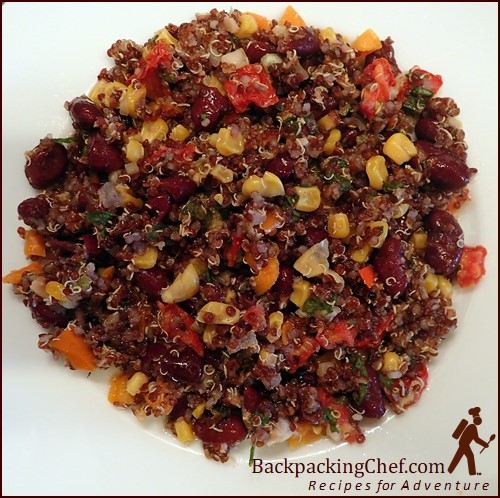 The photo above shows a serving of rehydrated salad.
Thermos Food Jar Rehydration: Rehydrate with cold water and wait three or more hours. Cold water rehydration takes longer than hot water rehydration. The wait time is perfect for filling the thermos in the morning to enjoy the salad for lunch.
Large Serving: Combine 95 grams dried salad (a little more than one cup in volume) with one cup cold water. (8 ounces or 236 milliliters) This equates to two cups of the salad which was dried on one tray.
How was it?
Invigorating. With its fragrant ingredients, this salad wakes up the taste buds nicely. As mentioned previously, let your love of garlic guide you in deciding how much to use. Two large cloves was good for us.
Choice of heat is also a matter of taste. I used two little red pepperoncinis, seeds removed. That added plenty of heat for us. A chopped green chile or jalapeño pepper would also work. Consider your heat preference, and whether you want to charm or alarm you party guests, when meting out the heat.
Of all the ingredients, the corn was the slowest to rehydrate. It was chewy after three hours, but tolerable. Sampling it again after it sat in the refrigerator overnight, it was tenderer. I used corn in the recipe mainly to add yellow color to the salad. You could achieve the same by substituting a diced yellow bell pepper in place of corn.
As expected, some of the red beans split open during dehydration, but not as many as usually spit open when beans are dried by themselves. I believe the beans benefited from having the other moist ingredients around them during the first several hours of drying. You get a similarly beneficial result when beans are dried in chili.
Unexpected Result: When I tested the water needed for reconstitution, less water was taken up than was lost during dehydration. Normally, when a tray of wet food is weighed, and then weighed again after the food is dry, the weight lost, in grams, is the amount of water needed to reconstitute it. The calculation is easy because one milliliter of water weighs one gram. It's usually an accurate guide, especially when drying blended foods like soup.
In this case, two cups of wet salad, what I put on one tray, weighed 450 grams before drying, and 95 grams after drying. That's a loss of 355 grams, which suggests 355 milliliters, (twelve ounces), would be needed to rehydrate. After a couple of experiments, I determined that 236 milliliters, (eight ounces) was the amount of water taken up after waiting three hours. Not surprisingly, the volume of the dried and reconstituted salad was half-a-cup less than the original two cups.
What's going on? We see that dried foods take longer to reconstitute in cold water than in boiled water. This is especially true for foods that have tight skins, like beans which have not cracked open, peas, and corn. It's also true that foods that were juicy before drying, like tomatoes, don't fully return to their original plumpness. On the other hand, dehydrated meals that contain significant amounts of starch – rice, potatoes, pasta, oats, grits, and couscous – have the capacity to absorb more water than was lost during dehydration.
These nuances are why I conduct and share these experiments in Trail Bytes; I want to make sure your dehydrated meals turn out great. Plus, I have fun doing it. I also like to hear back from you. Are your dehydrated meals making your adventures more enjoyable? Do you have any challenges that I can I help you with? Feel free to drop me a line.
I hope you enjoy the Quinoa & Bean Cilantro Salad. See you next month as we head into the beautiful fall hiking season.
Freundliche Grüsse,

Chef Glenn & Dominique
P.S. If you have any questions or comments about this issue of Trail Bytes, please reply to this email or use the contact form at BackpackingChef.com.
The Quinoa & Bean Cilantro Salad recipe is included in Recipes for Adventure II: The Best of Trail Bytes.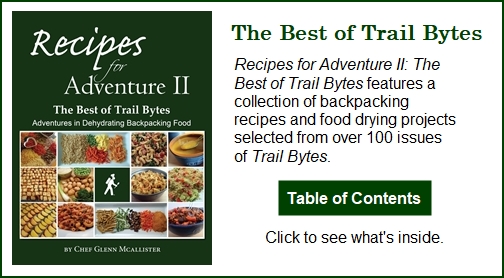 If you received this newsletter from a friend and would like to subscribe (it's free), subscribe here.
Visit my BackpackingChef Facebook page for the lastest posts. Be sure to "follow" the page to continue seeing posts.