Hello,



I have been working hard this December on the Recipes for Adventure Action Guide. After a few final touches, it should be ready in early January.

The Action Guide is divided into sections: Ingredients Discussion, Shopping List, Dehydrating Instructions, and Meal Assembly. All content is presented in step-by-step order with photos.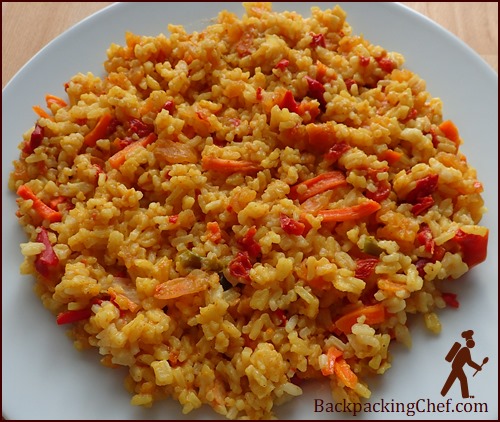 This edition of Trail Bytes features one of the 31 meals from the Action Guide: Curry Shrimp & Rice:
The photo above shows a serving of rehydrated Curry Shrimp & Rice.
The photo below shows the recipe as it appears in the Meal Assembly section of the Action Guide.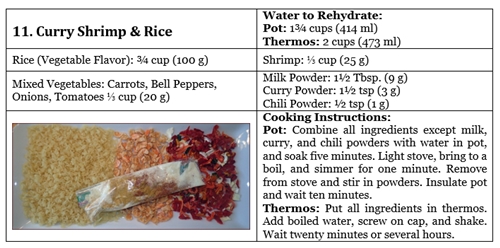 One of the new features of the Action Guide is that quantities are given in both volume (cups) and weight (grams). When assembling the meals, you can use measuring cups or a digital scale, or both.
Another feature is that all cooking instructions show how to prepare the meals in either a pot or a thermos.
In case you can't read the reduced screen shot of the meal assembly card, here's the recipe:
Curry Shrimp & Rice:
¾ cup (100 g) Dried Rice (Precooked in Vegetable Broth)
⅓ cup (20 g) Dried Mixed Vegetables (Carrots, Bell Peppers, Onions, Tomatoes)
⅓ cup (25 g) Dried Shrimp
1½ Tbsp (9 g) Milk Powder
1½ tsp (3 g) Curry Powder
½ tsp (1 g) Chili Powder
Water to Rehydrate:
Pot: 1¾ cups (414 ml)
Thermos: 2 cups (473 ml)
Cooking Instructions:
Pot: Combine all ingredients except milk, curry, and chili powders with water in pot, and soak five minutes. Light stove, bring to a boil, and simmer for one minute. Remove from stove and stir in powders. Insulate pot and wait ten minutes.
Thermos: Put all ingredients in thermos. Add boiled water, screw on cap, and shake. Wait twenty minutes or several hours.
---
The Recipes for Adventure Action Guide: Dehydrating 31 Meals will lead you step-by-step to completion of 31 dehydrated meals. Your meals will be ready when you are; for emergencies, adventure trips, work lunches, and travel.

Dominique and I use dehydrated meals for all of those purposes.

A thermos lunch went with us to Edinburgh, Scotland this month. Before leaving our hotel in the morning for a side trip to Dunbar, we added boiled water and the dried ingredients to the thermos. We enjoyed our hot lunch later, sitting by the sea and the ruins of Dunbar Castle.
While in Dunbar, we visited the birthplace of John Muir; explorer, writer, and tireless promoter of conservation and the US National Parks System.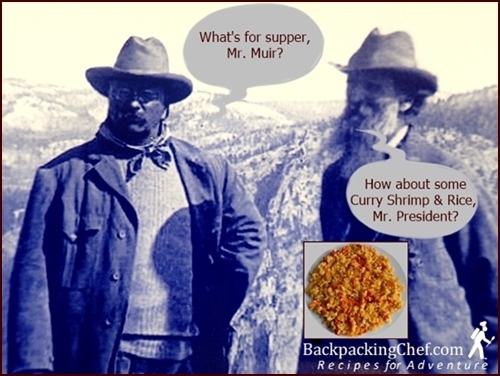 Happy holidays and best wishes for a great start to the New Year. I look forward to sending you the announcement next month that the Recipes for Adventure Action Guide is ready.
Freundliche Grüsse,

Chef Glenn & Dominique
If you have any questions or comments about this issue of Trail Bytes, please reply to this email or use the contact form at BackpackingChef.com.
Update: The Action Guide is ready!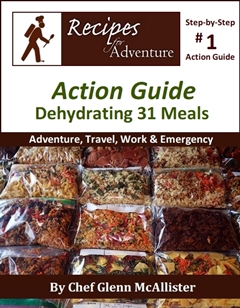 If you received this newsletter from a friend and would like to subscribe (it's free), subscribe here.
Visit my BackpackingChef Facebook page for the lastest posts. Be sure to "follow" the page to continue seeing posts.