Hello,



Dominique and I have been drawing down our initial supply of thirty-one meals from the Action Guide. Some of the meals went towards hot lunches for work, and a few of the meals got eaten during our hikes around the Lake of Pfäffikon. Fortunately, there have been no emergencies here in Switzerland.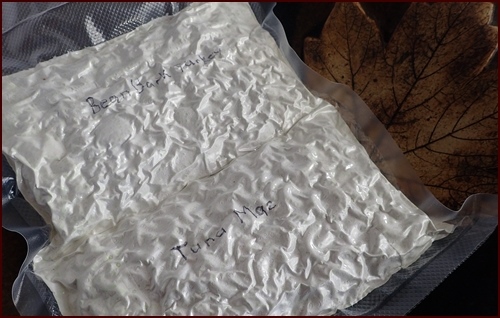 The improved vacuum sealing method that I described in the November newsletter is working well – only three seals failed within the first twenty-four hours. After resealing those three, all packages have remained tightly scrunched. A few questions came in asking about oxygen remaining in the inner Ziploc bags.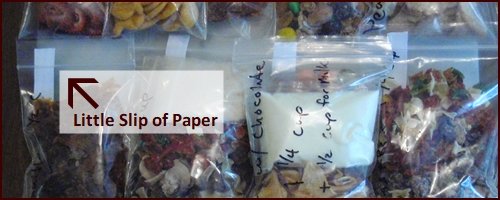 Normally, I put a two-inch long slip of paper across the zip closure of each bag to allow air to escape when the meals are being vacuum sealed. That's still a good idea, especially if the Ziploc bags you use are very high quality. Most zip-closure bags are not completely air-tight. The air inside will get sucked out from the corners of the zip-closures when the bags are squeezed by vacuum sealing. That was the case with the bags I used, but double-seal strip bags may have better seals.
From Bonnie: "Halfway through vacuum sealing, I started putting a slip of paper across the closures to keep the Ziplocs open. I think because I had Ziplocs with a double seal strip, they were retaining some air after vacuum sealing. Have not seen any failures yet, and it's been a week."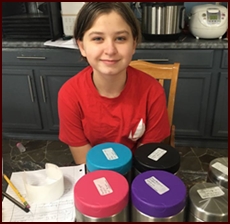 Bonnie was one of many readers who bought the Action Guide and immediately prepared the thirty-one meals.
I also heard from Tracy, who posted a picture of her daughter: "Maria ready for her Sea Scout Sailing adventure after having made quite a few meals from you new book. Thanks for such a great resource!"


Bean Bark Stew with Ham is one of the thirty-one meals from the Action Guide. There's also a version of the recipe that substitutes ground turkey for ham.
Most of the recipes follow a similar construction which allows for many substitutions:
Starches: mashed potatoes, pasta, rice, and quinoa.
Proteins: ham, ground beef, ground chicken, ground turkey, tuna, shrimp, crab, and beans.
Vegetables: spinach, tomatoes, bell peppers, onions, mushrooms, carrots, green beans, corn, okra, broccoli, and peas.
Sauces: bean bark, bbq potato bark, cheese sauce, tomato sauce, curry sauce, plus other flavors.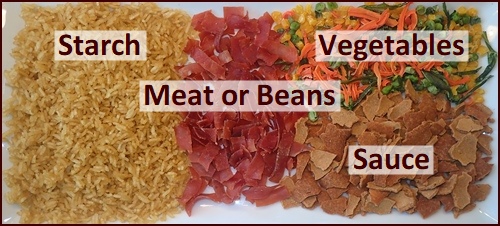 Bean Bark Stew with Ham
1 large serving
Ingredients: (All dried)
Rice (Vegetable Flavor): ¾ cup (100 g)
Mixed Vegetables: Peas, Carrots, Corn, Green Beans ⅓ cup (25 g)
Baked Bean Bark ⅓ cup (40 g)
Ham: ⅓ cup (25 g)
Water to Rehydrate: Pot: 1¾ cups (414 ml), Thermos: 2 cups (473 ml)
Cooking Instructions:
Pot: Combine all ingredients with water in pot, and soak five minutes. Light stove, bring to a boil, and simmer for one minute. Remove from stove, insulate pot, and wait ten minutes.
Thermos: Put all ingredients in thermos. Add boiled water, screw on cap, and shake. Serve up to twelve hours later.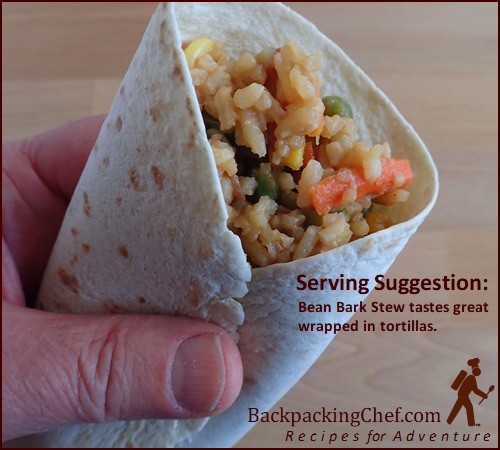 Gluten-Free Update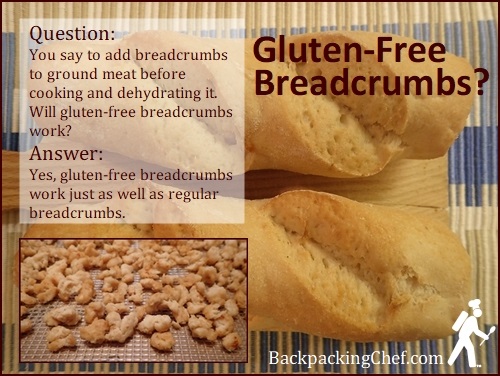 Gluten-free breadcrumbs can be used in place of regular breadcrumbs when dehydrating ground beef, chicken, and turkey. The photo shows gluten-free baguette-style loaves, which I baked in the oven for ten minutes before slicing, dehydrating, and reducing to fine breadcrumbs in a blender. The Action Guide includes the instructions for dehydrating ground chicken and turkey using breadcrumbs.
Thank you very much to everyone who purchased the Action Guide. Let me know if you have any more questions, and if you think of it, please send photos of your accomplishments. Freundliche Grüsse,

Chef Glenn & Dominique
P.S. If you have any questions or comments about this issue of Trail Bytes, please reply to this email or use the contact form at BackpackingChef.com.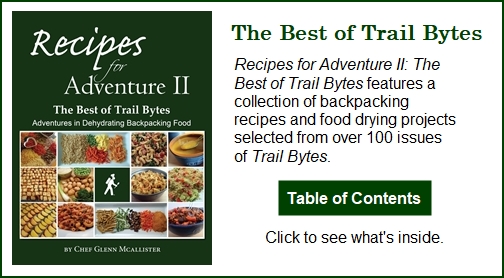 If you received this newsletter from a friend and would like to subscribe (it's free), subscribe here.
Visit my BackpackingChef Facebook page for the lastest posts. Be sure to "follow" the page to continue seeing posts.