Hello,



So far this year, I've covered how to make calorically-dense energy bars, granola, and fruity granola clusters. This month I round out the category with chewy granola bars made in a dehydrator.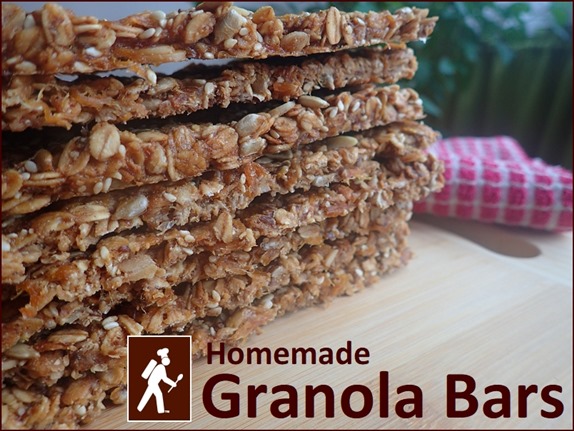 The main ingredient—besides the expected oats, nuts, and/or seeds—is fruit. I made three varieties for starters: Apple-Lemon, Banana-Pineapple, and Apple-Berry-Chocolate Chip. All of them can take chocolate chips as an ingredient, or chocolate can be melted on top after the granola bars are dehydrated.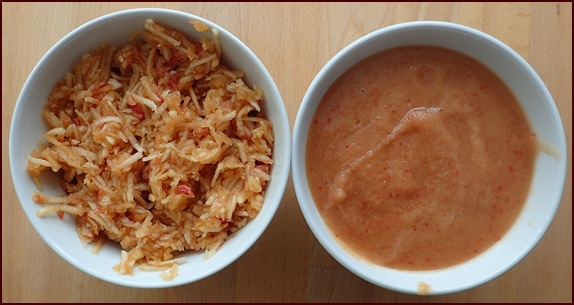 Photo above shows grated and blended apples used in the Apple-Lemon Granola Bar Recipe.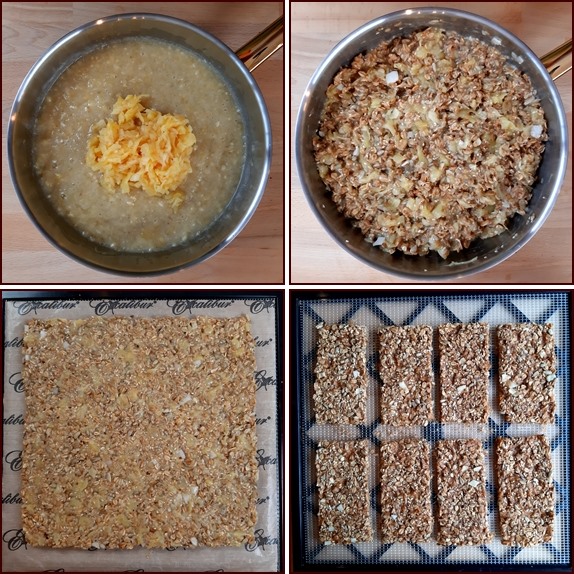 Photos show the stages of making Banana-Pineapple Granola Bars.
The procedure for making fruity granola bars involves reducing the consistency of the fruit by grating and/or blending it. The fruit is then mixed with the granola ingredients and spread about 1 cm thick on a dehydrator tray. Before the granola bar mixture is completely dry, you cut it into granola bar shapes.
These fruity granola bars are nothing like the granola bars that you buy at the store. Those are baked and typically held together with sugar syrups or corn syrup. Instead of having a cookie-like crunch, mine are chewy. I'm not knocking store-bought granola bars. They taste pretty good and are convenient.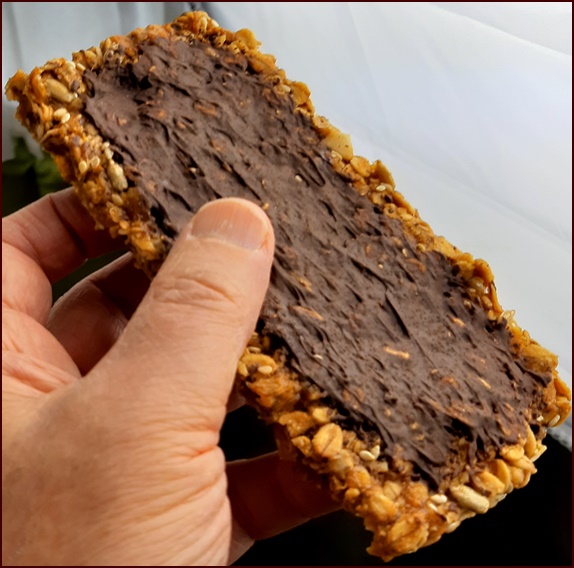 I made my fruity granola bars with outdoor adventurers in mind. They provide more nutrition and healthy calories for our active pursuits. They're also quite solid, so you can smear more goodies on them like peanut butter or Nutella. Dip them in your morning brew for a good start to the day.

Find the recipes and instructions on the new page at Backpacking Chef:

And here are links to the other trail snack topics covered recently:

How to Make Granola and Granola Clusters

Let me know what you think of these homemade granola bar recipes, and please feel free to share one of your own recipes if you have one.

Dominique and I enjoyed our trip back to Georgia this month. We reunited with family, met a new granddaughter, and of course, took several hikes in the North Georgia Mountains. See you next month when I'm back in Switzerland. Thinking about revisiting the topic of potatoes.

Freundliche Grüsse,

Chef Glenn & Dominique
Please reply to this email with any questions or comments, or use this contact form.

Visit my Backpacking Chef Facebook page for the lastest posts. Be sure to "follow" the page to continue seeing posts.
If you received this newsletter from a friend and would like to subscribe (it's free), subscribe here.