Hello,



I was asked the other day, during a podcast with National Parks Traveler, how I keep coming up with new backpacking recipes. My answer was that sending out the Trail Bytes newsletter motivates me to develop at least one recipe every month.

More often than not, I end up exploring all the different ways to use each dehydrated food on the trail—like Peach Leather, Peach Granola Clusters, Peach Perfect Trail Mix, Hot Peach Crumble, Peach Crunch Breakfast, Peachy Fruit Cocktail, and Peach Salsa Rice Salad.

The best recipes from over 100 newsletters went into Recipes for Adventure II: The Best of Trail Bytes.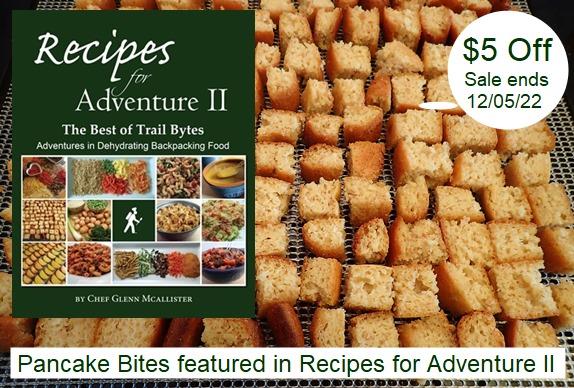 Now you can own the full collection, as a PDF or printed book, at a special price during our holiday sale.

Take an extra $5 off Recipes for Adventure II.

The sale price is in addition to our other offer:

Buy one book and get $5 off each additional book, which applies to Recipes for Adventure I and II, The Action Guide: Dehydrating 31 Meals, and The Menu Planning & Food Drying Workbook.

There's also the free gift of 1001 Miles on the Appalachian Trail, with any order.

Plus… free shipping on printed books to USA addresses.

Order today. Sale ends Dec. 5, 2022.
National Parks Traveler Podcast with Chef Glenn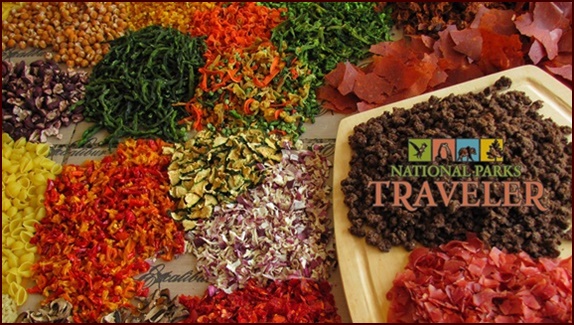 National Parks Traveler is a very informative, non-profit website that covers the inside stories about the national parks in the USA. I joined Kurt Repanshek for his podcast last week to talk about dehydrating meals for backpacking and camping. Being so close to Thanksgiving, he was particularly interested in dehydrating pumpkin pie.

Listen to the podcast here:

National Parks Traveler Podcast Episode 198
Pumpkins & Peanut Butter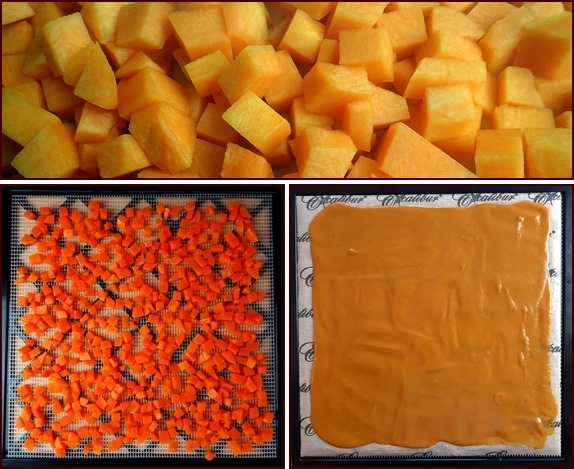 I mentioned in the last newsletter that peanut butter powder might find its way into some trail dessert and snack experiments. Checking in with Google, I learned that pumpkin-peanut butter pie was a real thing, not some pie-in-the-sky aberration of my imagination.

The new experiments have been added to the updated Pumpkin Pie Bark page. New recipes include Pumpkin-Peanut Butter Pie Leather and Pumpkin-Peanut Butter Granola Clusters. The leather is great for snacking, and it's also good as a pudding or addition to oatmeal. The page also includes instructions for dehydrating steamed pumpkin cubes.

See: Dehydrating Pumpkin and Pumpkin Pie.

Thanks for reading Trail Bytes and for supporting Backpacking Chef when you purchase books or recommend the website to friends. I hope you enjoy experimenting with food dehydration as much as I do. We'll see you in December for the last newsletter of the year.

Freundliche Grüsse,

Chef Glenn & Dominique
P.S. The holiday sale ends Dec. 5, 2022. Order today!
Please reply to this email with any questions or comments, or use this contact form.

If you received this newsletter from a friend and would like to subscribe (it's free), subscribe here.
Visit my BackpackingChef Facebook page for the lastest posts. Be sure to "follow" the page to continue seeing posts.