How to Dehydrate Pumpkin
Imagine enjoying a serving of pumpkin pie on your next hike. This page shows how to dehydrate pumpkin pie bark and leather using fresh or canned pumpkin, plus instructions for steaming and dehydrating pumpkin cubes to use in backpacking meals.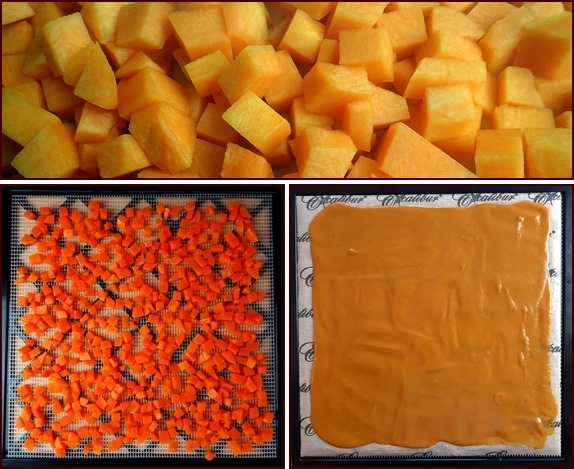 Topics on this page:

Pumpkin Pie Bark

Pumpkin pie bark goes in like a chip and down like pie.
Chewy and nutritious trail snack.

Turn it into pumpkin pie pudding with hot or cold water.
Add it to oatmeal for a hearty trail breakfast.
Photos: (l) Pumpkin pie bark spread thinly on dehydrator tray covered with nonstick sheet. (r) Dehydrated pumpkin pie bark is brittle and can be broken into smaller chips for snacking.

Ingredients:
1 15-oz. can pumpkin
¼ cup real maple syrup
2 tsp. pumpkin pie spice (cinnamon, nutmeg, ginger, allspice)
Combine pumpkin with maple syrup and pumpkin pie spice. Use real maple syrup for best results. Stir until ingredients are mixed well. You don't need to use a blender.
Spread thinly (about eighth inch) on dehydrator trays covered with nonstick sheets or the fruit leather inserts that go with your dehydrator.

Dehydrate at 135°F (57°C) for approximately eight hours until brittle.
After about five hours, place a spare dehydrator tray on top of the bark and flip the two trays over so that the bottom side of the bark is now facing up. Remove the nonstick sheet. This will ensure complete drying.

Yield: One 15-ounce can of pumpkin yields 1½ cups of dehydrated pumpkin pie bark weighing four ounces.
Pumpkin Pie Pudding

Serves 1

Ingredients:
½ cup pumpkin pie bark
½ cup water
Pumpkin pie bark dissolves in hot or cold water. If you want hot pudding, stir the bark with hot water until creamy. I use my candle stove to gently warm the water.
For larger servings, combine bark with an equal quantity of water.

Garnish with chopped walnuts or pecans if desired.
Tip: Excalibur dehydrators have 15 X 15 inch square trays which makes it much easier to spread liquified foods compared to round dehydrators with holes in the middle of the trays.
Read my review comparing Nesco Dehydrators to Excalibur Dehydrators.
Granny Smith's Pumpkin-Apple Pie Bark

This is the same recipe as pumpkin pie bark with the addition of one fresh apple. The bark is slightly more pliable with the added moisture of the apple.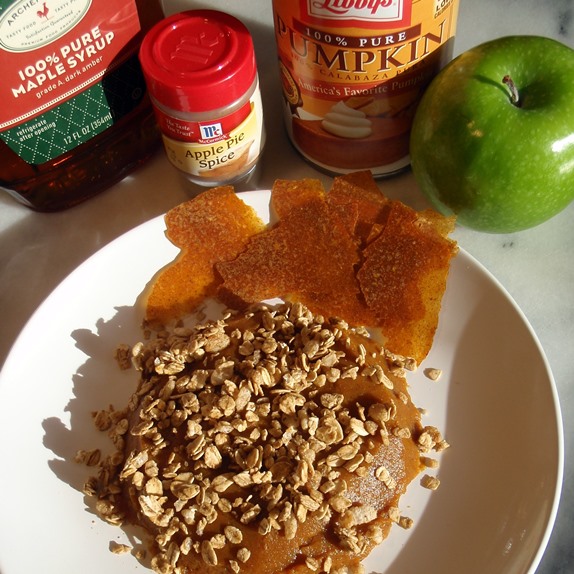 Photo shows dehydrated pumpkin-apple pie bark in chip form, and then rehydrated into pudding with toppings.

Ingredients:
1 15-oz. can pumpkin
1 large apple
¼ cup real maple syrup
2 tsp. apple pie spice (cinnamon, nutmeg, allspice)
Peel and core apple and cut into pieces. Combine with pumpkin and spices in blender and blend until smooth.
Spread thinly on dehydrator trays covered with nonstick sheets.
Dehydrate at 135°F (57°C) for approximately eight hours. Employ the flip trick as discussed above after five hours. Dried consistency will be more leathery than basic pumpkin pie bark which is brittle.
Tear bark into pieces and enjoy as a trail snack.
To make pumpkin-appie pie pudding, combine ½ cup bark with ½ cup hot water and stir until creamy. Garnished with nuts or granola.
Pumpkin-Peanut Butter Pie Leather
This recipe uses fresh pumpkin, but you can also use canned pumpkin. With the added apple juice, the end product is pliable, just like fruit leather.
Peanut butter powder makes this leather especially tasty for peanut butter lovers, but you can leave it out to make it a standard pumpkin pie leather.
Photos show blended pumpkin-peanut butter pie ingredients before and after dehydrating.
Servings: 2 Excalibur dehydrator trays of leather.
Ingredients:
1 lb. pumpkin cubes (454 g)
1 cup apple juice (237 ml)
¼ cup maple syrup (59 ml)
2 tsp. pumpkin pie spice
4 Tbsp. peanut butter powder*
* Peanut butter powder has most of the fat removed, so it is suitable for dehydrating. Buy PB2 Powdered Peanut Butter on Amazon.
Preparation:
Peel and cut pumpkin into cubes.
Bring pumpkin, apple juice, and pumpkin pie spice to a boil in pot, then reduce heat to simmer for about thirty minutes until pumpkin cubes are soft.
Let cool, then stir in maple syrup and peanut butter powder.
Run contents of pot though a blender to a smoothie-like consistency.
Dehydrating Pumpkin Leather:
Spread blended pumpkin thinly on dehydrator trays covered with nonstick sheets.
Dehydrate pumpkin leather at 135°F (57°C) for approximately 8 hours until leathery and no moist spots remain. Tip: After about 6 hours, flip leather over and remove nonstick sheet to finish drying.
Storage & Packaging:
Place pumpkin leather on top of a sheet of parchment paper with four inches of extra paper on one side. Fold into four columns and then fold in half. This will keep the leather from sticking to itself, and the fold lines will make it easy to tear into strips for snacking.
Several folded leathers can be packaged in a Ziploc bag to take on the trail. At home store wrapped leathers in an airtight container.
Pudding

Rehydrate one sheet of leather, about ½-cup torn (60 grams), with an equal quantity of hot or cold water. Stir to dissolve the leather. Top with pecans or walnuts.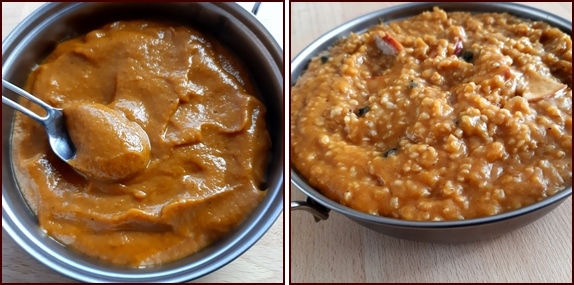 Photos: Pumpkin-Peanut Butter Leather rehydrated into pudding (l), or mixed into oatmeal (r).
Pumpkin-Peanut Butter Oatmeal

1 Large Serving:
½ cup rolled oats
½ cup pumpkin-peanut butter leather (60 g)
¼ cup dried fruit, try apples and blueberries (15 g)
2 cups water (473 ml)
On the Trail:
Soak dried fruit in water for 5 minutes. Light stove and bring to a boil.
Add oats and leather. Stir to mix. As soon as water starts to bubble again, turn off stove and transfer pot to an insulating pot cozy for ten minutes.
Pumpkin-Peanut Butter Granola Clusters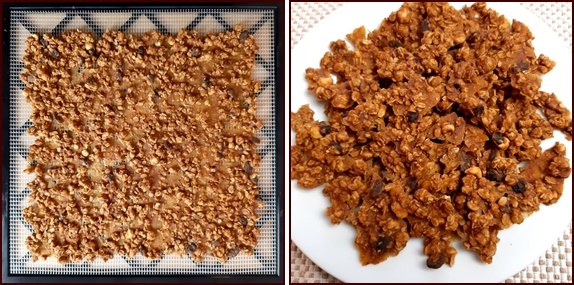 Photo on left shows the ingredients almost dry after flipping the tray over and removing the nonstick sheet. Photo on right shows pumpkin-peanut butter granola clusters ready for a snack attack.
Servings: 2 Excalibur trays
Ingredients:
Use the same quantity of ingredients and preparation method for Pumpkin-Peanut Butter Leather.
Stir in 4 cups of granola (400 g) and mix well.
Dehydrate:
Spread mixture thinly on dehydrator trays covered with nonstick sheets.
Dehydrate at 135°F (57°C) for approximately 10–12 hours until dry, but still slightly pliable.
When the clusters are substantially dry, flip the tray over onto another tray and remove the nonstick sheet for the remainder of the drying time.
Break into smaller clusters, place on plate, and watch them disappear. Store in an airtight container or a Ziploc bag for the trail.
How to Dehydrate Pumpkin Cubes
The bright orange color of dehydrated pumpkin cubes make them a great addition to any backpacking meal. Just add a pinch of them along with other dried vegetables. Pumpkin is full of vitamins and minerals, especially beta carotene. Source: Healthline, Pumpkin Nutrition.
Photos show steamed pumpkin cubes before and after dehydrating.
Preparation:
Choose a squat pumpkin intended for eating, not the tall kind that you carve at Halloween.
Cut off the top and scoop out the seeds and stringy parts.
For easier handling, cut the pumpkin downward into four parts. This will give you flat edges to steady the pumpkin quarters while peeling and slicing.
After peeling off the skin, cut the pumpkin quarters, with the curved side facing you, into slices about a 1/4-inch to 3/8-inch thick (about ½ cm).
Lastly, cut the pumpkin slices longwise and crosswise about the same thickness as the first cuts.
Cooking:
Place pumpkin cubes in a steaming basket inside a pot with half an inch of water. Steam pumpkin for fifteen to twenty minutes until soft, but not mushy.
Dehydrating Pumpkin Cubes:
Place steamed pumpkin cubes in a single layer directly on mesh dehydrator trays.
Dehydrate pumpkin at 135°F (57°C) for approximately 6 hours, or until no moisture can be squeezed from them. Pumpkin cubes shrink a lot when they are dry.
Yield: 500 grams of pumpkin cubes (a little over a pound) will weigh only 26 grams after steaming and dehydrating. Dried volume will be slightly more than a third of a cup.
How to Dehydrate Pumpkin Soup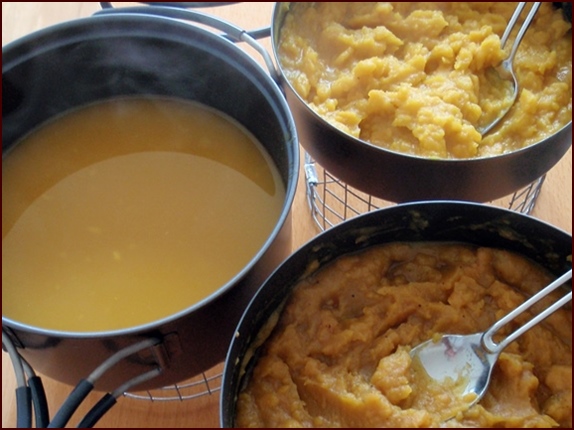 Photo shows rehydrated pumpkin soup, mashed pumpkin, and pumpkin pie pudding made by dehydrating whole pumpkin.

Cook and dehydrate fresh pumpkin to make pumpkin soup and mashed pumpkin. Learn how in this backissue of Trail Bytes:

How to dehydrate pumpkin soup with a whole pumpkin.

Subscribe to Trail Bytes. Get a free e-book.
Explore More...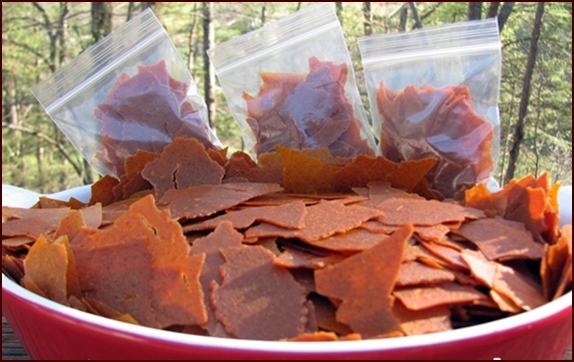 Photo: Sweet Potato Bark. Healthy & Delicious Snack!

More Bark Recipes: Potato Bark, Bean Bark, Corn Bark, and Sweet Potato Bark, shown above.

You'll find all the instructions for how to dehydrate bark with recipes for meals, snacks, and desserts in my books:
Share this page with friends on social media.