Pumpkin Pie Bark

Pumpkin pie bark makes a chewy and nutritious trail snack or turns into no-crust pumpkin pie or pudding with the addition of water.
As a snack, it goes in like a chip and down like pie.


Ingredients:
1 15 ounce can pumpkin
¼ cup real maple syrup
2 tsp. pumpkin pie spice (cinnamon, nutmeg, ginger, allspice)
Combine pumpkin with maple syrup and pumpkin pie spice. Use real maple syrup for best results. Stir until ingredients are mixed well. You don't need to use a blender.
Spread thinly (about eighth inch) on dehydrator trays covered with Excalibur Paraflexx® sheets, parchment paper, or the fruit leather inserts that go with your dehydrator.

Dehydrate at 135°F (57°C) for eight hours until brittle.
After about five hours, flip the bark over as follows: Place a spare dehydrator tray on top of the Bark and flip the two trays over so that the bottom side of the bark is now facing up. This will ensure complete drying.

Yield: One 15-ounce can of pumpkin barks down to 1½ cups weighing four ounces.
No-Crust Pumpkin Pie

Serves 1

Ingredients:
½ cup Pumpkin Pie Bark
½ cup water
Pumpkin Pie Bark dissolves in hot or cold water. If you want hot pie or pudding, stir the Bark with hot water until creamy. I use my candle stove to gently warm the water for pumpkin pie.
I eat it like pudding, but the photo shows that it is thick enough to shape into a wedge of pie.

For larger servings, combine with an equal quantity of water.

Garnish with chopped walnuts or pecans if desired.
Tip: Excalibur dehydrators have 15 X 15 inch square trays which makes it much easier to spread liquified foods compared to round dehydrators with holes in the middle of the trays.
Read my review comparing Nesco Dehydrators to Excalibur Dehydrators.
Granny Smith's Pumpkin Apple Bark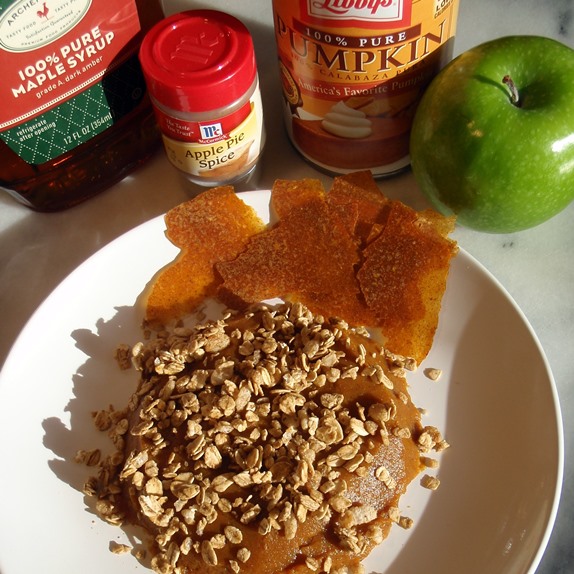 Ingredients:
1 15-ounce can pumpkin
1 large apple
¼ cup real maple syrup
2 tsp. apple pie spice (cinnamon, nutmeg, allspice)
Peel and core apple and cut into pieces. Combine with pumpkin and spices in blender and blend until smooth.
Spread thinly on dehydrator trays covered with paraflexx® sheets or parchment paper.
Dehydrate at 135°F (57°C) for eight hours. Employ the flip trick as discussed above after five hours. Dried consistency will be more leathery than basic pumpkin pie bark which is brittle.
Tear bark into pieces and enjoy as a trail snack.
To make pie or pudding, combine ½ cup bark with ½ cup hot water and stir until creamy.Garnished with nuts or granola.
Dehydrating Pumpkin

In season, you can also dehydrate pumpkin fresh from harvest, and turn it into pumpkin soup, mashed pumpkin, and pumpkin pie.
I cover this topic in my free newsletter, Trail Bytes:
How to make pumpkin soup with a whole pumpkin.
Continue Reading...
How to Make Bark Table of Contents

Potato Bark, Sweet Potato Bark, Corn Bark, and Bean Bark (shown below)
Dehydrating Food Table of Contents
Dehydrating Vegetables, Fruit, Meat, Sauce, Bark, Leather, Soup, Vacuum Sealing and more!
Grahma Nanna Nilla Pudding, Pineapple Upside Down Cake, Sweet Potato Pudding (shown Below), and more!

You'll find all the instructions for how to dehydrate bark with recipes for meals, snacks, and desserts in my book, Recipes for Adventure: Healthy, Hearty, and Homemade Backpacking Recipes.