Hello,



When you think of hearty, one-pot backpacking meals, chili tops the list. I make and dehydrate a pot of Beef & Bean Chili for every trip. Many folks have told me that it is their favorite trail meal.

I also hear from backpackers who are looking for vegetarian options. That's why in this month's edition of Trail Bytes, I feature a recipe – very similar to the Beef & Bean Chili Recipe – that substitutes green lentils for ground beef.

But first, since creating an outstanding pot of chili is a source of pride for the chef, as well as an adventure in itself, I invite you to enter our first ever…
Backpacking Chef Chili Cook-off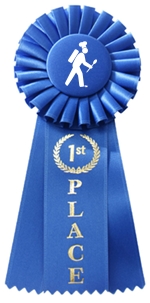 Two Categories:

Meat-based Chili and Vegetarian Chili
Submit your recipe on this form.
This is the information we need: Name of recipe, # servings, brief description, list of ingredients & quantities, instructions to make the recipe, and how to prepare the chili on the trail.
Tip: Write the details down in advance, and copy/paste them into the form. Alternatively, you may reply to this newsletter with your recipe written out.
At least one photo of your chili is required, but you may submit it separately, as long as you send it by the deadline.
Submit your chili recipe by April 28, 2019.
All reasonable entries will be included in a special Chili Cook-off feature at BackpackingChef.com. As a "thank you" for submitting your chili recipe, I will send you the PDF version of my trail journal, 1001 Miles on the Appalachian Trail.
Voting will take place between May 1st and May 15th. I will cook and present the top two recipes – one with meat, and one vegetarian – in the June newsletter. The winner of each category will receive all three of my other publications: Recipes for Adventure, The Action Guide, and The Menu Planning & Food Drying Workbook.
This is going to be fun. Don't delay. Send me your chili recipe by April 28th.
---
Green Lentil Chili
The Green-Lentil Chili recipe has been moved to a new page:

Vegetarian Backpacking Meals: Green-Lentil Chili.
The recipe shows how to make green-lentil chili, how to dehydrate it, and how to rehydrate it in meals.

Green-lentil chili can be substituted for ground beef to modify a backpacking meal, such as unstuffed peppers, so that it is vegan and vegetarian.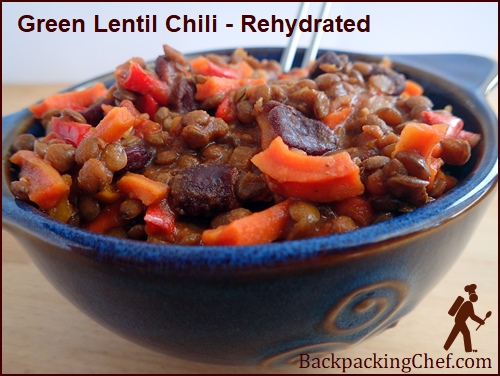 How was it?
Tasty, as expected. While green lentils don't have quite the same savory chewiness of beef, they hold their texture well, and they have the ability to absorb any flavors you throw at them. Other vegetables or starches that would work in this recipe are cauliflower, corn, and sweet potatoes.
I intentionally kept the recipe basic to leave room for all the creative use of ingredients I hope you send in for the Chili Cook-off. A quick perusal of the internet reveals that people put all sorts of things in their chili: beer, wine, whiskey, cola, soy or tamari sauce, sriracha, dark chocolate or cocoa powder, hot peppers, nutritional yeast, smoked paprika, mango, and cranberries. What's in your chili?
Send your chili recipe by April 28th. Thank you!
Freundliche Grüsse,

Chef Glenn & Dominique
P.S. If you have any questions or comments about this issue of Trail Bytes, please reply to this email or use this contact form.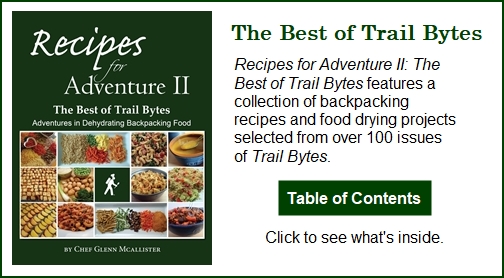 If you received this newsletter from a friend and would like to subscribe (it's free), subscribe here.
Visit my BackpackingChef Facebook page for the lastest posts. Be sure to "follow" the page to continue seeing posts.