Hello,



This inspiration for this month's edition of Trail Bytes came from a reader's question about cheese powder, which led to an experiment in making cheese sauce from scratch. Cheese powders, à la Kraft or Annie's brands, have improved in recent years. Annie's was always bad-stuff-free, but now Kraft has replaced artificial colors in their boxed macaroni and cheese products with all-natural paprika, annatto, and turmeric. They also eliminated artificial flavors and preservatives.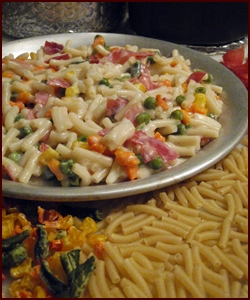 Cheese powders make easy-cheesy sauces for backpacking meals. All you have to do is rehydrate and boil the other ingredients first. If using macaroni straight from the box, then a boil should be maintained for two minutes for best results. After two minutes, while there is still a little water left in the pot, stir in the powders. Then, put the pot in an insulating pot cozy for ten minutes.
See these examples of Mac & Cheese Backpacking Recipes.
But what if you don't pack the powders in a separate bag, and everything is already combined?
Question:
Help! I want to know the implications of adding powdered milk and cheese to the rest of the dry ingredients while packing and sealing the meals. It was an accident! Any help is appreciated. I love the book, and I have been prepping meals for an upcoming trip this week. Thanks! -Kristy
Answer:
If you add the milk and cheese powders at the beginning of the cooking process, just give the meal a good stir as soon as the water warms up. Watch out for scalding on the bottom of the pot when the water reaches a boil. Be prepared to take the pot off the heat before the full two-minute boil. Put the meal in an insulating cozy for fifteen minutes, instead of the usual ten minutes.
How popular is boxed mac & cheese? We earthlings consume over a million boxes of it per day. As ubiquitous as quick-fix, mac and cheese is to culinary culture in America, I was surprised to learn that Canadians eat fifty-five percent more of it than their neighbors to the south. I was even more surprised to learn, upon moving to Switzerland – the Fondue Capital of the World – that you have to search far and wide to find a single box.
Which is a great excuse to grab a hunk of cheese, and turn it into sauce.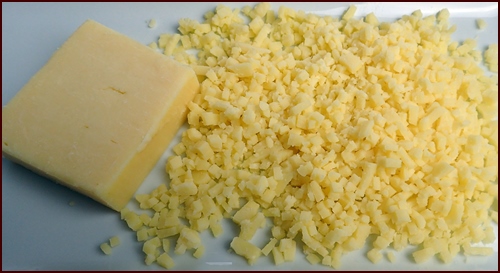 The photo above shows what a three-ounce chunk of cheddar cheese looked like after I cut it into little bits with a knife. I made a second sauce from a chunk of Italian Grano Padano cheese, which is very similar to parmesan cheese. Another good choice would have been to use Gruyère cheese, which is made in Switzerland.
Since cheese is perishable, you'll want to use it up within the first couple days of a trip. If you take an eight-ounce block of cheese to the woods, you could use three ounces of it in the sauce the first night, three ounces in your grits or scrambled eggs the following morning, and then finish it off in tortillas for lunch.
Macaroni & Cheese with Beef Sausage & Tomatoes
Ingredients for Cheese Sauce
Makes 1 cup
3 oz. Hard Cheese (86 g)
3½ Tbsp Powdered Milk (25 g)
1 Tbsp Corn Starch (5 g)
Tiny Pinch each: (< ⅛ tsp) Salt, Ground Pepper, Cayenne Pepper, Garlic Powder)
The seasonings can be packed in the same bag as the powdered milk, but pack the corn starch separately.
Ingredients for Rest of Meal
1 Large Serving
¾ cup Precooked & Dried Macaroni (70 g)
⅓ cup Dried Ground Beef (40 g)
⅓ cup Dried Tomatoes (20 g)
These ingredients can be packed in one bag. I used my faux sausage seasoned ground beef, and I also seasoned the tomatoes before drying them with Herbs de Provence, salt and pepper, and garlic and onion powder.
On the Trail
Put pasta, beef, and tomatoes in Thermos Food Jar.

Boil 1¼ cups water. Add boiled water to thermos and close.

While those ingredients are rehydrating, cut the cheese into tiny pieces.

Next, mix 3½ tablespoons of powdered milk with one cup (236 ml) of cool water in pot. Add seasonings to the milk.

Using the cup-top of the Thermos Food Jar, combine one tablespoon of corn starch with one tablespoon of cool water. Stir, and the corn starch will dissolve in a few seconds.

Photo below shows the corn starch mixed with water.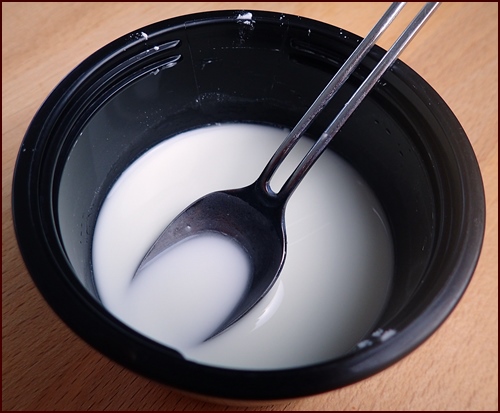 Turn on stove and bring the milk to a simmer.
Once the milk is simmering, add the liquefied corn starch – a little at a time while stirring continuously. Within a minute the milk will thicken.
When you're happy with the thickness (after a minute or two), add the cheese. Stir until the cheese melts into the sauce.
Photo below shows the finished sauce. You can pour it over whatever you are serving, or simply dump your rehydrated ingredients from the thermos into the pot.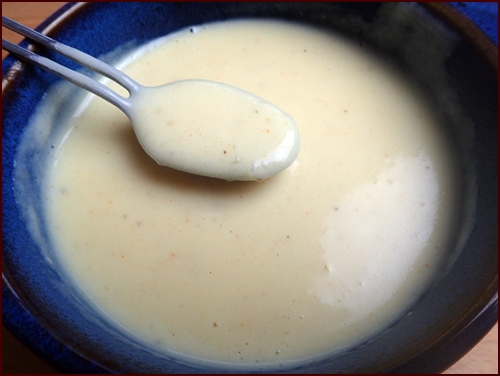 How was it?
Excellent! I used the Grana Padano Cheese Sauce for the Beef & Tomato meal, and I used the Cheddar Cheese Sauce for a Tuna Mac & Cheese Meal. (I had one on hand from my Action Guide stash). Photo below.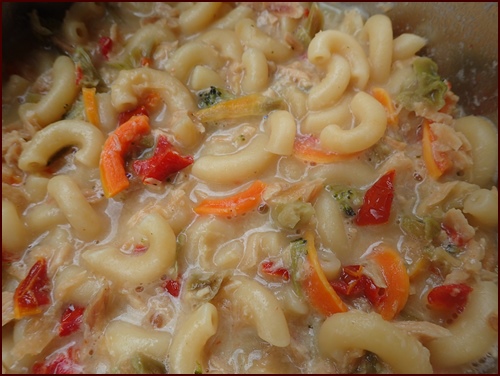 On the first attempt at making sauce from Grano Padano Cheese, I only used half a tablespoon of corn starch. This resulted from a misunderstanding between Dominique and I about what constitutes a tablespoon. For reference, you need to use the typical American-style tablespoon that comes in a set of measuring spoons. As a result of not using enough corn starch, the sauce did not thicken and the cheese got a little stringy. The second try with Grano Padano was a smooth success.
Although the Macaroni & Cheese with Beef & Tomatoes shown below was not dinner-party-perfect, it still tasted great. The cheese blobs reminded me of chewy pizza cheese, and you know that's not a bad thing on the trail. The point is: even if you fail at cheese sauce, it will still taste good.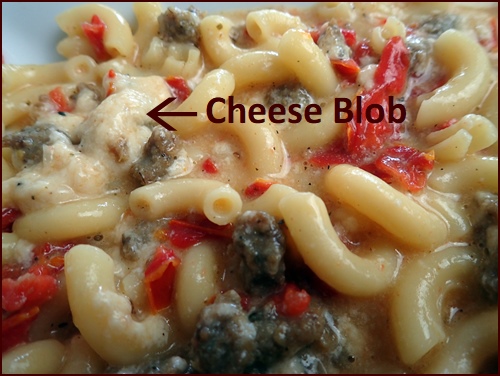 Making cheese sauce with real cheese requires a little more finesse than using cheese powder from a box. For the gourmets amongst us, going beyond the box is worth it. Imagine sharing a pot of spinach fondue with your hiking partner, served with crusty bread. How about a simple dish of peas and mushrooms in Gruyère cheese sauce? The possibilities are endless. Bon appétit!
Freundliche Grüsse,

Chef Glenn & Dominique
P.S. If you have any questions or comments about this issue of Trail Bytes, please reply to this email or use this contact form.

If you received this newsletter from a friend and would like to subscribe (it's free), subscribe here.
Visit my BackpackingChef Facebook page for the lastest posts. Be sure to "follow" the page to continue seeing posts.