Hello,



With weather warming up in my home state of Georgia, Springer Mountain Fever has officially set in for Appalachian Trail thru-hikers. I have one old buddy already on the trail – his third attempt, this time with no teeth, but plenty of grit. Happy Trails to Swagman & the Thru-hiker Class of 2018.

In this month's edition of Trail Bytes, I return to breakfast fare. Back in June, I covered how to precook and dehydrate pancakes. Now the mission is to spice up your grits or breakfast burritos with delicious faux pork sausage.
How to Make Ground Beef Taste Like Breakfast Sausage
Real pork sausage makes a pot of grits taste great, but it's too fatty to safely dehydrate and store for a backpacking trip. Also, most experts on home dehydration advise against drying pork, as it may contain Trichinella Spiralis if undercooked. A better way to get that spicy sausage taste, without having any parasitic worms tag along, is to use ground beef infused with my secret sausage seasoning.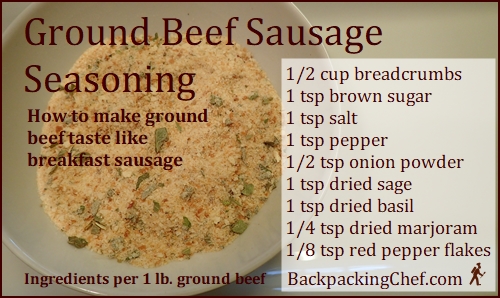 The ingredients you need to combine and add to one pound of lean ground beef are: ½ cup fine breadcrumbs, 1 tsp brown sugar, 1 tsp salt, 1 tsp pepper, ½ tsp onion powder, 1 tsp dried sage, 1 tsp dried basil, ¼ tsp dried marjoram, ⅛ tsp red pepper flakes.
Some Like It Hot
From the Mailbag:
"Chef, I taste-tested the "beef breakfast sausage" tonight. It rehydrated well and was surprisingly good, although a bit mild for my tastes. I took a couple of liberties with the recipe. First, I significantly increased the pepper content and added an extra teaspoon of cayenne pepper and more red pepper flakes. I might bump that up to two teaspoons of cayenne pepper next time. I also added a teaspoon of thyme. After all, we all need more thyme here on earth! I think it will be excellent in a breakfast burrito, especially with the addition of a bit of Tabasco sauce! Thanks again for the recipe." – David
Thanks David. That would set off fire alarms in my mouth, but you demonstrate how recipes can be adjusted to suit personal tastes.
Homemade Breadcrumbs
I make my own breadcrumbs using fresh Italian or French baguette style bread. All you have to do is slice it and dry it at 125° F for three hours. You can also dry it at a lower temperature if you want to dry it at the same time as herbs. Run the dried bread through a blender to reduce it to a fine texture.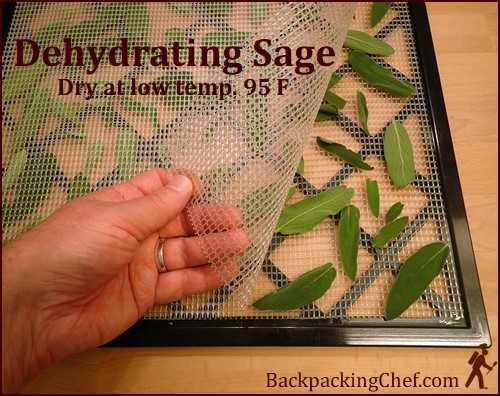 A key ingredient in the sausage seasoning is sage. The store where I shop didn't have any dried sage in the spice department, but I found some fresh sage. Dehydrate sage and any other herb at 95° F. Higher temperatures deplete the natural oils and flavors of herbs. Most herbs will dry in two hours.

Notice that I put an extra mesh sheet over the sage leaves. That keeps them from blowing around inside the dehydrator when they are close to being dry.

Mix the other seasonings in with the breadcrumbs and then work it into a pound of lean ground beef. Let the meat sit in the refrigerator for a little while to let the seasonings meld with the meat.

Cook and dehydrate ground beef according to the method described on the website: Dehydrating Meat.

On the trail, add ¼ to ⅓ cup of dried faux sausage to your grits in the morning. Let the meat soak for five minutes before you light the stove. If using instant grits, add the grits to the water after it starts to boil. Turn off the stove once a boil is reached and let the meal sit in a cozy for ten minutes. To rehydrate the meat by itself for a burrito, use a 1:1 water to meat ratio. If eyeballing it, add just enough water to cover the meat. A Thermos Food Jar can be used to rehydrate meat overnight. Just add boiled water before you go to sleep. For more information about using instant grits or dehydrating polenta, visit my grits page.

In Recipes for Adventure, there is a special method of precooking and dehydrating scrambled eggs. Add this ground beef sausage to your scrambled eggs for a tasty meal.

Let me know if you try it!

That's it for this month. Enjoy the sausage!

Freundliche Grüsse,

Chef Glenn & Dominique
P.S. If you have any questions or comments about this issue of Trail Bytes, please reply to this email or use the contact form at BackpackingChef.com.
You will find this faux sausage seasoning method, and other ways of dehydrating ground beef, chicken, and turkey in Recipes for Adventure II: The Best of Trail Bytes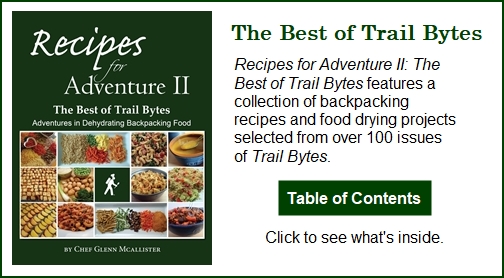 If you received this newsletter from a friend and would like to subscribe (it's free), subscribe here.
Visit my BackpackingChef Facebook page for the lastest posts. Be sure to "follow" the page to continue seeing posts.