Hello,



One of the ways that I have often whiled away time, waiting for a trail meal to finish rehydrating in a pot cozy, has been to pull apart my apple sauce leather, which was seriously stuck to itself. Sometimes a knife was required. All these years, I have been tearing my fruit leathers into pieces before packing them. The pressure of vacuum sealing fused the fruit leather together, causing many delays in the heating up of fruit pudding desserts.

Why, my friends, did you not tell me to use parchment paper?

The idea of using parchment paper came to me while working on the June edition of Trail Bytes, where we explored the sticky business of how to make fruit powders from fruit leather. Little did I know that in elementary schools all across the land, lunch bags were being fortified with homemade fruit leathers rolled up in parchment paper by loving moms.

Before we get started with my fruit leather wrapping method, here's a quick review:
How to Make Fruit Leather
Spread one cup of blended fruit on a dehydrator tray covered with a non-stick sheet.

Dehydrate at 135° F (57° C). Times vary depending on the juiciness of the fruits and the number of trays being used. The range for most fruit leathers is six to twelve hours.

The photo above demonstrates the "flip trick." Flip the fruit leather over onto a mesh sheet after it is substantially dry. The non-stick sheet is now on top, which makes it easy to peel off and continue drying the leather.

Here's a page with more fruit leather recipes and a form to share one of yours.
Packing Fruit Leather in Parchment Paper
The photo above shows how to fold fruit leather with parchment paper.
Start with a piece of parchment paper about sixteen inches square. Place the fruit leather on the parchment paper, leaving an empty column of paper three inches wide on one side. Fold the paper over the leather, and continue folding in this manner. Once you have folded the leather four times, fold it in half the other way. This neat little package is now ready for vacuum sealing in with your daily rations for a backpacking trip.
On the trail, the fold lines in the fruit leather make it easy to tear off pieces whenever you want a snack.
Second Trail Use
After you've eaten a sheet of fruit leather, the parchment paper can serve as a sanitary food preparation surface when you prepare lunch or supper. It will be especially useful when you are making trail tortillas or cutting cheese.
The photo above shows just one folded sheet of blueberry leather after vacuum sealing. This was just for test purposes. It would be wasteful and unnecessary to vacuum seal single sheets of fruit leather. You could easily vacuum seal a week's worth for the trail, or you could include one sheet per day in your vacuum sealed daily food rations. If placed above or below other sharp dried foods in vacuum sealed bags, fewer seals will fail due to getting pierced. If you don't vacuum seal your backpacking food, several of these wrapped sheets will keep just fine in a Ziploc bag for a week on the trail.
I tasted several varieties of fruit leather that I had made and wrapped three months ago. All were still sweet and delicious, with no sticking.
That's a wrap for this month. If you've been withholding any other secrets from me, feel free to reply with suggestions. Sharing good tips helps us all. Thanks for reading along, and enjoy the fall hiking season.
Freundliche Grüsse,

Chef Glenn & Dominique
P.S. If you have any questions or comments about this issue of Trail Bytes, please reply to this email or use this contact form.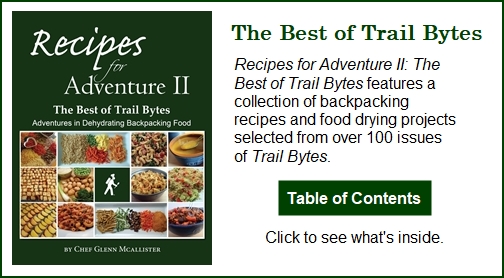 If you received this newsletter from a friend and would like to subscribe (it's free), subscribe here.
Visit my BackpackingChef Facebook page for the lastest posts. Be sure to "follow" the page to continue seeing posts.