Fruit Leather Recipes
Looking for a healthy fruit leather recipe for happy kids and campers?
On this page, you will learn how to make fruit leather, how to pack it for the trail, and even how to turn fruit leather into fruit puddings or smoothies with hot or cold water.
In addition to my instructions, you will also find fruit leather recipes shared by BackpackingChef.com readers. There's a form at the bottom of the page if you'd like to share one of yours.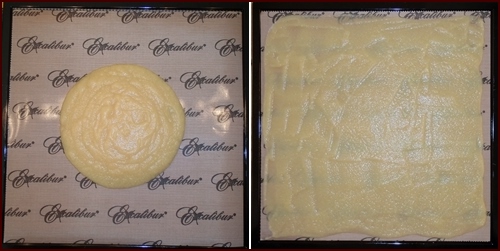 How to Make Fruit Leather

Choose one or more fruits to blend:
Apple, apricot, banana, blackberry, blueberry, cherry, cranberry, grapefruit, grape, kiwi, lemon, nectarine, orange, peach, pear, persimmon, pineapple, plum, pumpkin, raspberry, rhubarb, strawberry, watermelon.
There is no rule that says you can't add a vegetable like carrot, beet, or sweet potato to your fruit leather recipe. You will want to cook root vegetables first to soften them up, although you could use raw grated carrots. This might be a chance to use up some of those cucumbers from the garden, too.
Wash fruit and remove cores or large seeds. You can leave the skins on fruits like pears and apples since they contain healthy nutrients, but peel if you prefer. Cut fruit into smaller pieces for the blender.
Grape seeds are packed with healthy nutrients, but they aren't all that fun to eat. A powerful blender will pulverize seeds and release the nutritious components, so they will be readily absorbed during digestion.

Optional Flavorings and Sweeteners:
Fruit juice, honey, maple syrup, fruit jams/preserves, vanilla or almond extract, brandy, cinnamon, nutmeg, ginger. A teaspoon or more of lemon juice can be added to apple fruit leather to keep it from turning darker due to oxidation. Fruit is already sweet, so go easy on extra sweeteners, or just leave them out.

Go easy on liquid flavorings or your mixture will be too thin and will take a lot longer to dry. Pineapple and orange juice will increase the stickiness of your leather. Too much syrup will also make your leather sticky. Use concentrated extracts like vanilla sparingly.
For the daring, add some yogurt. If you add dairy, keep it in the refrigerator at home and eat it in a day or two on the trail.
Optional Garnishes:
Shredded coconut, chopped nuts, sesame seeds, granola, chopped dried figs, dates, or raisins. Sprinkle garnish on top of the mixture after you spread it on the dehydrator tray.
Dehydrating Fruit Leather

Combine fruits and optional flavorings in a blender and blend until smooth.
Spread thinly, about ⅛ inch thick. Use Excalibur Paraflexx sheets, parchment paper, or the fruit leather inserts that came with your dehydrator. Don't use waxed paper.
Dry fruit leather at 135° F (57° C). Drying times usually fall in the six to twelve hour range, depending on the juiciness of your fruit leather recipe. Leather will be pliable when done. Be sure to check spots where the mixture may have been spread thicker to make sure there is no moisture.

After six hours, the leather may be dry enough to peel off the non-stick sheets and place directly on the mesh trays. This speeds up the drying by exposing the bottom side of the leather to hot air, which circulates better inside the dehydrator after non-stick sheets are removed.

The photo above demonstrates the "flip trick." Flip the fruit leather over onto a mesh sheet after it is substantially dry. The non-stick sheet is now on top, which makes it easy to peel off and continue drying the leather.
Most of the time, you will dry the fruit raw. But, sometimes you can create a masterpiece by cooking down the fruit to intensify the sweetness. Try cooking grapes as described below.
Making Fruit Leather by Cooking Blended Fruit

The photo above shows 100% Concord Grape Fruit Leather cut into strips after drying.
Concord grapes are small but have two or three hard seeds inside them. To break-up the seeds and to intensify the natural sweetness of the grapes, I ran a pound of grapes through a blender and then cooked them. After bringing them to a boil for a couple of minutes, I simmered them on the lowest setting for one hour. I then ran the cooled and reduced grape slurry through the blender again and spread the mixture on one Excalibur Dehydrator tray with a Paraflexx sheet. The leather dried at 135° for ten hours. See my Excalibur Dehydrator Review.

The resulting grape leather, with no other ingredients added, was sweet and delicious with crunchiness to make it interesting. Any kid would love it as much as I did.

Another delicious fruit leather recipe is applesauce.
See 5 Projects for Dehydrating Apples.

Storing & Packing Fruit Leather
For home use, store fruit leather in an air-tight container or in the refrigerator. If left out for more than a few days, it will reabsorb moisture from the air.

Because fruit leather can be sticky, fold or roll it up in parchment paper. This is especially important when vacuum sealing leather with other backpacking food rations. The pressure of vacuum sealing causes fruit leather to stick to itself, and it's very difficult to pull apart pieces of fruit leather that are stuck together. That doesn't happen when the leather is folded up with parchment paper.

The photo above shows how to fold fruit leather with parchment paper. Start with a piece of parchment paper about sixteen inches square. Place the fruit leather on the parchment paper, leaving an empty column of paper three inches wide on one side. Fold the paper over the leather, and continue folding in this manner. Once you have folded the leather four times, fold it in half the other way. This neat little package is now ready for vacuum sealing in with your daily rations for a backpacking trip.
On the trail, the fold lines in the fruit leather make it easy to tear off pieces whenever you want a snack. After you've eaten all the fruit leather, the parchment paper can serve as a sanitary food preparation surface when you prepare your lunch or supper.

Fruit Leather Powders
Some fruit leathers are too sticky to grind into powders, but others, like berries work well. You can make fruit smoothies and juices with fruit powder.
Learn how to make fruit powders... and a whole lot more in Recipes for Adventure II: The Best of Trail Bytes.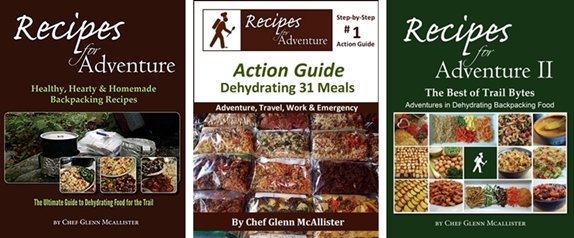 You will find more fruit leather recipes in both of my cookbooks, Recipes for Adventure I and II.
Learn how to make homemade Mango-Banana Fruit Leather, and more. Turn fruit leather into healthy fruit puddings on the trail with hot or cold water.


---
Fruit Leather Recipes Shared by BackpackingChef Readers

Sweet 'Tater Taffy Fruit Leather Recipe

Shared by Da Fisherman from Bessemer, MI

Ingredients:

    1-29oz can of yams, drained
    1 med banana peeled
    1/4 cup maple syrup

Instructions:

Drain yams, peel banana, puree all ingredients in food processor until smooth. Spread on paraflex sheet and dehydrate for 7-8 hrs at 135.  It should be taffy-like consistency when done. Peel from paraflex sheet and cut into squares.

Additional Comments:

The extra sugars in the maple syrup keep this flexible like taffy.  I use mostly bananas with it since I like banana taffy, but have had success with strawberries as well.

Strawberry-Apple Fruit Leather Recipe

Shared by Harp Lauris from Earth

Ingredients:

    1 pound of strawberries
    1/2 of a medium size apple

Instructions:

Cut the tops off the strawberries and scoop out the flesh of 1/2 an apple, leaving behind the skin. Puree the two fruits together until blended into a liquid. Pour onto fruit leather inserts that come with the dehydrator. Takes about 8-12 hours. Take it off the dehydrator a little before you think its done. As it cools it will stiffen up a bit.

Apple-Banana-Blueberry Fruit Leather Recipe

Shared by Logtec from Ontario, Canada

Ingredients:

    4 Macintosh apples
    6 small bananas
    1 cup blueberries
    1 large orange
    1 Tbsp honey
    1 Tbsp lemon juice

Blend until smooth.

Sweet Potato-Cranberry Fruit Leather Recipe

Shared by Laurie from El Mirage, AZ

Ingredients:

    1 can sweet potato/yam chunks, drained
    1 can whole cranberry sauce
    1/4 cup white grape juice

Instructions:

Put all ingredients in a blender and puree until it's completely smooth. Spread evenly and dry at 145 for 6-8 hours.

Easy Applesauce Fruit Leather Recipe

Shared by Heather Kelly from Fort Collins, CO

Ingredients:

    1 jar applesauce
    Cinnamon and sugar if desired

Instructions:

Pour homemade or jarred applesauce onto dehydrator tray with non-stick sheet. Spread thinly and dehydrate into leather. Let cool and tear into little pieces. Place desired serving sizes into ziploc bags, such as one cup per bag.

On the Trail:

Combine one cup torn up little pieces of leather and one cup water. Let sit for ten minutes to rehydrate. Bring to boil and stir. Heat over medium flame until it is back to applesauce consistency. Add dash of cinnamon and enjoy!

Pineapple-Coconut Fruit Leather Recipe

Shared by Steve H from MN

Ingredients:

    1 can crushed pineapple
    1/4 cup coconut flakes

Instructions:
Mix crushed pineapple and coconut together.

Spread on dehydrator tray. Dehydrate until crisp. At 125 degrees, approximate dry time is 24 hours.

Break into large pieces and bag. Eat as a snack or meal.  Great pineapple coconut flavor and crunch! May be added to dried vegetables, meat, and rice for a Tropical Veggie Rice dinner.

Jello & Applesauce Fruit Leather Recipe

Shared by Barbara from Ocala, FL

Ingredients:

    2 Quarts Applesauce or other pureed fruit
    1 3-oz. Box of Jello, any flavor, sweetened with sugar or sugar free

Instructions:

Combine ingredients and dehydrate, roll in plastic wrap and store in refrigerator until ready to use.  Kids especially love this combination; great snack or dessert for Scout camp outs.

Mulberry-Sour Cherry Fruit Leather Recipe

Shared by Patrice from West Brandywine, PA

Instructions:
Puree and strain a mixture of sour cherries and mulberries. I don't usually add sweetener because the mulberries are large and sweet. The tart cherries add an interesting contrasting flavor. I use an oven dehydrator so I cover a cookie sheet with plastic wrap and then add about two cups pureed fruit, making it thicker at the edges. It usually takes about 4-6 hours until it's no longer sticky. When it's done, I put a piece of wax paper on each side and roll it up to cut it, slicing each sheet into several 1-2 inch strips. These will last for a few days. I freeze what I want to save for later. They will last for 6 months to a year frozen.

Vanilla Scented Strawberry-Rhubarb Fruit Leather Recipe

Shared by Michelle from Eagle, ID

Ingredients:

    About 4 quarts 1/4 inch sliced rhubarb
    2 quarts strawberries
    3 cups vanilla sugar, more or less depending on tartness of your fruit

Instructions:

Put fruit into a large dutch oven and add water up to the level of the fruit. Cover and cook on medium-high until fruit is very soft. Stir in the sugar. Puree mixture with an immersion blender. Continue to cook until reduced to the same thickness of applesauce. Remove from heat. I ladle the puree into small oblong shaped rectangles on a parchment-lined sheet pan. Since my oven has a dehydrate setting, I can fit a lot in there. When they're dry, I simply cut the parchment paper with the fruit leather remaining on it and stack in a sealed container.
Apple Jerky

Shared by Al Rutherford of Ontario, Canada

This one has lots of photos. Click to see Al's Apple Jerky Recipe.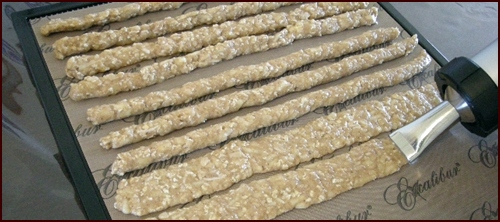 Banana Trail Snacks

Shared by Bev K. of Queensland, Australia

Instructions:
Peel and chop 5 or 6 ripe bananas into chunks. Mash bananas with whizz stick or food processor until thick and creamy.

Spread spoonfuls of mixture on parchment paper on dehydrator racks.

Dehydrate for 8-10 hours at 135° until firm but flexible.

After about 6 hours you can remove paper and place biscuits upside down on trays to speed up drying.

Store biscuits in zip bags ready for use.

Eat banana biscuits as high-energy snacks while hiking or with cuppa. Alternatively, rehydrate a single banana biscuit with 2-3 tablespoons of water and stir until a smooth consistency. Use as a dessert or fruit to add to cereal at breakfast.

Sometimes I add 4-5 spoonfuls of Greek yogurt to the banana mixture before drying for a change.
Toast with Rhubarb Jam

Shared by Amy from Tacoma, WA

Instructions:
I carried whole grain Rye Krisp for my morning toast. I cut the box down to keep the Krisps from turning to crumbs in my pack. I made "jam" at breakfast using thin rhubarb rounds. The rhubarb leather was sweetened with Splenda, so it wasn't real sticky. I carried the rounds in a baggie with my other dehydrated fruit.

To make rhubarb rounds, wash rhubarb stalks and cut off leaves which are not edible. Slice rhubarb into 1/2 inch pieces and put in pot with enough water to cover about 1/4th of the rhubarb. Rhubarb is so full of water that if you add too much you will end up with soup. Add sugar or Splenda to sweeten to taste, however sweet or tart you like your rhubarb. Cook until rhubarb falls apart when stirred with spoon. If you find you added too much water you will want to cook it down to it is thick. I drop it on the dehydrator sheet by spoonfuls so that they spread to the size of a quarter or a 50 cent piece. Dehydrate. They should pop off when you bend the sheet. I have an Excalibur and use the non-stick sheets - my 3rd dehydrator so I went for the top of the line and love it! By dehydrating the rhubarb in small rounds you avoid the problem of having it crumble when you cut a big sheet of leather with scissors.

At breakfast, I carefully dunked some of the rhubarb rounds in my tea and then laid the wet rounds on the Rye Krisp, spooning a couple more drops of hot tea on it but not so much that it made the Rye Krisp soggy. I let it sit while I ate my morning gruel and then I had my toast and jam with my tea. I was one happy camper!
More Easy Fruit Leather Recipe Ideas:
Lemon Honey Banana: 1 banana, ½ lemon, 1 Tbsp honey
Cranberry Orange Banana: 1 banana, ½ large orange, 1 Tbsp Cranberry Sauce
Pineapple Banana Coconut: 1 banana, 1 cup pineapple pieces, shredded coconut
Banana Apple: 1 banana, 1 apple
Blueberry Banana: 1 banana, 1 cup blueberries, 1 Tbsp blueberry jam
Orange Banana Vanilla Yogurt: 1 banana, ½ large orange, ½ cup plain yogurt, ¼ tsp vanilla extract
---
Explore More...
Strawberry Fruit Leather Recipes
Related topics: Pumpkin Pie Bark and Sweet Potato Bark.