Hello,



Have you ever craved a grilled cheese sandwich while backpacking? Of course you have. If you had some cheese in your pack, maybe you even settled for a lunch of cold cheese rolled up in cold tortillas, or something manageable like that.

A campfire is a sure-fire place to grill a cheese sandwich. Just set the sandwich on the hot rocks of the ring, wrapped in foil for hygiene's sake. But, campfires are not always practical for backpackers, especially at lunchtime.

The solution is to ask double-duty from your backpacking pot and pot cozy.
Grilled Cheese & Tomato Soup – The Ultimate Combo
Without using any additional fuel, cook a pot of tomato soup with a grilled cheese sandwich on top.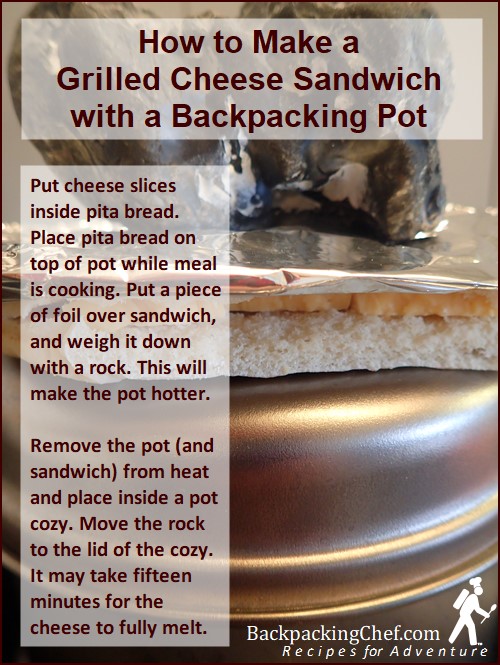 Use Pita Bread
Pita bread works well for stuffing with cheese and heating. The round shape fits perfectly on top of the pot lid. Pita bread keeps well for several days on the trail, too. Tortillas, while versatile for stuffing and rolling up, tend to get sticky when heated for more than a minute or two.
The first step is to slide three or four slices of cheese into the pita bread. Use the handle end of your spoon to position the cheese inside the sandwich.
Once your sandwich is queued up, add the water and dried meal ingredients to the pot. Place the sandwich on top of the pot lid with a piece of foil over it. Then place a rock on top of the foil. Light the stove, and you are on your way to soup & sandwich heaven.
After a few minutes, the soup will begin to boil. Let it go just a bit longer to build up heat. The weight of the rock keeps the lid on tighter than usual, so less steam escapes, and the pot gets even hotter.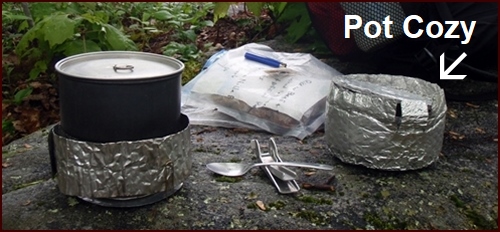 Transfer the pot and sandwich to a pot cozy, with the cozy lid on top of the sandwich. Put the rock on top of the cozy lid.
After ten to fifteen minutes in the pot cozy – the usual amount of time you would wait for a dehydrated meal to rehydrate – the cheese will have melted and the pita bread will be nice and hot. If it happens to be a cold and blustery day, where it's harder to contain all the heat, the cheese might only melt ninety-percent of the way. In that case, deploy the fallback option of dipping your sandwich into the hot soup.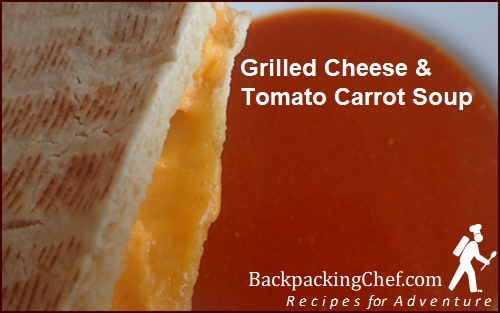 Photo above shows reconstituted tomato carrot soup.
What I'm Working On
Back in May, I mentioned that I was working on a new backpacking recipe book. Work continues, and as you might have guessed, one of the new categories is soup recipes. The photo collage below shows a small sampling of the development work going on in my Swiss kitchen.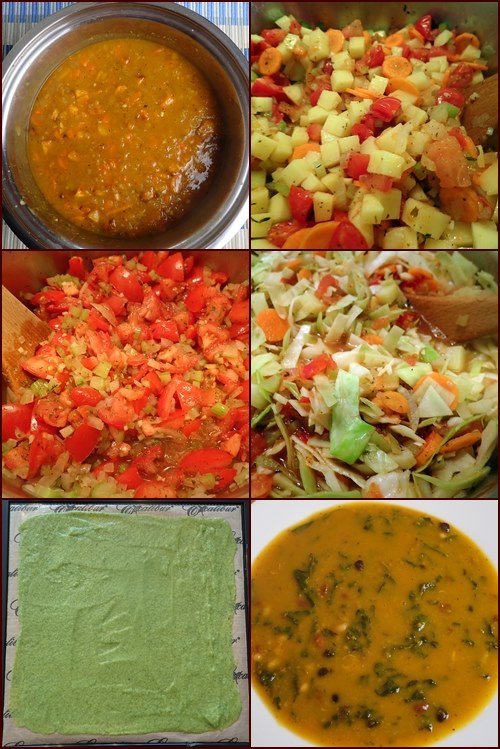 The soup recipes start with a thick combination of vegetables, herbs, and seasonings. After a bit of cooking, the soup is run through a blender and dehydrated. This is similar to the way we make sweet potato bark and pumpkin pie bark, except I'm loading in more nutrition.
The final step reduces the soup bark to soup powder using the blender again. I'm standardizing the recipes so that a thick, stand-alone soup can be made with two tablespoons of soup powder per one cup of water used. Additional dried vegetables, beans, and meats can be added when reconstituting the soups. The variety that can be achieved by adding extra ingredients will make soup aficionados very happy. For example, the Roasted Butternut Squash soup (bottom right in photo collage), tastes great by itself, but is even more delicious with added spinach and beans.
Another reason that I am excited about developing dehydrated soups, is that you don't have to be a backpacker to enjoy them. Anybody can reconstitute these soups in a Thermos to take to work for lunch.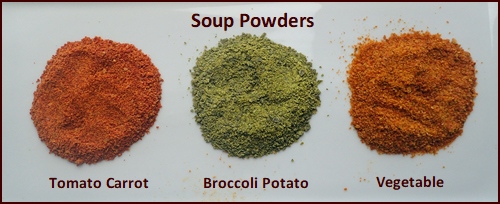 Want the Tomato Carrot Soup Recipe?
I'm looking for a little feedback. If you would kindly reply with your thoughts on one or both of the topics below, I'll reply with my appreciation and the soup recipe.

Soup

Do you have any favorite soups that you would like to see in the new book? Any other thoughts about soup are welcome. What other topics would you like to see in the new book?

Thank you. That's it for this month. Dominique and I wish you all the best as you hike into the fall colors.

Freundliche Grüsse,

Chef Glenn & Dominique
P.S. If you have any questions or comments about this issue of Trail Bytes, please reply to this email or use this contact form.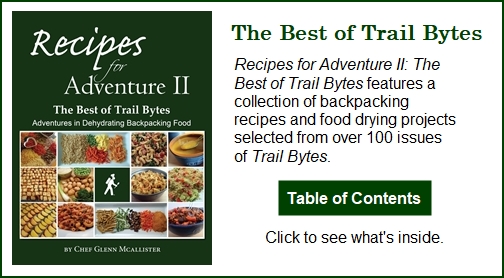 If you received this newsletter from a friend and would like to subscribe (it's free), subscribe here.
Visit my BackpackingChef Facebook page for the lastest posts. Be sure to "follow" the page to continue seeing posts.