Hello,



Greetings from Pfäffikon. Dominique and I explored a section of the Wanderweg near our home over the weekend. The track, through forests and fields, is wide and lightly travelled. We brought along a thermos lunch of mashed potatoes with ground beef and vegetables.
This installment of Trail Bytes is the Meat & Potatoes Edition. It improves upon two aspects of food dehydration that I often get mail about.
The first topic is ground beef. People often ask if there is a gluten-free alternative to using breadcrumbs when prepping ground beef for dehydration. I tested oat flour and millet flour with excellent results.
The second topic is potato bark. It can cause vacuum sealed bags to lose their seals, due to the bark's sharp edges. It can also require a fair amount of spirited stirring to get it to fully turn back into creamy potatoes in a rehydrated meal. Grinding the potato bark into powder solved those concerns.
Here we go...
Prep the Ground Beef for Cooking
Notes:
Use lean ground beef with fat content in the 7% to 10% range.
For people with severe gluten intolerance, remember that while neither oats nor millet contain gluten, they may be processed in a facility that processes other grains that do contain gluten, such as wheat. Look for gluten-free certification on the label if you're in the highly sensitive category.
Steps:
Grind rolled oats or millet flakes into flour in a blender. Use half-a-cup of flour per pound of ground beef.
Season flour as desired. For this experiment, I used half-a-teaspoon each of salt, garlic powder, onion powder, chili powder, and cumin.
Sprinkle flour evenly over ground beef and slowly work it into the beef.
Add a teaspoon of either Worcestershire sauce or soy sauce to the beef.
Form the ground beef into a big meatball and set aside for a few minutes.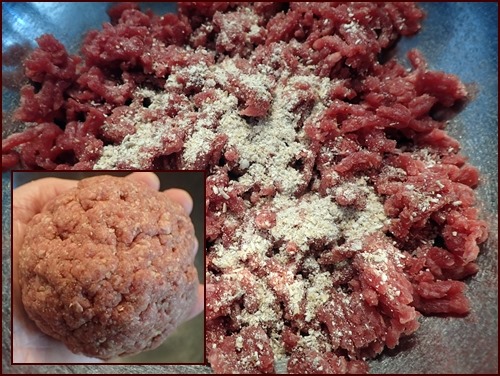 Cook the Ground Beef
Pull the meatball apart into small pieces. The meat is easier to cook evenly in half-pound batches.

Place meat in a cold, non-stick pan. Begin heating pan on medium. This allows the meat to sweat out a tiny amount of grease, so you don't need to oil the pan.

Increase the heat to medium high, and continue cooking (about ten minutes, lots of stirring) until the meat is lightly browned and cooked through.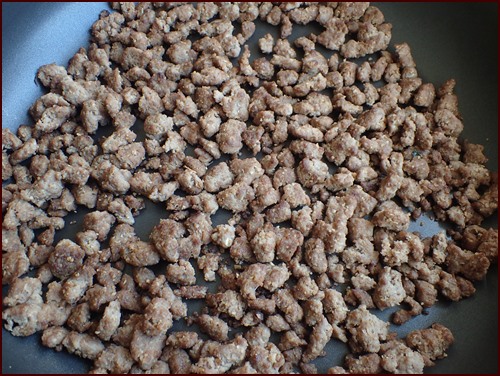 Dehydrate the Ground Beef
Place cooked ground beef in a single layer on dehydrator tray. Note in the photo below, that I put a non-stick sheet under, rather than over, the mesh sheet. This allows for greater air circulation around the meat. You still need the non-stick sheet to catch any small bits of meat.

Dehydrate @ 145° F (63° C) for 4 – 6 hours. Mine was dry in four hours.
Rehydrating Dried Ground Beef
Dehydrated ground beef, enhanced with either oat or millet flour, rehydrates quickly with hot water. Use a 1:1 ratio of water to ground beef. So, for ⅓ cup of dried ground beef, use ⅓ cup of water.

Heat to a light boil in pot, then set pot aside for a few minutes until meat absorbs all the water.
How was it?
Very tender, like meatloaf, and tasty. Rehydrates in minutes.
How to Make Instant Potato Powder
Normally, I boil potatoes in water, drain them, and then run them through a blender with vegetable, chicken, or beef broth. That method still works fine and is covered on the website: How to Make Potato Bark.

I tried a slightly different way of making potato bark with this experiment. Instead of draining the potatoes, I simply cooked them in water seasoned with vegetable bouillon, and then mashed them in that juice with a hand masher.

The photo below shows 2¾ pounds of potatoes in 2¾ cups of water seasoned with fifteen grams of vegetable bouillon.

Boil potatoes until soft.
Dehydrating Mashed Potatoes
Mash boiled potatoes with a hand masher, including all the liquid in the pot. If you prefer, you can alternatively run them through a blender.

The yield of 2¾ pounds of potatoes was 6¾ cups mashed. Using a five-tray Excalibur Dehydrator, I spread 1⅓ cups on each tray.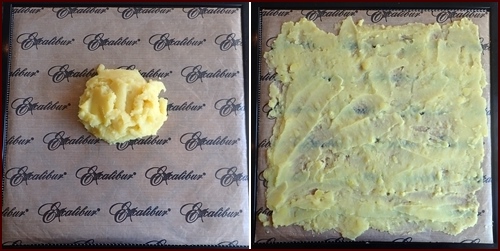 Dehydrate mashed potatoes @ 135° F (57° C) for approximately eight hours. Once the potato bark has dried most of the way on non-stick sheets, flip the bark over directly onto mesh sheets. This helps the bottom side of the bark to catch up with the top.
Break the potato bark into smaller pieces and run it through a blender. Take your time. Lesser quality blenders might overheat if you run them too long. I divided the bark into two parts for blending.
Bark to Powder Conversions:
Large Serving:
The photo above shows a ¾ cup portion of potato bark on the left, and what it looks like when ground into potato powder on the right. Yield is four tablespoons, 48 grams total, or 12 grams per tablespoon.
Regular Serving:
A ½ cup portion of potato bark yields two tablespoons, plus two teaspoons of potato powder, 32 grams total.
Total:
2¾ pounds of potatoes yielded 1¼ cups of potato powder, 254 grams.
Mashed Potatoes with Ground Beef & Vegetables
Large Serving:
4 Tbsp Potato Powder (48 grams)
35 grams Dried Ground Beef (⅓ cup)
25 grams Dried Vegetables (⅓ cup)
2 cups boiled water to rehydrate in thermos food jar.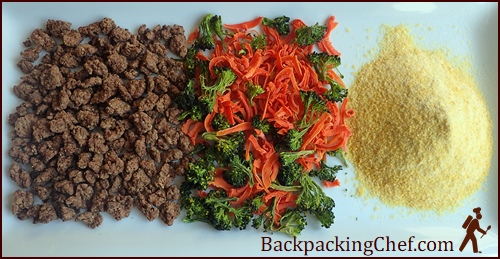 How was it?
Dominique and I enjoyed it very much. The meat was flavorful and tender.
It's probably more accurate to describe the potatoes as creamy potatoes, rather than mashed. The texture is thick, but not gluey. Rehydration of powdered potatoes is very fast, almost instant. In addition to not puncturing vacuum bags, potato powder also takes up less space in a packed meal.
We're still dehydrating food to build up a cushion during these uncertain times. If you'd like to do the same, the BackpackingChef website offers plenty of guidance, as do my books and eBooks. The "buy one book, get $5 off each additional book" special is still valid.
Also, Excalibur Dehydrators has a 15% off Sitewide Sale going on through May 14. In addition to dehydrators, they also sell vacuum sealers and food storage supplies like oxygen absorbers.
Stay safe, and we'll see you next month.
Freundliche Grüsse,

Chef Glenn & Dominique
P.S. To contact me, please reply to this email or use this contact form.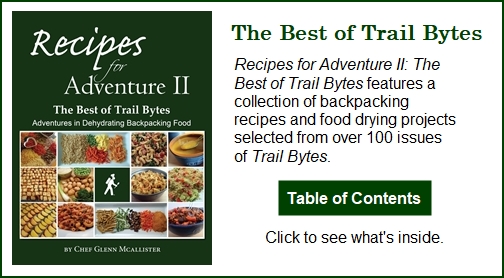 If you received this newsletter from a friend and would like to subscribe (it's free), subscribe here.
Visit my BackpackingChef Facebook page for the lastest posts. Be sure to "follow" the page to continue seeing posts.