Potato Bark

Snack on Potato Bark while hiking or turn your bark into mashed potatoes for the evening meal!

How to Make Potato Bark
Ingredients:

2½ lbs potatoes
16 ounces fat free vegetable, beef, or chicken broth
Salt and Pepper to taste
Optional: Garlic Powder to taste
Cook, Mash & Blend

Peel and boil 2½ pounds of potatoes until soft. Drain.
Mash potatoes with 16 ounces of fat free vegetable, beef, or chicken broth. Because fats and dairy products don't dehydrate well and can spoil, do not add any milk or butter. Add salt, if desired, but you'll get some sodium from the broth.
Run the mashed potatoes through a blender until creamy and lump-free.
Dry It

Cover dehydrator trays with non-stick sheets or parchment paper. I use Paraflexx® sheets which you can purchase directly from Excalibur Dehydrators. They clean-up easily and are reusable.
Pour a six inch puddle of potatoes onto the covered tray and spread thinly (about an eighth inch) with a spatula. 2½ pounds of mashed potatoes will take up five 15 x 15 trays.
Dehydrate at 135° for approximately eight hours until potatoes form a brittle sheet.
Flip It

If you have an Excalibur Dehydrator, use the "flip-trick" as follows to thoroughly dry the underside of the potato sheet: After about five hours of drying, place a dehydrator tray on top of the potato sheet and flip the two trays over so that the moister bottom side is facing up.
The dried sheet of potatoes will easily snap into Bark or crush down for tighter packing.
Yield: 2½ pounds of potatoes will dehydrate down to 5½ ounces and fill two cups when crushed.
---
Disclosure: BackpackingChef.com participates in the affiliate program offered by Excalibur Dehydrators. If you make a purchase after following the above link, I may receive a commission. Thank you.

---
Mashed Potatoes with Meat & Vegetables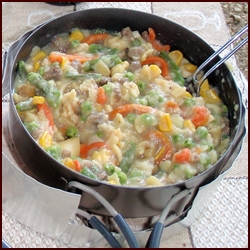 Serves 1

Ingredients:
½ cup Potato Bark
¼ cup Dehydrated Meat
¼ cup Dehydrated Vegetables
1¼ cup Water
Optional Seasonings- garlic powder, salt and pepper, dehydrated onion
Large Portion:
The above recipe provides 422 calories. To make a larger portion with 601 calories, use ¾ cup potato bark, ⅓ cup dried meat, ⅓ cup dried vegetables and 1¾ cups water to rehydrate.

At Home:
For more food dehydrating information, see dehydrating meat and dehydrating vegetables.
Crush Potato Bark into small pieces for tighter packing.
Pack all ingredients in a zip lock bag.
On the Trail:
Combine all ingredients with water in pot. Cover pot and light stove.
Bring to a boil, remove pot lid, and continue cooking for another minute. If the potatoes soak up most of the water after they start boiling, grasp the pot with a pot gripper and hold higher above the stove to prevent burning.
Stir continuously once the water has been absorbed. You can add a few spoonfuls of water to make the potatoes easier to stir and less likely to burn.
Remove pot from heat and wait ten minutes to give the meat and vegetables a little more time to soften. I use a pot cozy to keep the meal hot. Stir vigorously before eating if any of the bark has not dissolved.
Variations:
Combine Mashed Potatoes with different dried meats and vegetables such as:
Ground Turkey and Mixed Vegetables (corn, carrots, peas, green beans)
Ground Beef and Broccoli
Deli Ham and Green Beans
Ground Beef and Peppers, Onions, Mushrooms
---
How to Make BBQ Potato Bark

Follow the same preparations as above, but change the ingredients as follows:
2½ lbs potatoes
8 ounces fat free vegetable, beef or chicken broth
8 ounces Barbecue Sauce
Salt and Pepper to taste
BBQ Beef Stew

Serves 1
Ingredients:
½ cup BBQ Potato Bark
¼ cup Dehydrated Ground Beef
¼ cup Dehydrated Okra and Corn or Green Beans
1¼ cup Water
Increase quantities proportionally for larger servings.
Pack and cook the same as the recipe above.
This meal reminds me a little of Brunswick Stew with the tangy barbecue flavor.
---
Potato Vegetable Bark
In Recipes for Adventure, I show how to blend vegetables or other roots with potatoes to create meals like Potato Vegetable Bark Stew with Ham & Green Beans. All recipes list ingredients for regular and large servings.

Continue Reading...
Next Topic: Sweet Potato Bark
Makes a great snack or mashed sweet potatoes.
Return to: How to Make Bark Table of Contents

Potato Bark, Sweet Potato Bark, Bean Bark, Corn Bark, Pumpkin Pie Bark and more!
Return to: Dehydrating Food Table of Contents
Dehydrating Vegetables, Fruit, Meat, Sauce, Bark, Soup, Dog Treats, Vacuum Sealing and more!
Pick a Topic to Explore

Share this page with friends on social media.