Hello,



Let's take a tour through Georgia on the way to this month's backpacking recipe—Thai Peanut Noodles. I was in Georgia in September and October, where there's a product more popular than peaches in the Peach State—peanuts.

If Bubba, of Bubba-Gump Shrimp fame from the Forrest Gump movie, had been from Georgia instead of Mississippi, he would have listed all the ways you can prepare peanuts: boiled peanuts, fried peanuts, roasted peanuts, caramelized peanuts, peanut brittle, peanut rolls, and peanut butter pie for starters. The list goes on until it reaches a dubious end at pumpkin spice candied peanuts.

In fall, Georgians from all over the state head north to view the changing colors of leaves in the mountains. Roadside vendors entice passersby with peanuts boiling in pots over smoky fires, served in brown paper bags to go, or to be enjoyed on the spot with a little conversation. You might find that those leather-clad bikers who pull up around the pot are friendlier than they look—or maybe not. And do stop at Fred's Famous Peanuts in Helen, Georgia for a taste of his Cajun-fried peanuts. The rule in Georgia is: if in doubt, fry it—like catfish, okra, and fried green tomatoes.

Notwithstanding the seasonal goober fest in the North, Georgia's peanuts are only grown in the southern part of the state. You may have heard of the most famous peanut farmer in the world—President Jimmy Carter. I got to meet President Carter once when he taught the Easter Sunday school lesson at his church in Plains, Georgia. The Secret Service took a close look at my teenage daughter's nail file, but they let her keep it.

Other than that trip to Plains, I have mostly passed through South Georgia on my way to Florida. In researching the main ingredient that went into this month's recipe—PB2 Peanut Butter Powder—I discovered that it is made in Tifton, Georgia, which is a few exits north of the Sparks-Adel exit on Interstate 75. Somewhere between those exits, during the term of President Carter and my residence at the University of Georgia, an unfortunate fire took place.

It was the day before the Georgia-Florida football game, which is always played in Jacksonville, Florida. I was travelling with three companions from Athens, Georgia to Amelia Island, where we planned to spend the night and meet up with fellow Bulldog fans. My roommate's car leaked oil, and he failed to check it before the trip. Smoke poured out of the engine and the car burst into flames.

After the fire department extinguished the fire, and a tow truck carried away the wet hull of our blackened car, the responding police officer gave us a ride to a hotel in Sparks-Adel. As he dropped us off, he said he would come back in the morning when he got off his shift, and take us the rest of the way to Amelia Island. That act of kindness in the Land of Peanuts is why I remember the story.

Now let's get back to the main ingredient of this newsletter.

Shortly after manna, God gave us peanut butter. Americans spread about 700 million pounds per year of it on just about anything. Our mothers tricked us into eating celery by filling it with peanut butter. When Dominique first visited Georgia from Switzerland, she found that I favored peanut butter on toasted pita bread. Along the Appalachian Trail, thru-hikers polish off jars before the rising of three moons. That's why we have hikers with trail names Skippy, Peter Pan, and Whiff O' Jif.

For those of us who want to use it in dehydrated meals, peanut butter is a problem because of the high fat content. That fat doesn't go anywhere in the dehydrator. You won't be able to know for sure if your food is dry if it has a coat of grease on it. Enter peanut butter powder. It has 90% of the fat removed. While it doesn't pack the energy potential of a jar of Jif, it is high in protein, and most importantly, peanut butter flavor. Mix two tablespoons of peanut butter powder with one-and-a-half tablespoons of warm water, and voilà, you've got peanut butter.

With the fat out of the way, I whipped up a tasty Thai peanut sauce and mixed it with cooked linguini. I divided the noodles into five servings which I dehydrated on separate trays in my Excalibur dehydrator.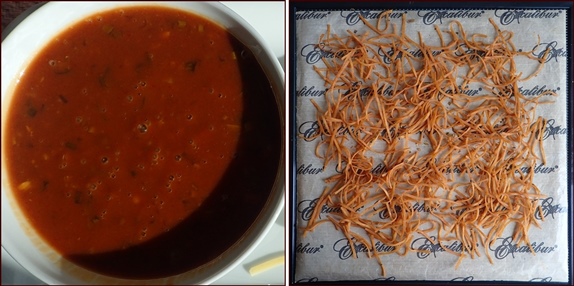 I added dried carrots, red bell peppers, and toasted sesame seeds when I packaged the meals. The Thai Peanut Noodles rehydrated well in both hot and cold water, although with cold water a soak time of two hours was needed. Either way, they were delicious.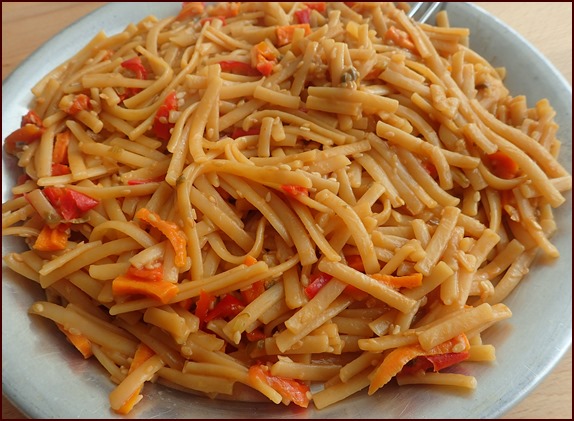 A serving of rehydrated Thai peanut noodles.
For the complete recipe and dehydration instructions, visit the new page:
I'm not done playing around with peanut butter powder. With its high protein content and great taste, it deserves a place in a new backpacking dessert or trail smoothie. My work is never finished.
Freundliche Grüsse,

Chef Glenn & Dominique
P.S. The response to doing a vegan/vegetarian backpacking recipe book was very positive, so it looks like that will be our next big project. Thank you for the feedback.
Please reply to this email with any questions or comments, or use this contact form.

If you received this newsletter from a friend and would like to subscribe (it's free), subscribe here.
Visit my BackpackingChef Facebook page for the lastest posts. Be sure to "follow" the page to continue seeing posts.