Thai Peanut Noodles
This Thai peanut noodles recipe is crafted for backpacking with modifications that enable you to dehydrate the noodles, and then easily cook them at your campsite.
These noodles can also be rehydrated with cold water for a delicious, no-cook lunch. It's like eating leftovers right out of the fridge.
Instead of using peanut butter, which does not dehydrate well due to the high fat content, this recipe uses peanut butter powder, which has 90% less fat. The PB2 brand of peanut butter powder was used for this recipe, but the PB fit brand also tastes great. These brands can usually be found in the peanut butter section of grocery stores.
Thai Peanut Noodles Ingredients
Servings: 5
Ingredients:
½ cup peanut butter powder (40 g)
½ cup water
⅓ cup low-sodium soy sauce *
¼ cup honey (75 g)
2 Tbsp. rice vinegar
1-2 Tbsp. Sriracha chili sauce **
1 Tbsp. fresh lime juice (½ lime)
2 tsp. toasted sesame oil ***
½ tsp. fish sauce ****
1 Tbsp. fresh grated ginger root
2 cloves garlic, minced
1 green onion, finely chopped (50 g)
16 oz. linguini noodles (454 g or 500 g package)*
2½ Tbsp. toasted sesame seeds
Ingredient Notes:
* For gluten-free, use tamari sauce in place of soy sauce. Rice noodles may be substituted for linguini.
** Sriracha chili sauce provides the heat in this Thai peanut noodle recipe. Use 1 Tbsp. for mild, 1½ Tbsp. for medium, or 2 Tbsp. for hot.
*** The small amount of toasted sesame oil used in the recipe does not affect dehydration of the noodles. However, due to the possibility of the oil turning rancid over time, it is best to leave this ingredient out if you plan to store the dehydrated noodles for more than four months.
**** Ok to omit fish sauce to make this recipe vegan.
How to Make Thai Peanut Noodles

Prepare the Sauce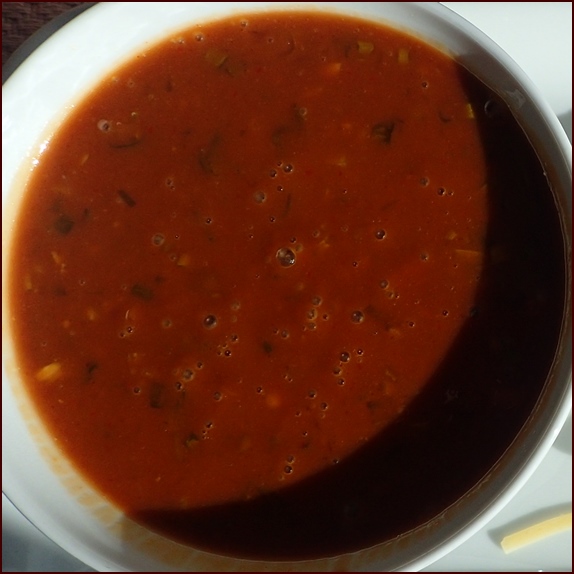 Mince the garlic. Peel and grate the ginger root, and discard the fibrous part. Combine and mash the garlic and ginger with the back of a spoon. Chop the green onion. Set aside.
In a small sauce pot, mix peanut butter powder with warm water.
Add all liquid ingredients and stir until well combined.
Add garlic, ginger, and green onion to the sauce.
Cook the Linguini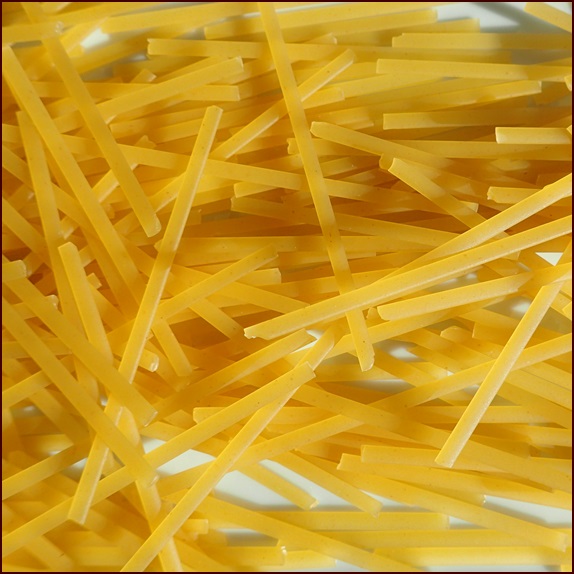 Before heating the sauce, start boiling salted water in another pot for the linguini. Follow cooking instructions on the box.
Break linguini into fourths before adding to boiling water.
Cook noodles al dente, about seven minutes.
Heat the Sauce
When you turn on the stove to boil the water for the linguini, start heating the sauce at the same time. Bring sauce to a light bubble on medium heat, and then simmer on low until the linguini is done.
Combine Sauce and Noodles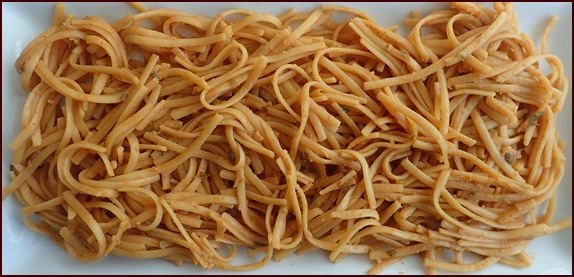 Drain noodles and combine with sauce until evenly coated. Take a taste to see if you like the heat level. Add more Sriracha chili sauce to make it hotter.
Dehydrating Thai Peanut Noodles
Divide the Thai peanut noodles into five equal servings. The easy way to divide the noodles accurately is to weigh the whole batch and then divide that number by five.
Or, you may want to enjoy a serving of the noodles right out of the pot, and dehydrate the rest.
If you place 250 grams of cooked noodles on a dehydrator tray, they will weigh about 110 grams when dry. This makes a good serving size for one person.

The total cooked weight of this recipe as presented (starting with 500 grams of uncooked linguini) was 1,476 grams.

Place each serving on a dehydrator tray covered with a nonstick sheet.
Dehydrate at 135°F (57°C) until noodles are completely dry and snappy. This recipe took eight hours to dehydrate in an Excalibur dehydrator. If noodles are bendable, continue drying them until you can break them in half.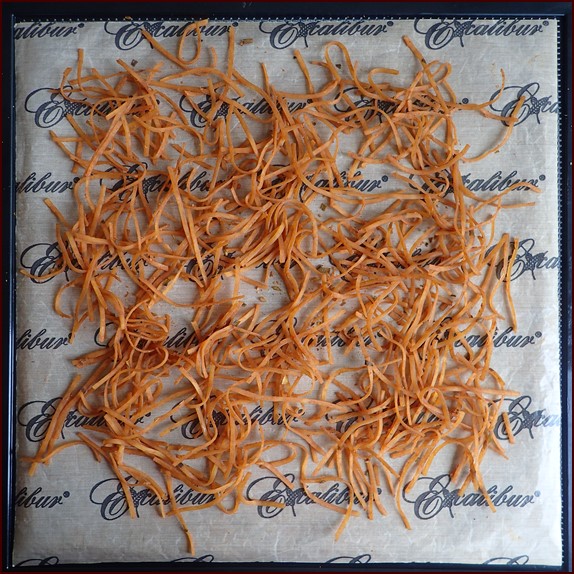 Packing Thai Peanut Noodles for the Trail
Before packing the dried noodles, squeeze them by hand to reduce their volume. They will easily break into shorter lengths. Dried noodles are notorious for puncturing vacuum-sealed bags. If you cut off the vacuuming process before the package starts to get scrunched up, that will reduce bag punctures. See Vacuum Sealing Tips.

Photo shows a single serving of Thai peanut noodles with dried carrots and red bell peppers.
Add a few more items to the meal for extra color, texture, taste, and nutrition. Use any combination of your favorite dried vegetables, such as dried red bell peppers and carrots, shown in photo. Dried ground chicken may also be added.
One Serving:
110 g dried Thai peanut noodles
10 g dried mixed vegetables (⅛ cup)
½ Tbsp. toasted sesame seeds
1-1¼ cup water to rehydrate
Pack all dried ingredients in one plastic bag.
On the Trail:

Pot Cooking: Combine all ingredients with 1¼ cup water in pot and soak for five minutes. Bring to a boil for one minute, then transfer pot to an insulating pot cozy. Wait fifteen minutes and serve.
Thermos Cooking: Add 1¼ cup boiled water to ingredients in thermos food jar. Wait at least twenty minutes, up to several hours.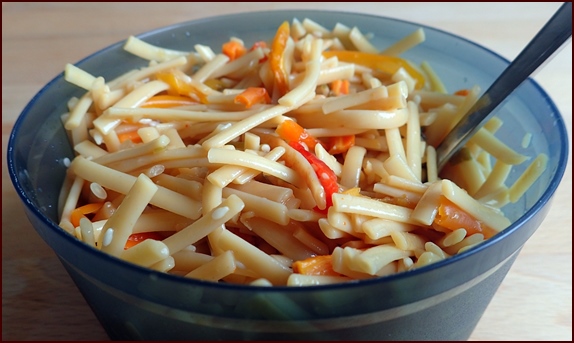 Photo shows Thai peanut noodles rehydrated with cold water.
Cold-Soak Preparation: For one serving, add 1 cup cold water to ingredients in a container with a tight fitting lid. A thermos food jar insulates best and is leak-proof. Wait at least two hours for noodles to fully rehydrate. Flip container over at least once during rehydration so that all noodles come in contact with water. Note that less water is used for cold-soak preparation than for hot water preparation.
Explore More…
Buy Peanut Butter Powder on Amazon.
More Thai Backpacking Recipes from Chef Glenn: Thai Green Curry, Thai Red Curry.
Thai Recipes Shared by Readers: Thai Curry with Rice Noodles, Thai Peanut Noodles with Chicken, Tom Ka Gai Rice & Chicken.