Hello,



While writing the Trail Bytes newsletters, I sometimes stumble upon enterprising inventors from the mid-to-late 19th century, who were bent on solving the social and nutritional conundrums of their day.

The May 2018 Trail Bytes featured Maximilian Bircher-Brenner, inventor of Bircher muesli; and the July 2018 Trail Bytes featured Sylvester Graham, inventor of the digestive biscuit, aka the graham cracker.
This month's guest inventor is James Caleb Jackson (1811 – 1895), the original Granola Head. Some say his extravagant chin adornment was the inspiration for the rock band, ZZ Top. During his lifetime, he squeezed in these professions: farmer, writer, publisher, social reformer, physician, nutritionist, and operator of a health resort called Jackson Sanatorium.

While the Civil War was raging in 1863, Dr. Jackson was knee-deep in granola, or "granula" as he called it. Later, at the Battle of Battle Creek, Dr. Jackson won a trademark fight against John Harvey Kellogg, another cereal tycoon of the era.

Read more about the History of Granola at Wikipedia.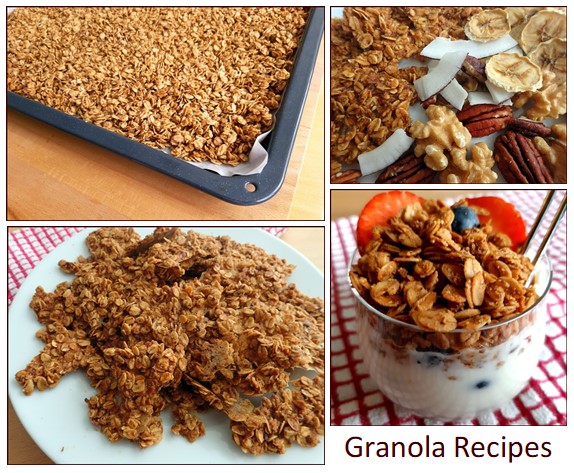 For the past two weeks, I too have been deep in granola. After many experiments tweaking the ingredients, baking temperatures, and processes, I settled on two basic (and delicious) granola recipes—one sweetened with maple syrup, and the other sweetened with honey. Old-fashioned rolled oats are the main ingredient, and nutrition is enhanced with ground flax seeds and sesame seeds.
Some of the homemade granola went into two new varieties of granola clusters—one made with homemade applesauce, and one made with banana purée. I dried them in the dehydrator.

You'll find the new recipes for granola and granola clusters on the new page at Backpacking Chef:

How to Make Granola & Granola Clusters

It's hard to believe, but all the granola is gone. I ate a ton myself, Dominique got a good share of it, and we sent several jars home with our Swiss family. I need to make another batch, because I was very close to perfecting an apple-lemon granola bar recipe. Will get that posted soon.

Give these new granola recipes a try and let me know how you like them. I will never again buy granola at the store. Homemade costs less and tastes better. See you next month.

Freundliche Grüsse,

Chef Glenn & Dominique
Please reply to this email with any questions or comments, or use this contact form.

Visit my Backpacking Chef Facebook page for the lastest posts. Be sure to "follow" the page to continue seeing posts.
If you received this newsletter from a friend and would like to subscribe (it's free), subscribe here.