Hello,



I pass the chickens on this month's cover of Trail Bytes on my walks around the Lake of Pfäffikon. They like the fresh clover I pick and feed to them from my side of the fence, their side already picked clean. If they only knew what I have been doing to chicken the past few weeks, they might be more cautious.

I am the proud owner of a new pressure cooker from Kuhn Rikon, a Swiss company located a bicycle ride away from my flat. My first project has been to pressure cook and dehydrate chicken so I don't have to use canned chicken. You can't buy canned chicken in Switzerland, so I had been smuggling cans back from the USA. Not anymore.

As you know, dehydrating canned chicken produces dried chicken for backpacking meals that is easier to chew than chicken that is grilled, fried, microwaved, poached or baked first. I suspect the better results obtained from drying canned chicken is because it is pressure cooked right in the can in a process called retort cooking.

After many experiments, some which failed but led to new discoveries, I came up with a technique to pressure cook chicken that rehydrates as well as dried canned chicken, maybe a little better. One thing is for sure… my dried pressure cooked chicken tastes fantastic. It works well in backpacking meals such as the one featured in this newsletter and also makes a crunchy chicken jerky for a high-protein trail snack.

I've built a new webpage which shows the whole process, so I'll link to it rather than repeat it in the newsletter. But, here is a quick peek at what I did to the poor cousins of my chicken friends...
A Secret Ingredient:
Hammering the Chicken:
Pressure Cook with Aromatic Ingredients: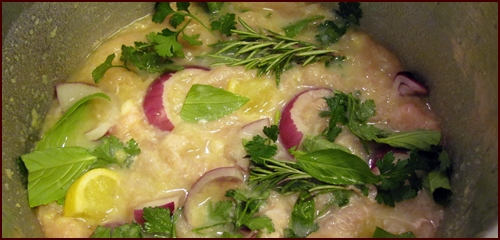 Dehydrate with Juices:
View the new webpage for the complete instructions:
Chicken Rice with Peas & Mushrooms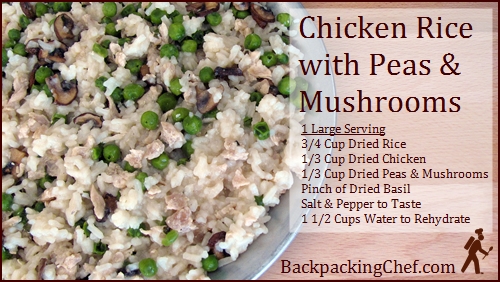 Tips for this recipe:
Precook rice in fat free chicken broth before drying.
Steam peas for five minutes before drying. If you poke a hole in each pea with a fork after steaming, they will rehydrate well. This doesn't take too long. Use the larger peas and not the petite size.
On The Trail:
Combine dried ingredients with 1½ cups water in pot and soak for five minutes. Light stove and bring to a boil for two minutes, but you can go three minutes to help soften up the chicken if there is still liquid in the pot. Remove pot from stove and insulate in a pot cozy for ten minutes.
This recipe is a variation of my Chicken & Rice Cacciatore recipe from Recipes for Adventure. If you already own the book, then you know you can turn each recipe into many simply by interchanging the meats and vegetables.
I hope you enjoy the chicken recipes. Next month I'll put some beans in the pressure cooker.
Happy Trails,

Chef Glenn & Dominique
Recipes for Adventure Books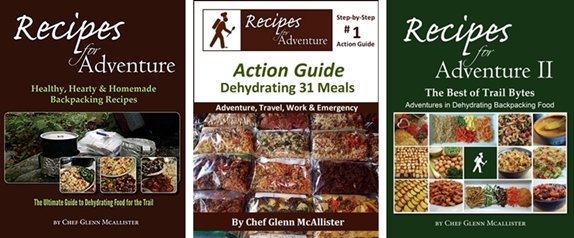 If you have any questions or comments about this issue of Trail Bytes, please reply to this email or use the contact form at BackpackingChef.com.

If you received this newsletter from a friend and would like to subscribe (it's free), subscribe here.

Visit my BackpackingChef Facebook page for the lastest posts. Be sure to "follow" the page to continue seeing posts.