Hello,



The named balds on my 6-day Appalachian Trail hike through the Nantahala National Forest – Wesser, Wayah and Siler – aren't so bald any more, but the three fire towers on this hike provided spectacular views. I photographed this month's cover shot at sunrise from atop the wooden deck of Wesser Bald Fire Tower. I had pitched my tent below the fire tower my first evening on the trail after hiking the six miles up from the Nantahala Outdoor Center.

After a first supper of Tuna Mac, I watched the sun set with a view of the Smokies and Fontana Lake in the distance. I was happy to have these peaceful moments to myself, to reflect on the majesty of it all, to smile with gratitude for the gift of life knowing that I would live it well for the next five days as I made my way back to Georgia.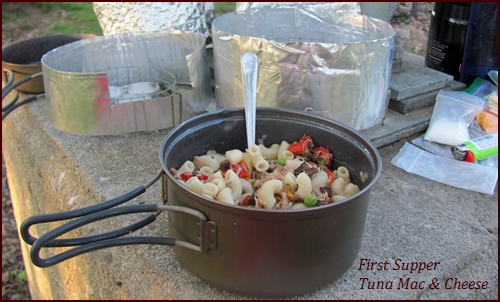 Supper cooked under the Wesser Bald Fire Tower.
I ate well – chili was on the menu as was one of my old favorites, Mexican Beef & Rice. I enjoyed a couple meals with hash brown potatoes. See the January newsletter for how to make hash brown potatoes. Hash brown potatoes are delicious with chili or with chicken, broccoli and cheddar cheese sauce.
Was it worth it?
One of the questions that I wanted to answer on this trip for folks who are new to dehydrating was whether all the time that goes into prepping and drying food is worth it.
If you've been following the BackpackingChef Facebook page, you saw how I prepped and dried four loads of food in my Excalibur Dehydrator the week before this trip. I kept track of the time it took to prepare and assemble the meat, starches, vegetables and fruit. The results are posted on a new web page with the complete menu and the steps I took to get it ready to go.
View the new page: 6-Day Backpacking Menu
Six days of meals and snacks
Prepping and drying delicious, healthy meals before a trip is worth it to me. I have fun in the kitchen and consider the time as part of the adventure. On the trail, those home cooked meals satisfy like no package ever could. I'd love to hear your story. Is it worth it to you?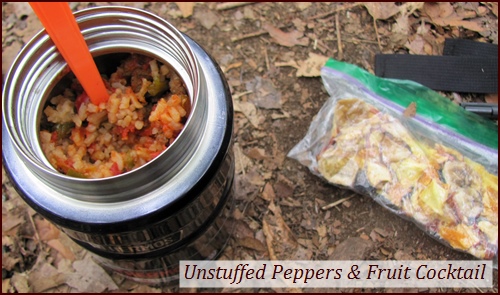 Hot Lunch
The other question I wanted to answer this trip was whether carrying a Thermos Food Jar was worth its 14 ounces. Every morning after breakfast I boiled water and added it to the Thermos with the dried meal. The results were amazing. Never again will I put off eating a hot lunch because of the weather or because I didn't want to take the time to cook. My Thermos hot lunches during the week included Chicken & Rice Cacciatore, Unstuffed Peppers, Pasta Marinara with Beef & Veggies, Curry Chicken & Rice and Hash Brown Potatoes & Chili. I precooked all of the starches before drying – rice, macaroni and potatoes – and they rehydrated well.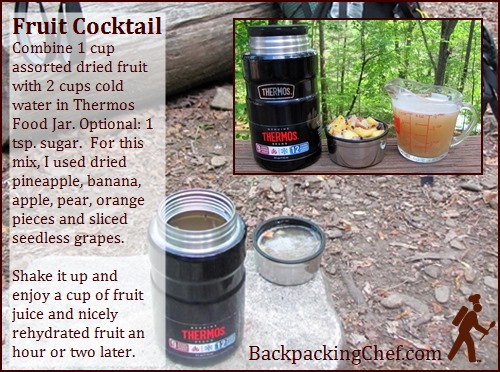 Inset shows my test at home.
Afternoon Fruit Cocktail
After my lunches I cleaned the thermos with a quick shake of water followed by a wipe with a sheet of paper towel. Then I put one cup of mixed dried fruit into the thermos – pineapple, banana, apple, pear, orange pieces and sliced seedless grapes – and topped it off with two cups of cold water. I opened the thermos late in the afternoons when a pick-me-up was needed and enjoyed a healthy, high-energy fruit cocktail consisting of a cup of refreshing fruit juice and nicely rehydrated fruit.
Except for a few bits of dried fruit that went into trail mix, I ate all of my fruit rehydrated: 1 pineapple, 4 pears, 6 apples, 5 bananas, 3 oranges and ½ pound of seedless grapes.
Was the 14 ounces worth it? You bet! After the hike I found 14 ounces of gear I could cut on the next trip. The thermos is going with me from now on.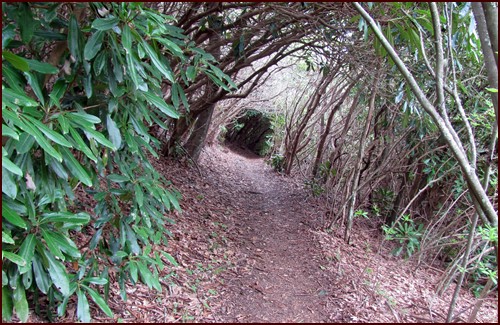 I walked through a lot of rhododendron tunnels.
Hiking southbound, I stopped and talked with many happy people. That's one pleasure of hiking the Appalachian Trail that I enjoy and one of the reasons I usually get to campsites late in the day. There is contagious enthusiasm on the trail. People who might not look at you in the grocery store open up and tell you their stories. I talked with several young couples. A couple from New Jersey were close to finishing their first section hike starting from Springer and were hooked. They drove down in a truck with a modified scooter in the back which they used to shuttle themselves. Another couple from Pennsylvania had just quit their jobs and were hiking for a week before going on to explore the south in search of new opportunities. She was from Austria. I met two father and daughter teams. One daughter was in her last year of college and clearly brought great happiness to her father by backpacking one day and night with him despite her dislike of bugs. Another father- daughter team were thru-hiking, hopscotching it in sections and travelling in both directions rather than the traditional one-way trip between Springer and Katahdin. She was a chef off the trail and made her father a salad with fresh kale and cucumbers that night. At that same setting, I enjoyed the bantering of brother-in-laws whose jabbing at each other reminded me of Felix and Oscar from the movie, The Odd Couple. They had a small Styrofoam cooler with dry ice that contained steaks, sausages, bacon, butter and eggs. One night I sheltered with nine young men from Pensacola, Florida who came to the woods to have a bachelor party. I had no choice but to join in and I was rewarded with hearing their stories. There were many solo male and female hikers from teenagers to grandmothers. On the last day I stopped and talked with another young couple. The man smiled as if he recognized me and I was expecting him to say something like, "Are you the backpacking chef?" Instead, he said, "Are you Old Monkey?" Apparently my black shirt, ponytail and grey whiskers fit the description of a man who was hobbling down the trail nearby.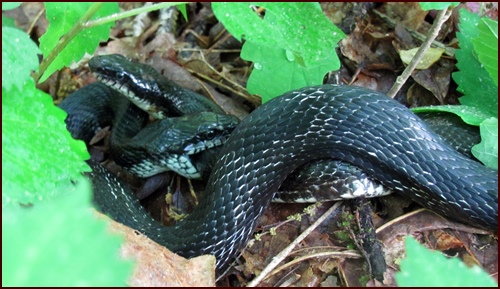 Rat snakes mating.
With so many people on the trail, I did not see any bears or deer. The birds with their music were ever present and chipmunks darted from log to log. One treat on the last day was watching two large rat snakes mating right off the trail. The weather was a pleasant surprise. The forecast when I left was for two days of sunshine and four days of rain. As it turned out, I had a few hours of fog one morning and fifteen minutes of rain the last day. I was glad it rained, because it brought out the earthy smells from the forest floor. As I crossed into Georgia, there was a stretch where hardwoods gave way to pines and the scent made me as happy as a hamster with fresh cedar shavings.
That's it for this month. I'd like to thank my good friends Ray and Maricruz for shuttling me to the trailhead and hiking the first day with me. I'm back in Switzerland now and hope to take a long bicycle ride with Dominique in June to celebrate her birthday. We'll be packing a thermos. Thanks for reading along. I wish you an adventurous summer.
Happy Trails,

Chef Glenn & Dominique
Recipes for Adventure Books

If you have any questions or comments about this issue of Trail Bytes, please reply to this email or use the contact form at BackpackingChef.com.

If you received this newsletter from a friend and would like to subscribe (it's free), click here.

Visit my Facebook page for the lastest posts.