Hello,



When I started dehydrating food back in 2008, one of my first discoveries was that breadcrumbs, added to ground beef before cooking and dehydrating it, made the meat rehydrate much better than ground beef dried without breadcrumbs.

This month, we advance the breadcrumb concept further down the trail with my family's favorite meatloaf recipe.

It's true comfort food for home or the backcountry.
How to Make Meatloaf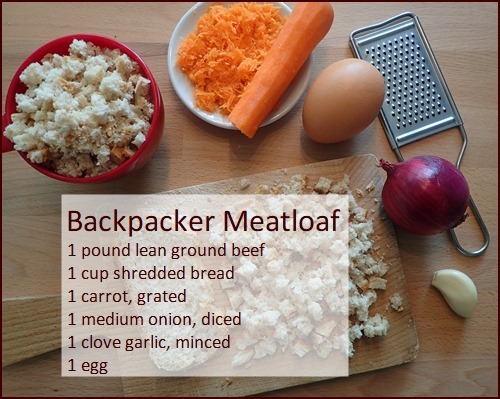 Making meatloaf is simple. To one pound of ground beef, add one cup of shredded fresh bread, one grated carrot, one diced onion, one minced garlic clove, and one egg. Use lean ground beef if you plan to dehydrate it. You can make a bigger loaf with a pound-and-a-half of ground beef and a little more of the other ingredients. Stick with one egg unless you're making a two-pound loaf.

Mush it all together and form it into a loaf.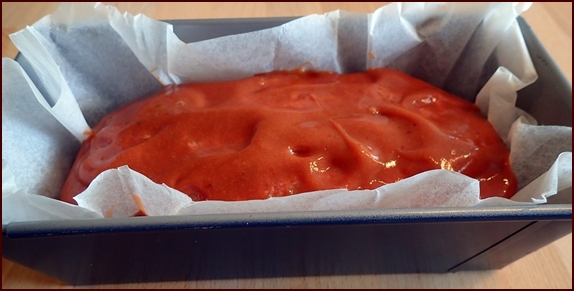 Top it with Sauce
You'll want to lather up the top of the loaf with sauce before you put it in the oven. A good approach is to spoon half on at the beginning and the other half about fifteen minutes before the meatloaf is done.
Vary your sauce according to your taste. Here's what I put in mine:
Meatloaf Sauce: 2 Tbsp Ketchup, 1 tsp Dijon Mustard, 1 tsp Brown Sugar, ½ tsp Worcestershire Sauce.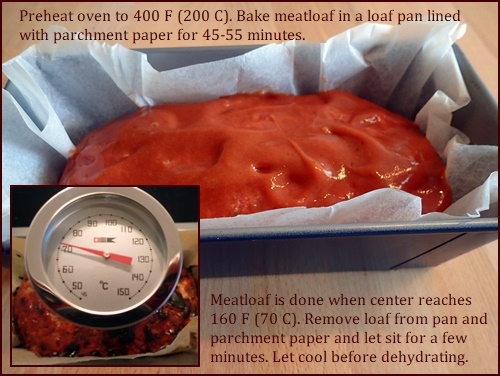 Put the loaf on top of parchment paper in a loaf pan. Coat the top with half the sauce. Place in oven pre-heated to 400° F. (200° C) Bake 45 – 55 minutes, adding the rest of the sauce near the end.

Check that your meatloaf is cooked "just right" by inserting a meat thermometer into the center. It should be 160° F (70° C) when done.
Dehydrating Meatloaf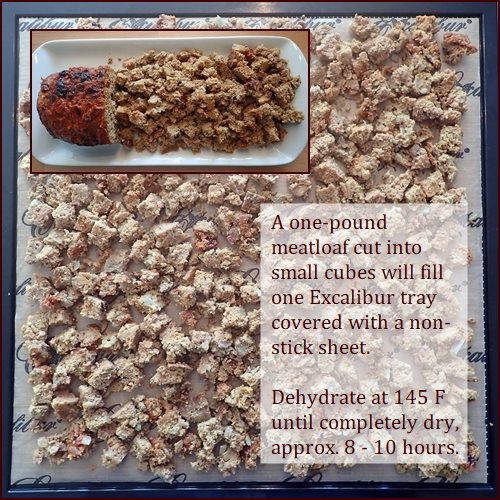 Remove the loaf from the pan as soon as it is done, and separate it from the parchment paper. Place it momentarily on several layers of paper towels to absorb any grease.

Once the meatloaf has cooled, slice and dice it into half-inch cubes.

Spread meatloaf cubes out on dehydrator tray covered with a non-stick sheet. Dehydrate at 145° F until completely dry, approximately 8—10 hours. I started mine off at 145° F for several hours, but then I reduced the temperature to 135° when I put green beans and noodles into the dehydrator. Since the meat was already cooked, it could be dried at the lower temperature.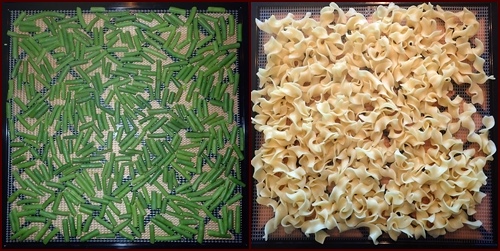 To round out the meal, I dehydrated steamed green beans and cooked noodles.

Noodle Mania

The noodles were the largest-size pasta I had ever dried, but I wanted to use a pasta that paired well with the meatloaf. The wide, curly noodles presented two minor challenges.

First, they just barely fit between three dehydrator trays. To inspect them, I had to pull all three trays out together because the noodles were catching on the trays above them. Not a big problem.

Second, the noodles wanted to stick together in layers.

Tip: Rinse the noodles with cold water before putting them in the dehydrator, and they won't stick together.

Total dry time for the green beans and noodles was twelve hours.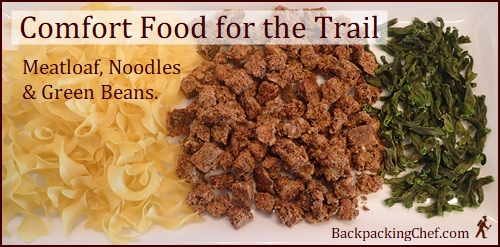 Meatloaf with Noodles & Green Beans—Constructing the Meal
Dried Ingredients: 76 grams meatloaf, 50 grams noodles, 13 grams green beans.

Dominique, Cédric, and I can easily polish off a one-pound meatloaf for supper. The dried meatloaf weighed 229 grams (8.1 ounces), so for a single serving size I divided by three and put 76 grams of dried meatloaf into the meal. That filled approximately one cup.

I figured a cup of dried noodles, which weighed 50 grams (1.75 ounces) would be about right for the meal.

The three of us usually eat a whole bag of fresh green beans during a meal, so I used one-third of the package in the meal, which weighed 13 grams (.45 ounce) when dry, or approximately a quarter-cup.
Rehydration
I rehydrated the meal in a 24-ounce Thermos Food Jar with 2¼ cups of boiled water and opened the Thermos two hours later for lunch.

The meal was perfectly rehydrated. The meatloaf retained its flavor and texture. All I added at mealtime was a few shakes of salt and pepper.

A quarter-cup of meaty-flavored, light brown liquid remained, basically a thin gravy. You can't see it in the photo of the rehydrated meal at the top of the newsletter; it was hiding under the noodles.

To cook this meal in a pot, soak the ingredients in 1.75 cups of water for a five minutes, bring to a boil for one minute, then transfer the pot to an insulating cozy and wait fifteen to twenty minutes.

For variety, dried meatloaf can be substituted for dried ground beef in any meal. Imagine how nice the texture would be in a meal with spaghetti and tomato sauce—just like mini meatballs. Dried meatloaf would also pair well with mashed potatoes and any vegetable you like.

Because of the extra fat in the meal from the egg yolk, use the dried meatloaf within a few weeks. If you need to store it long term, put it in the freezer. It's always a good practice to vacuum seal your homemade backpacking meals to keep them at their best.

Thanks for reading and I hope you try the meatloaf. I'm back in the USA for a visit. Dominique and Cédric will arrive soon. I left a few dehydrated meals behind for their hot lunches.

The October newsletter will come to you next week. I'm switching to sending out the newsletter during the first week of the month instead of the last week. See you again soon!

Freundliche Grüsse,

Chef Glenn & Dominique
P.S. If you have any questions or comments about this issue of Trail Bytes, please reply to this email or use the contact form at BackpackingChef.com.
These meatloaf recipes are included in Recipes for Adventure II: The Best of Trail Bytes.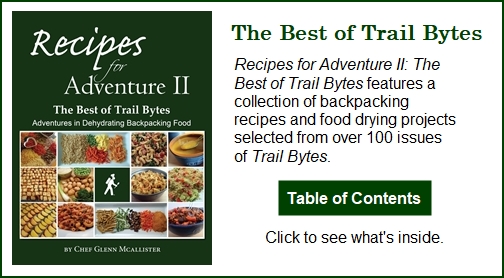 If you received this newsletter from a friend and would like to subscribe (it's free), subscribe here.
Visit my BackpackingChef Facebook page for the lastest posts. Be sure to "follow" the page to continue seeing posts.