Hello,



I hope this newsletter finds you healthy and strong in resolve.

Last year, I wrote, "When you keep a supply of dehydrated meals on hand for adventure, work, and travel, you're automatically prepared for emergencies."

Today, the emphasis is reversed: "When you keep a supply of dehydrated meals on hand for emergencies, you're automatically prepared for adventure, work, and travel."

With that in mind, here are three resources at BackpackingChef.com to help you build up your supplies of dehydrated food:
How to Dehydrate Food
This is the Table of Contents Page with links to all food dehydrating topics: Fruit, vegetables, meat, starches, sauces, etc.

Dehydrating Food Table of Contents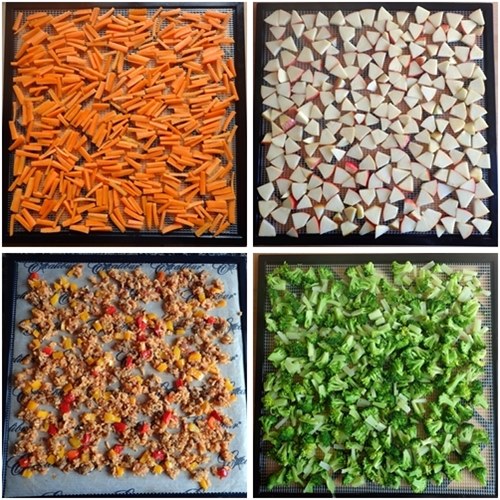 Recipes for Dehydrated Meals
Links to many of my favorite recipes.
Something New: Cream of Cauliflower Soup
Servings: 4 – 5
Ingredients:
1 large Head Cauliflower
4 medium Carrots
3 medium Potatoes
1 medium Onion
1 clove Garlic
15 grams Vegetable Bouillon
1 tsp Salt
¼ tsp Pepper
⅛ tsp ground Cloves
5 cups Water (1183 ml)
Prepare the Vegetables
Wash cauliflower and cut into chunks. Discard tough portion of the lower stem. Peel and grate potatoes and carrots. Dice onions and mince garlic.
Cook the Vegetables
In a large stock pot, cook onions and garlic for about five minutes using minimal oil.
Add grated carrots, potatoes, and seasonings. Continue cooking for another five minutes, stirring frequently. Add some of the water if necessary.
Add cauliflower and water. Bring to a boil, then reduce to simmer for twenty minutes.
Blend and Serve
Run the soup through a blender, or use an immersion blender. It will take two fills for most blenders.
If not dehydrating, you can stir in a little half-cream. For style points, top with chives or parsley, and perhaps a very light sprinkle of paprika.
Dehydrating Cream of Cauliflower Soup
Spread cooled soup thinly on dehydrator trays. One-and-a-half cups of blended soup per tray is good if using an Excalibur dehydrator. Dry @ 135° F (57° C) for ten to twelve hours. Dried soup bark will be brittle.
Reduce soup bark to powder in a blender.
Rehydration
To make a two-cup serving, add four tablespoons of soup powder (48 grams) to two cups (473 ml) of boiled water. Stir and set aside for ten to fifteen minutes.
How was it?
Dominique loved it. In times of stress, nothing comforts like a bowl of creamy vegetable soup.
What We're Doing Now
We always keep dried foods on hand. Nevertheless, I have been drying more food over the past week, including fruits, vegetables, and whole meals like chili and unstuffed peppers. I have a five-tray Excalibur dehydrator here in Switzerland. It only takes an hour or so to prepare foods for the dehydrator, which I usually run overnight. I'm concentrating on drying perishables that can be added to meals with rice, pasta, polenta, oats, barley, or lentils.

Dominque and I cancelled our spring trip to America. We will miss seeing our family. Switzerland has issued stringent directives for social distancing. There is strong solidarity here. We are in this together.

How are you faring? Please don't hesitate to ask me any questions you may have about dehydrating food, or to reply with your thoughts. It's good to stay connected. For those of you who are fighting to save lives on the frontlines of this pandemic, and to those who are at work providing essential services, THANK YOU!

Stay safe for now. Dry some food for now. And be ready for your next adventure. See you next month.

Gute Gesundheit,

Chef Glenn & Dominique
P.S. To contact me, please reply to this email or use this contact form.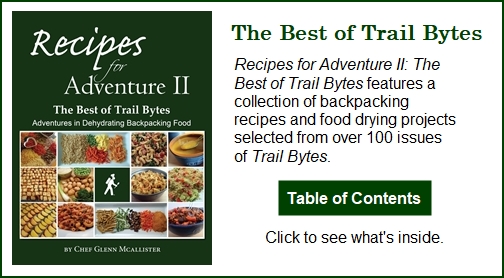 If you received this newsletter from a friend and would like to subscribe (it's free), subscribe here.
Visit my BackpackingChef Facebook page for the lastest posts. Be sure to "follow" the page to continue seeing posts.