Backpacking Recipes for Adventure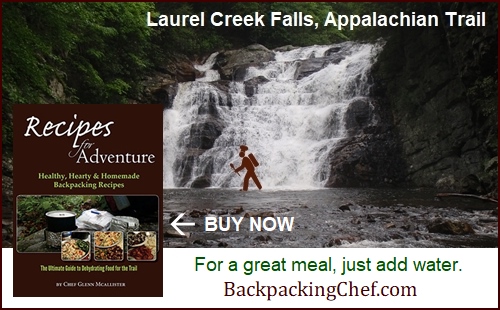 Dining out tonight?
Chef Glenn's backpacking recipes will help you create healthy, hearty, homemade meals for the trail. These dehydrated meals pack up light and tight and are easy to cook at your campsite using minimal fuel.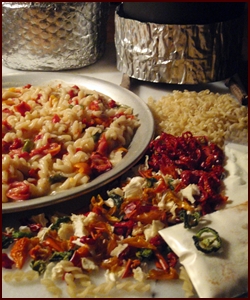 How to Make Backpacking Meals:
Cook a big pot of chili or stew, dehydrate and divide into individual servings.
Dehydrate vegetables, meat and beans separately and assemble into meals.
Enhance store-bought boxed meals with additional dried meat and vegetables.
Create saucy backpacking meals by blending and dehydrating starchy foods like potatoes and beans into bark.
Dehydrate tomato sauce for Italian style meals.

All of the backpacking recipes linked below are for a single serving.
Increase the ingredients proportionally by 1.5 or 2 times if you have a large appetite or you are cooking for two in the same pot. Bon Appétit!
---
Chili & Stews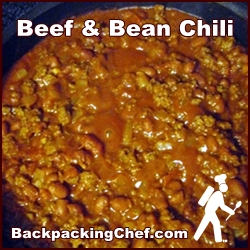 Cook a big batch, dehydrate, and divide into meal size portions.This chili backpacking recipe is often mentioned by readers as one of their favorite meals on the trail.

Heat and eat for supper or munch out of the bag while hiking. This meal features yams, parsnips, turnips, and rutabaga with Moroccan spices and packs carbohydrates for energy.
This French summer vegetable stew combines eggplant, zucchini, peppers, onions, and tomatoes with garlic and herbs.
---
Assembled Backpacking Meals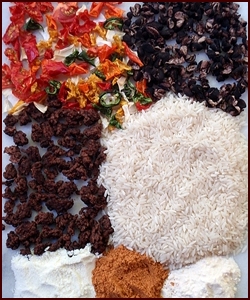 Dehydrate meats and vegetables separately, then combine with rice, noodles, or potatoes.
Back to Nature® or Annie's® Macaroni and Cheese with added meats and vegetables. Ham and Cheese, Kickin' Veggie and Taco Mac 'n Cheese.
Tuna with macaroni, tomatoes, onions, mushrooms, and peppers in a white cheddar cheese sauce.
Vegetarian Ramen Noodles, Ramen Noodles & Kraut, Cheese-O-Rama, Seafood Raminara, Spinach & Bean Raminara
Crab meat, a creamed sweet corn base, and celery, onions, tomatoes, and bell peppers.
Shrimp, grits, bell peppers, and onions.
Beef, beans, peppers, onions, tomatoes, and rice in a zesty cheddar cheese sauce with taco seasoning. Muy delisioso!
Dried pineapple and coconut add a touch of tropical sweetness to this backpacking meal.
Curry and chili powders combined with powdered milk give this backpacking recipe a Thai flavor.
---
Free Backpacking Recipes Delivered to Your Inbox Once a Month

---
Backpacking Recipes to Make Better Trail Meals out of Boxed Products

Divide the box contents into smaller portions and combine with dehydrated vegetables and meat.
Zatarain's® Spanish Rice with added ground beef and tomatoes
Zatarain's® Red Beans and Rice with added vegetables
Near East® Toasted Pine Nut Couscous with added meat and vegetables
---
Recipes with Tomato Sauce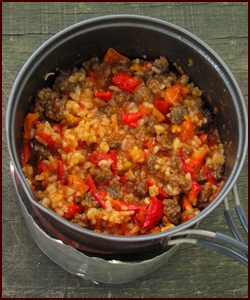 Give your backpacking meals an Italian flair with tomato sauce.
Learn how to make Tomato Sauce Leather.
Recipes: Unstuffed Peppers and Seafood Raminara.
---
Bark Recipes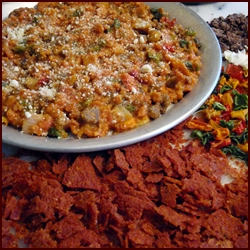 Blend and dehydrate starchy vegetables into bark and use it to make flavorful, saucy backpacking meals such as Mashed Potatoes with Meat and Vegetables, Sweet Potatoes, Bean Bark Stew, Corn Bark Stew, and Pasta Bark Marinara.
---
Shared Backpacking Recipes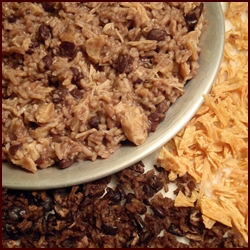 Best Shared Backpacking Recipes

Explore over 50 recipes shared by readers of BackpackingChef.com.
If you have a good one, there's a form for you to share it.
Jamaican Jerk Chicken shared by Squidbilly's Wife shown at right.
---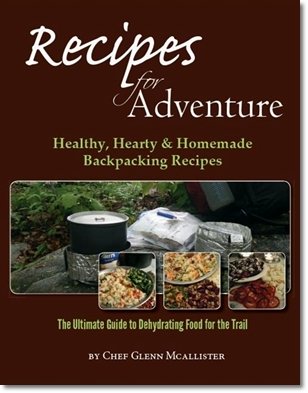 Find all of Chef Glenn's backpacking recipes, including several not included on the website, nicely formatted in Recipes for Adventure.
The recipes include an additional serving size which is 50% larger for big appetites. The calories are listed for each recipe.
Most of the recipes have interchangeable ingredients so you can easily add tremendous variety to your backpacking menu by substituting chicken for beef, broccoli for mixed vegetables, etc.
Click the book cover at left for details.
From the Mailbag:
"My husband and I hiked the John Muir Trail during the month of September and before our trip I had purchased your cookbook so that I could prepare most of our dinners. I trusted your basic ingredients and straight-forward approach and prepared many of your dehydrated recipes. I had friends ask if I was going to taste test the meals first and I said no. My logic was that we would be so hungry that anything would be edible. Well, we were very hungry and it`s true that anything is edible but we looked so forward to having our "homemade" meals in the evening... they were so filling, healthy, and extremely tasty! Thank you so very much for sharing your knowledge and recipes." - Patty
---
Continue Reading...

First supper recipe: Beef & Bean Chili
Learn: How to Dehydrate Food
Don't have a dehydrator? Sources for Dried Foods
---