Backpacking Recipes:
What's for Dinner?

Take your time exploring this page. You'll find a large collection of trail-tested backpacking recipes to help you eat well wherever your adventures take you.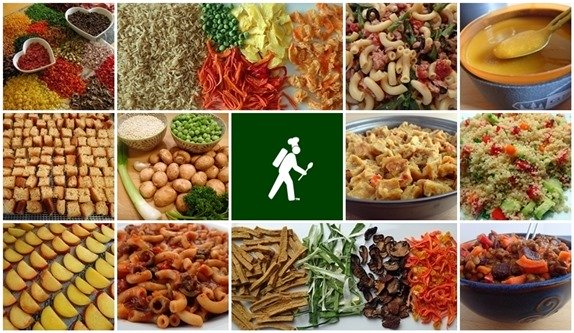 These dinner backpacking recipes are my favorite trail meals from the Appalachian Trail. The dried ingredients are healthy, and they taste great. Because the backpacking meals are dehydrated, they weigh a fraction of what fresh backpacking foods weigh, plus they won't spoil on long hikes. They rehydrate on the trail as easily as store-bought freeze-dried backpacking meals, for a lot less money.
Food Dehydrating Options for Backpacking Dinners:

Cook a big pot of chili or stew, dehydrate and divide into individual servings.
Dehydrate vegetables, meat, beans, and starches separately and assemble into meals.
Enhance store-bought boxed meals with additional dried meat and vegetables.
Create saucy backpacking meals by blending and dehydrating starchy foods like potatoes and beans into bark.
Dehydrate tomato sauce for Italian style meals.
Readers' Choice Backpacking Recipes

Based on letters from readers, these are the three most favorite backpacking dinners enjoyed on the trail:
Cook a big batch, dehydrate, and divide into meal size portions.
Ground beef, beans, peppers, onions, tomatoes, and rice in a zesty cheddar cheese sauce with taco seasoning.
Ground beef, bell peppers, and rice in tomato sauce.

Backpacking Mac & Cheese Recipes

Macaroni and Cheese with added meats and vegetables. Ham and Cheese, Kickin' Veggie Mac & Cheese, Taco Mac 'n Cheese, Tuna Mac & Cheese, and more. Plus instructions for dehydrating macaroni.
Backpacking Rice Recipes
Curry Chicken & Rice, Curry Shrimp & Rice, Easy Cheesy Rice & Beans, Hawaiian Shrimp & Rice, Ham with Rice & Vegetables, and more. Learn how to dehydrate rice for flavorful meals.

Ramen Noodles Recipes


Seafood Raminara, Cheese-O-Rama, Ramen Noodles & Kraut, Vegetarian Ramen Noodles, and more.
Vegan & Vegetarian Recipes


Vegan & Vegetarian Backpacking Meals

This page includes vegan and vegetarian backpacking recipes like vegetarian unstuffed peppers, French inspired ratatouille, Moroccan-spiced root bark stew, hearty green-lentil chili, and curry-carrot soup; plus direct links to twenty more vegetarian backpacking meals as featured in Trail Bytes and shared by readers.

Backpacking Recipes with Tofu

Learn how to dehydrate tofu with seasonings. Recipes include Tofu Noodles with Vegetables & Rice, Tofu Vegetable Soup, Spicy Tofu Tortillas, and Curry Tofu & Vegetables.

Tuna Backpacking Recipes
Pasta with Tuna Sauce, Tuna Mac & Cheese, Tuna & Rice with Vegetables, Tuna Zuppa, Tuna & Pasta San Marzano, Tuna Salsa Salad, and Tuna Snack Pack.
No-cook Backpacking Recipes

No-cook Backpacking Recipes

Sushi Rice Bowl, Peach Salsa Rice Salad, Tuna & Pasta San Marzano, Quinoa & Bean Cilantro Salad, Couscous Salad with Cucumber-Salsa Dressing, Overnight Couscous Salad, Shrimp Cocktail Tortillas, Gazpacho, Overnight Bircher Muesli, and Peach Crunch Breakfast.

Bark Recipes

Blend and dehydrate starchy vegetables and beans into bark, and use it to make flavorful, saucy backpacking meals such as Mashed Potatoes with Meat & Vegetables, BBQ Beef Stew, Sweet Potato Porridge, BBQ Bean Bark Stew, Black Bean & Salsa Bark Stew, Corn Bark Stew, Crab Chowder, and more.
Backpacking Recipes with Tomato Sauce


Italian-style backpacking meals like Pasta & Cheesy Tomato Sauce, Seafood Raminara, and Unstuffed Peppers.

Learn how to make tomato sauce leather and tomato powder using sauce from a jar or with Chef Glenn's homemade tomato sauce recipe.

Easy Backpacking Meals

Add dried veggies and meat to popular boxed products from Zatarain's, Near East, and Annie's Organic. These enhanced backpacking meals include Spanish Rice with Beef & Tomatoes, Red Beans & Rice with Vegetables, Pine Nut Couscous with Meat & Vegetables, and several Cheesy Pasta backpacking recipes.
Reader Shared Backpacking Recipes

Best Shared Backpacking Recipes

Explore over 50 recipes shared by BackpackingChef readers.
If you have a good one, there's a form for you to share it.
---
Add to your backpacking recipes collection with Chef Glenn's books and guides.


---
Subscribe to Trail Bytes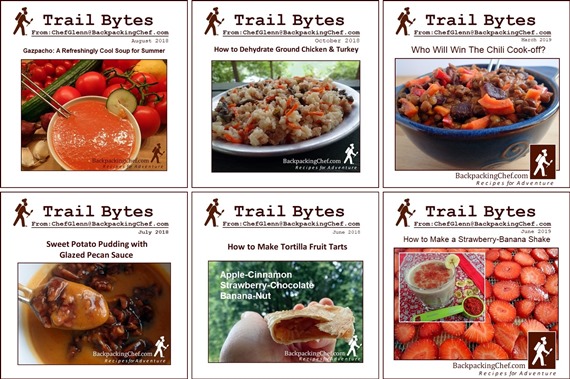 In Chef Glenn's free monthly newsletter, you will receive new backpacking recipes and food dehydrating instructions. When you subscribe, you will also receive a free e-book, Home & Trail: An Introduction to Drying Food. Subscribe to Trail Bytes