Dehydrating Food

Are you ready to transform the way you eat on the trail?
Start dehydrating food and amaze yourself and friends with your culinary creations.
Learn how to dehydrate food including meat, vegetables, fruit, bread and starches like potatoes and rice.
All the food drying techniques I have employed over the years are linked below, including how to make bark, the secret sauce in many of my meals.
With a food dehydrator and my backpacking recipes, you'll make the healthiest, most delicious homemade backpacking meals, trail snacks and desserts.
Dehydrating Food Table of Contents

Dehydrating Meat (Ground Beef, Ham, Shrimp, Tuna, Crab)
How to Make Tomato Sauce Leather
Bark Recipes: The secret sauce in many backpacking recipes and a tasty snack food. Learn how to blend and dehydrate potatoes,  beans, corn and pumpkin into bark. Homemade dog treats, too.
How to Make Soup with Dried Food
How to Vacuum Seal Dried Backpacking Food
How to Cook Dehydrated Meals on the Trail
Dehydrating Food from A - Z (all topics)
---
Introduction to Drying Food

Free 50-page e-book

Home & Trail

An Introduction to Drying Food

Includes important food drying tips and food dehydrator recipes you can use right away.
---
Dehydrating Food Presentation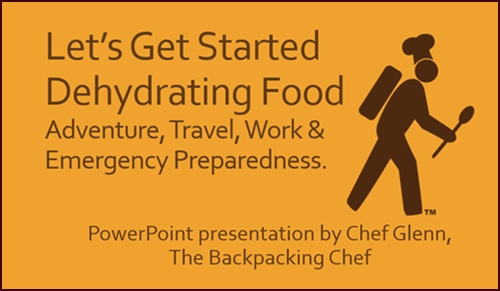 Click to view the PDF presentation of "Let's Get Started Dehydrating Food." Originally presented to the Appalachian Mountain Club of NY/NJ.

---
Recipes for Adventure: Healthy, Hearty & Homemade Backpacking Recipes

The Ultimate Guide to Dehydrating Food for the Trail


---
Why Dehydrate Backpacking Food?
More veggies, please!
Freeze-dried backpacking meals are always light on veggies and heavy on starches. We need starches for energy, but I want my veggies, too.
Dice vegetables such as tomatoes, peppers, and onions and put them directly into the food dehydrator.
Vegetables such as broccoli and green beans benefit from a few minutes of steaming before dehydrating. With a small amount of home preparation, include healthy portions of colorful, vitamin-rich vegetables in all of your backpacking meals.
Delicious, homemade taste.

Photo above: Dehydrating food allows you to assemble meals like Black Bean Bark Stew, Chili Mac, Easy Cheesy Rice & Beans, and Ham & Cheese Macaroni
Keep out unwanted ingredients.
Manufacturers of dried meats and fruits douse their products with preservatives, artificial colors, and flavors. Even Quaker Instant Oatmeal slips you fake strawberries and blueberries with the magic of Red 40 and Blue 2.
Flavored rice and noodle products from the grocery store often contain MSG, excessive salt, partially hydrogenated oils, and ingredients that would be easier to pronounce if you had paid attention during chemistry class.
Free yourself from chemically engineered food by dehydrating food from Mother Nature and you'll feel well nourished and healthy on the trail.
Prepare the right size meals.
No one wants to get hungry on the trail, and no one wants to pack out leftovers. Only you know how much food you need. Cooking a meal with ¼ cup dehydrated meat, ¼ cup dehydrated vegetables, and ½ cup rice or other starch fills me up nicely, but you could easily bump the quantities up to suit your appetite. On a backpacking trip to Savage Gulf, Tennessee, my friend Gary had to pack out his leftover Mountain House Lasagna, but my homemade Mexican Beef & Rice was just the right size for me.
Save space in the backpack.
Home-dehydrated meals takes up half the space of store-bought freeze-dried meals, so you can carry a week's supply of backpacking food without hiring a goat.
Dehydrating food saves money.
If you're in a hurry to get on the trail, you may gladly pay the higher prices of freeze-dried meals, but if you can plan ahead, you'll save money drying your own meals. Each one of my backpacking recipes cooks up for about two dollars. In contrast, a freeze-dried meal from Mountain House will set you back seven or eight dollars.
Dehydrating Food for Emergencies
The same meals that I dry for backpacking trips are what I often eat for work lunches, or while travelling. Having this supply of dehydrated meals on hand means my family is always prepared for emergencies. I vacuum seal the meals, so they are safe and delicious to eat whenever we need them.

The Action Guide provides step-by-step instructions for how to dehydrate food, and how to assemble it into thirty-one meals.
Pick a Topic to Explore

Links lead to Tables of Contents pages.