Hello,



Back in the day, when I worked in an office outside the home, I frequently ate lunch at a local restaurant known for Southern cooking. That's a big category, but at Dot's in downtown Ball Ground, Georgia, it meant choosing from one of the meat entrees of the day, plus two or three of the standard vegetables. Macaroni and cheese counted as one vegetable. The "Meat and Three" also included choice of cornbread or buttermilk biscuit. If I didn't fancy the pork chop, meatloaf, country-fried steak, chicken livers, or fried chicken, I ordered the veggie plate.

Dot's was a one-woman operation. Some of the vegetables came from her garden. You ordered and paid at the register, an embarrassingly small sum, and Dot filled your plate while you stood there. She adjusted serving sizes by how hungry you looked. After the lunch-line came through, Dot would come around to top off your sweet tea. I learned a lot about the inner workings of small town life from tableside chats with Dot. Most curious of all was Oscar, the Rock Man, who owned half the buildings in town, and filled them all with rocks to maintain a grudge against the city; but that's another story from a bygone era. Dot ran her little restaurant for 49 years. She passed away last May, age 86. Downtown Ball Ground is now a tourist destination where old-timey charm meets ice cream, pizza, lattes, and locally brewed craft beer. Dot's was replaced by a real estate office.

I almost didn't come up with a new recipe this month, but as lunchtime approached, on this last day of May, I turned to my dehydrated food stash, and there in the jars of dried vegetables was the inspiration: a veggie plate that would make Dot proud. Tofu might not have been on Dot's menu, but this is a 21st Century veggie plate.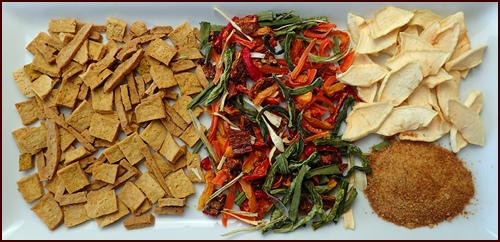 I dried the tofu in May, 2020. It was still in great shape, as were all the vegetables. I like a lot of color in my dehydrated meals, so I took a pinch each of dried carrots, red and orange bell peppers, San Marzano tomatoes, green onions, and green beans. To that I added a handful of dried apples and a tablespoon of homemade vegetable soup powder.
The recipe is similar to the Curry Tofu & Vegetables recipe on the website, except I used different vegetables and added the vegetable soup powder.
Hint: Soup powder recipes are in the new book.
The Veggie Plate:
Serves 1
½ cup dried tofu (45 g)
½ cup dried mixed vegetables (25 g)
¼ cup dried apples (10 g)
1 Tbsp vegetable soup powder (12 g)
⅛ tsp curry powder
1½ cup water to rehydrate (355 ml)
Prepare in the usual way: Soak ingredients for five minutes, bring to a full boil, turn off stove and wait at least fifteen minutes. If you can wait longer, the tofu and vegetables plump up nicely with more time.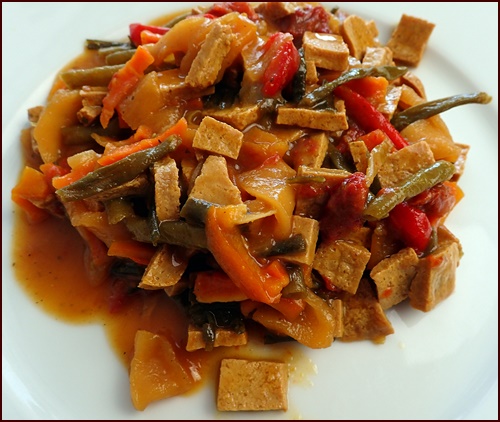 How was it?
Delicious. Dot was smiling down. The tofu was soft-chewy, not hard—perfect as a meat replacement. The apples added a little sweetness, and the vegetable soup powder created a flavorful gravy.
Assignment: Look into your dried food stash for inspiration, and let me know what meal you come up with.
Website Improvements
I've got a big remodeling project going at BackpackingChef.com to make the site more attractive and navigable on mobile devices. In the process, the site is looking better on big screens too.

The main content column is a bit wider, and I added a third column. The "Dehydrating Food from A-Z" list is in the extra column now on most pages, where it is easy to find.

The font size is larger for easier reading. No need for a magnifying glass, as one needs when reading National Geographic Magazine these days.

In addition to making design improvements, I'm reorganizing the recipes. Take a look and let me know what you think.

Backpacking Recipes: What's for Dinner?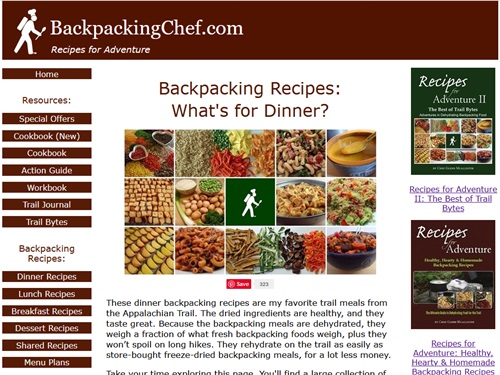 New Shared Recipes:
Here are the winners from the Construct-a-Meal contest:

Tanya's Upside Down Shepherd's Pie and Curry Chicken & Rice.

Brittany's Beef & Potatoes and Trail Turkey Dinner.

Sprinkle's Chicken Piccata.

You'll find links to these recipes at the top of the Shared Recipes Page.

Thanks for sharing your recipes!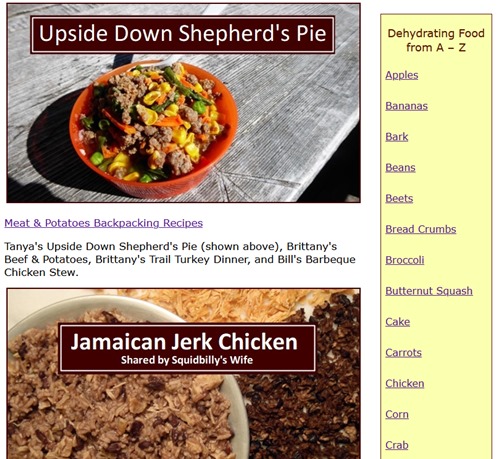 Recipes for Adventure II: The Best of Trail Bytes
Update: Thank you to everyone who has purchased the new book in e-book format!

The print edition is still in the hands of the book formatting service. I hope to announce "it's ready" in the June newsletter.

Information about the book: Recipes for Adventure II: The Best of Trail Bytes

That's it for this month. Dominique and I wish you good times and good food on your upcoming adventures.

Until next time,

Chef Glenn & Dominique
P.S. To contact me, please reply to this email or use this contact form.

If you received this newsletter from a friend and would like to subscribe (it's free), subscribe here.
Visit my BackpackingChef Facebook page for the lastest posts. Be sure to "follow" the page to continue seeing posts.