Hello,



Many of my backpacking meals follow the familiar formula of combining a starch, protein, and vegetable with a flavor or sauce component. Unstuffed peppers is a classic example where ground beef provides the protein element.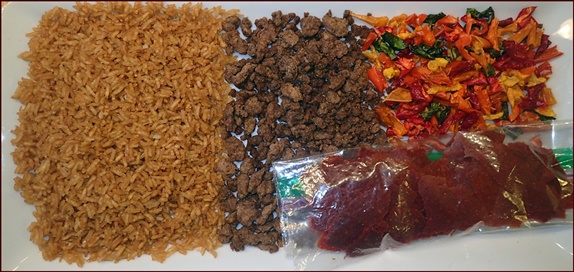 Unstuffed Peppers with Ground Beef
Hikers who want to reduce their meat consumption often ask if my recipes are adaptable for vegetarians. One way is to substitute beans or lentils for the meat component. In the photo below, I substituted green-lentil chili for the ground beef. You'll find the green-lentil chili recipe and vegetarian unstuffed peppers recipe on the Vegetarian Backpacking Meals page.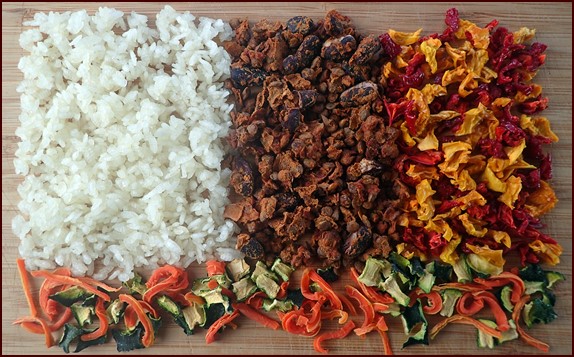 Unstuffed Peppers with Green Lentil-Chili
Another approach to replacing meat is to use a plant-based imitation meat product such as Beyond Burger, shown below. When I asked the Backpacking Chef Facebook Community how they felt about products like Beyond Burger or Impossible Burger, the response was mixed. Some meat-eaters and vegetarians objected to eating "fake meat." Some commenters showed they were using plant-based imitation meat products with good results. Others said they were interested to see what I came up with.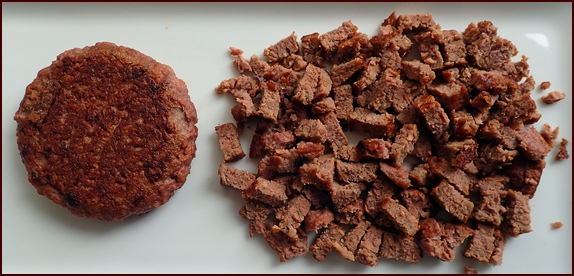 A cooked Beyond Burger reduced to smaller pieces for drying.
I was skeptical myself as to whether I would be happy with the taste, texture, and digestibility of Beyond Burger. Many years ago, when I was briefly a vegetarian, I discovered that soy-based imitation burgers gave my digestive system fits. So I was happy to see that Beyond Burgers are soy and gluten free.
Ever curious, I bought several pounds of Beyond Burgers and got to work in the kitchen.
Beyond Burger Chili, Unstuffed Peppers, and Taco-Seasoned Beyond Burger Tortillas.
The results were pretty good. Not exactly the same as meat, but not bad. If I were still a vegetarian, I would use the meals I came up with as part of a backpacking menu. I had no problem digesting the pounds of Beyond Burgers that I ate for this newsletter.
You'll find cooking and dehydrating instructions, plus recipes for Beyond Burger Chili, Unstuffed Peppers, and Taco-Seasoned Beyond Burger Tortillas on this new page:

A Plant Based Hiking Food: Experimenting with Beyond Burgers.
For those who say "yuck," to imitation meat, I invite you to try the chicken.
Our Australian bushwalking friend, Neil Bellamy, shares his method of pressure-cooking and dehydrating a whole chicken with an apricot chicken recipe. Thanks Neil!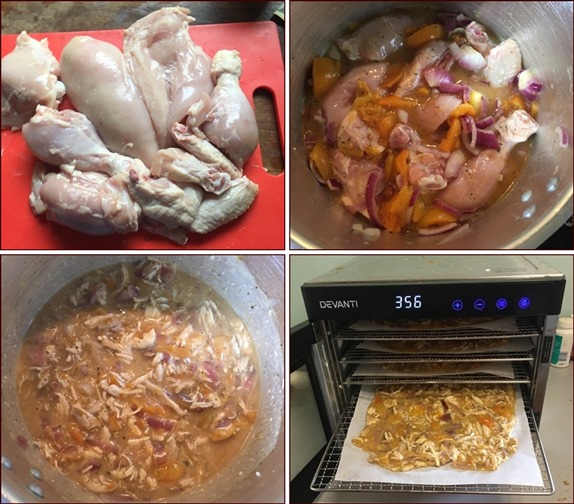 You'll find Neil's method on this updated page:

Pressure Cooking Chicken

That's it for this month. Dominique and I enjoyed being back in Georgia this month, hence getting this newsletter out just under the wire. I'll see you in May from my Swiss kitchen with more experiments.

Freundliche Grüsse,

Chef Glenn & Dominique
P.S. If you have questions or comments about plant based meat substitutes, please reply to this email or use this contact form.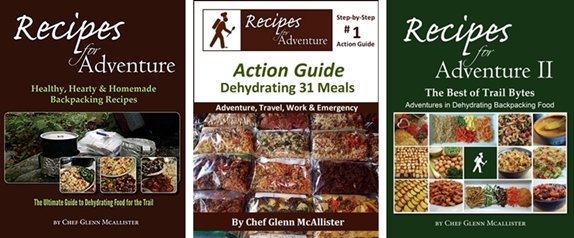 If you received this newsletter from a friend and would like to subscribe (it's free), subscribe here.
Visit my BackpackingChef Facebook page for the lastest posts. Be sure to "follow" the page to continue seeing posts.