Plant Based Hiking Food
This article focuses on a plant based hiking food that is high in protein and can be substituted for meat in backpacking meals.

Backpacking recipes usually contain a protein element to go along with vegetables and starches in the meals. Most of the time the proteins are meat, seafood, beans, or lentils. Vegetarians and hikers looking to reduce their meat consumption often ask about using vegan meat replacements in backpacking meals, such as plant-based burgers or textured vegetable protein.

Beyond Burger Plant Based Hiking Food
The first plant based hiking food featured in this article is "Beyond Burger." There are other brands of meatless burger products out there, such as "Impossible Burger." I purchased several 2-packs of burgers from our grocery store in Switzerland.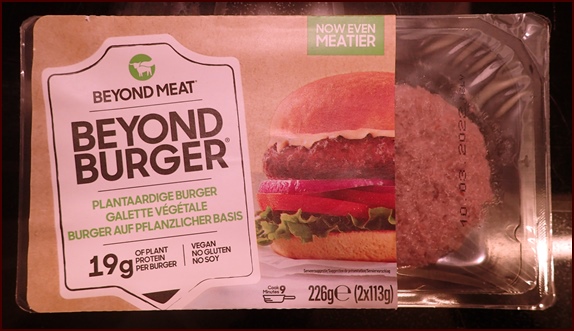 Topics covered in this article:

Ingredients and First Impressions
How to Cook & Dehydrate Beyond Burgers
Recipes: Beyond Burger Chili, Unstuffed Peppers, Taco-Seasoned Beyond Burger Wraps.
Beyond Burger Ingredients:
Water, Pea Protein, Expeller Pressed Canola Oil, Refined Coconut Oil, Rice Protein, Natural Flavors, Dried Yeast, Cocoa Butter, Methylcellulose*, Contains 1% or Less: Potato Starch, Salt, Potassium Chloride, Beet Juice Color, Apple Extract, Pomegranate Concentrate, Sunflower Lecithin, Vinegar, Lemon Juice Concentrate, Vitamins and Minerals (zinc sulfate, niacin amide [vitamin B3], pyridoxine hydrochloride [vitamin B6], cyanocobalamin [vitamin B12], calcium pantothenate).

*What is the ingredient methylcellulose? Wikipedia says: "Methyl cellulose (or methylcellulose) is a chemical compound derived from cellulose. It is sold under a variety of trade names and is used as a thickener and emulsifier in various food and cosmetic products, and also as a bulk-forming laxative. Like cellulose, it is not digestible, not toxic, and not an allergen."

Beyond Burgers contain no soy or gluten, which are potential allergens for some people.

First Impressions
The burgers are greasy right out of the package, and they smell like grilled hamburgers before you cook them, which is a little strange.

This article at Good House Keeping compares the nutritional characteristics of Beyond Burgers to beef burgers.

After cooking and eating Beyond Burgers and using them crumbled in dehydrated meals featured in this article, I found the taste and texture to be pretty good—not exactly like real meat, but not bad. Over the course of a week of experiments, I suffered no digestive problems at all from eating a few pounds worth of them. In fact, this plant based hiking food digested pretty darned good.
Tip: It's a good idea to try out new foods at home for digestibility before taking them on a backpacking trip.

Cooking Beyond Burgers
In order to use Beyond Burgers in dehydrated meals, they must be cooked first to liberate the plant fats: Expeller Pressed Canola Oil, Refined Coconut Oil, and Cocoa Butter.

Follow the cooking directions on the package exactly or the burgers will char unpleasantly if you over cook them.

To make it easy to press the fat out of the burgers with a spatula after they are cooked, cook only one or two burgers at a time.

Preheat a non-stick pan to medium-high heat and cook burgers for four minutes per side. Lots of grease comes out while cooking. Tip some of the grease out before you flip them over. The burgers are light brown when done. Consider cracking a window—your kitchen will smell like you fired up a grill inside.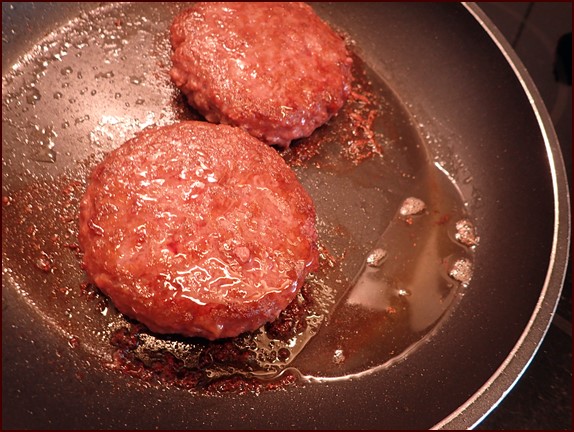 When the burgers are fully cooked and still in the hot pan, press down hard on them with a spatula while tipping the grease out of the pan.

Remove burgers from the pan and squeeze between paper towels to mop up any remaining grease.

Cut or crumble burgers into small pieces.

Dehydrating Beyond Burgers
Crumbled burgers can be dried by themselves with seasonings after cooking, or they can be dried as part of a complete chili or stew. The next two recipes show how to add seasonings to the cooked crumbles.

Taco-Seasoned Beyond Burgers
For each cooked and crumbled Beyond Burger, approximately ¼ pound (113 g), add:

2 Tbsp. water
1 tsp. taco seasoning mix
Use taco-seasoned Beyond Burger crumbles in place of ground beef in any Mexican-style recipe such as Taco Mac & Cheese and Mexican Beef & Rice.

Italian-Seasoned Beyond Burgers
Photo: Italian-seasoned burger crumbles before dehydrating.

For each crumbled Beyond Burger, approximately ¼ pound (113 g), add:

2 Tbsp. water
2 Tbsp. tomato sauce
Pinch each: garlic powder, onion powder, basil, and oregano
Mix together with crumbled burger.

Dehydration:
Place seasoned burger crumbles on dehydrator tray covered with a nonstick sheet and dehydrate at 145°F (63°C) for approximately five hours.

Dried Yield: One Beyond Burger will yield slightly less than ½ cup and weigh about 33 grams.

Plant Based Hiking Food Recipes
Unstuffed Peppers
This plant based hiking food tastes just as good as unstuffed peppers made with real ground beef.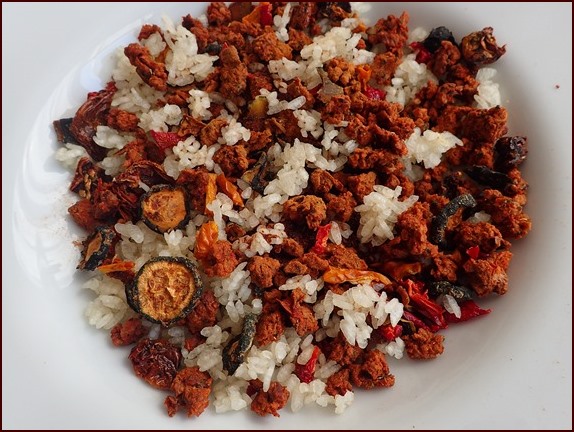 Photo: Dried ingredients for Unstuffed Peppers.

Servings: 1

Ingredients:

½ cup dried Italian-seasoned Beyond Burger (33 g)
½ cup dried rice (50 g)
¼ cup dried mixed vegetables; try bell peppers, zucchini, onions, and tomatoes (15 g)
2 Tbsp. tomato powder (20 g)
2 cups water to rehydrate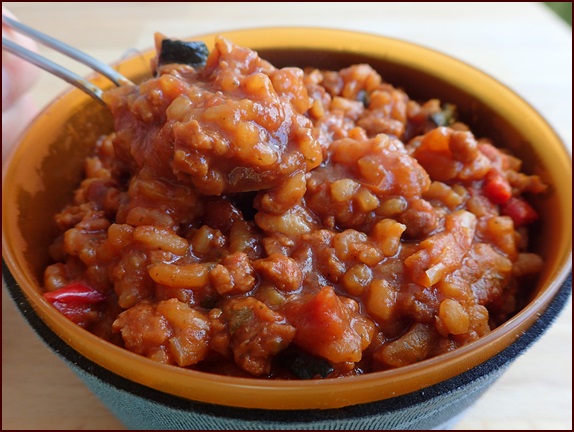 Photo: Rehydrated Beyond Burger Unstuffed Peppers.

On the Trail:
Combine ingredients with water and bring to a boil for one minute. Transfer pot to an insulating pot cozy and wait about fifteen minutes before serving. This meal also rehydrates well in a thermos food jar.

Taco-Seasoned Beyond Burger Tortillas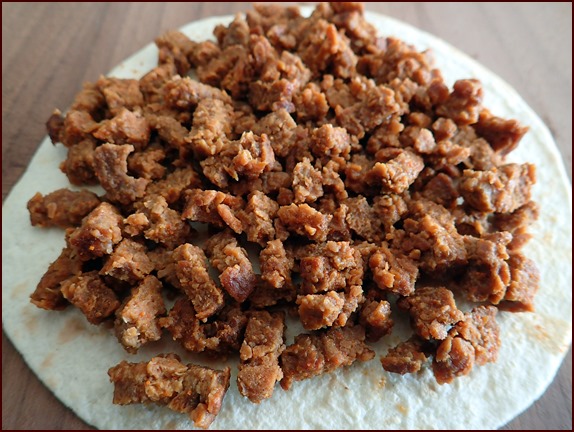 Servings: 1

Ingredients:

½ cup dried taco-seasoned Beyond Burger (33 g)
1 or 2 tortillas
¼ cup water to rehydrate
On the Trail:
Bring water to a boil and add dried Beyond Burger crumbles. Turn off stove as rehydration is very fast. Roll up or fold rehydrated crumbles into one or two tortillas. Texture is excellent. If you want to include additional dried vegetables, beans, or rice, rehydrate them before you add the burger crumbles because dried vegetables will take longer to rehydrate.

Beyond Burger Chili
You'll find it hard to distinguish the taste and texture of this plant based hiking food from real beef chili.

Servings: 4

Ingredients:

4 Beyond Burgers, approximately one pound (452 g)
1 large onion, diced (100 g)
2-3 cloves garlic, minced (5 g)
1 cup frozen or canned corn (150 g), optional
1 can red kidney beans, rinsed (400 g)
1 can diced tomatoes (400 g)
3 Tbsp. tomato paste
3 Tbsp. chili mix powder
½ tsp. salt to taste
Optional: 1 Tbsp. brewed coffee, few shakes of Worcestershire sauce to taste, hot peppers to taste, pinch of pepper flakes, etc.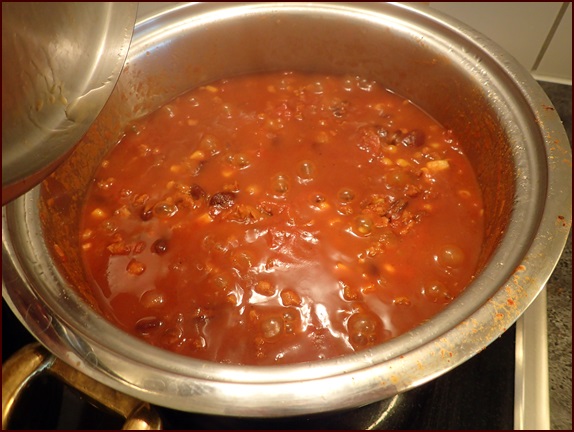 Photo: Beyond Burger Chili cooking on the stove.

Prepare the Chili:

Cook the Beyond Burgers as previously described, two at a time. Pour off the grease, press between paper towels, crumble the burgers, and set aside.

Sautee onions and garlic using a minimal amount of cooking oil.

Add cooked burger crumbles to pan and stir in chili mix powder to combine.

Rinse beans and corn and add to pan with the rest of the ingredients.

Cook over medium-high heat until bubbling, then simmer on low for about twenty minutes. Season with salt to taste.

Let the chili cool before dehydrating it. If you have time, refrigerate the chili overnight to let the flavors meld.

Photo: One serving of chili on Excalibur dehydrator tray.

Dehydration:
Spread chili on dehydrator trays covered with nonstick sheets. Dehydrate at 145°F (63°C) for approximately eight hours, or until no moisture remains.

Tip: Divide the chili into four equal parts, approximately 1⅓ cups each, and place those portions on four dehydrator trays. This will make it easy to package four 1-cup (dry) servings.

Yield: This recipe yields approximately 5¼ cups wet, and reduces down to 4 cups dried. Approximate dried weight is 325 grams.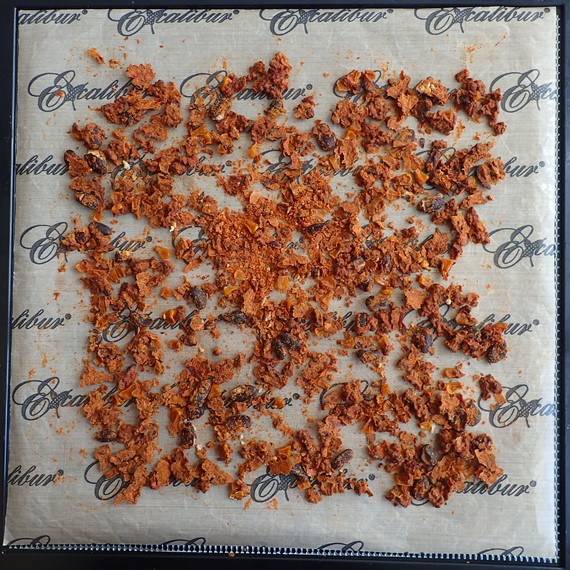 Photo: One serving of chili after dehydrating.

On the Trail:
Combine one cup of dried chili with 1⅓ cups water. Bring to a boil for one minute, then transfer pot to an insulated pot cozy for fifteen minutes. This meal also rehydrates well in a thermos food jar.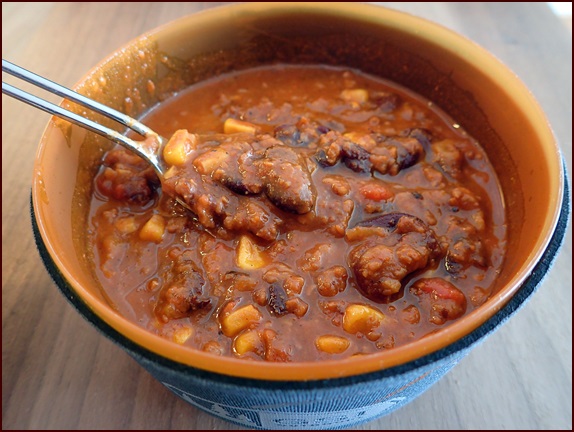 Photo: A serving of Beyond Burger Chili rehydrated.

Explore more…

Vegetarian Backpacking Recipes

Dehydrated Tofu Recipes
Textured Vegetable Protein (TVP) Recipes

If you have questions or would like to add comments about plant based hiking food, please contact Chef Glenn.

Share this page with friends on social media.