Hello,



If I learned anything at the knee of my mother when she was cooking supper, it may have been how to make lasagna, or spaghetti sauce with Italian sausage and meatballs, recipes she acquired in the mostly-Italian neighborhood in Belleville, NJ where I was born. My sister and I watched and waited, like hopeful little puppies, for a noodle or two to be handed out.

Nowhere along the way did anyone give me a lesson in Thai cuisine. When I set out to make Thai green curry this month, I had to consult Google, the digital neighbor who knows everything.
First off, I discovered that authentic Thai green curry calls for kaffir lime leaves and Thai basil, ingredients not sold in my area. A few of the ingredients that go into homemade curry paste were also missing here in Pfäffikon. But, I did find a few jars of pre-made Thai green curry paste and a bottle of fish sauce.
Fish sauce… open the lid, take a sniff, and ask yourself—how in the world is this going to make anything taste better? Nevertheless, it showed up in several of the recipes I looked at. It's one of those umami things, a transforming ingredient alchemists put in savory sauces.
Maybe I looked at too many recipes. Maybe Google played a joke on me. Perhaps there has been a decline in my math skills. Whatever the reason, I put too much fish sauce in the first batch of Thai green curry paste bark—like five times more than was needed.
If you think dehydrating onions or tuna creates a stink in your house, try fish sauce. The drying dregs of fermented anchovies and salt will have you running for the woods and changing your curtains when you get home. Now I approach fish sauce with trepidation, and in my Thai green curry recipe adapted for backpackers, I list it as an optional ingredient to use sparingly. Think Brylcreem hair cream, "A little dab'll do ya."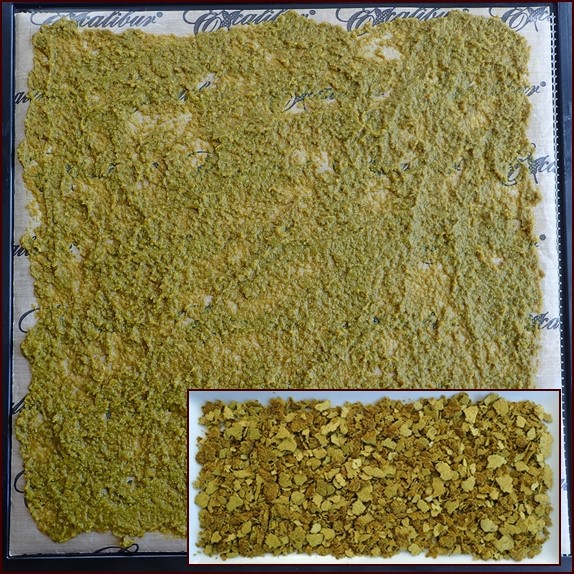 I used the Thai Kitchen brand of Thai green curry paste as the main flavor-driver in the recipe. You'll find Thai green curry paste in the Asian foods section of most grocery stores. Spread the paste directly from the jar onto dehydrator trays, or enhance the paste before drying it by stirring in grated ginger root, garlic, a little fish sauce or soy sauce, or a few drops of sriracha sauce.
When the bark is dry, it crumbles easily by hand. It rehydrates quickly into a spicy green-chili sauce which is delightfully creamy and balanced when coconut milk powder is added to the meal.
The complete meal includes dehydrated jasmine rice, Thai green curry bark, ground chicken, mixed vegetables, and coconut milk powder. I also dried tofu to make a vegan version of the recipe.
Normally, you rinse the starch off of jasmine rice before cooking it. I left the starch on to act as a sauce thickener in the meal. You can substitute other long-grain rice varieties with perfectly fine results.
Continuing the Thai curry adventure, I also made Thai Red Curry and Thai Red Curry-Coconut Soup.
You'll find the new recipes and dehydrating instructions on these updated website pages:
Dominique and I have been discussing what big project to tackle next. A Vegetarian Recipes for Adventure Cookbook is one of the possibilities. What do you think? Would you be interested in a recipe book featuring meatless backpacking meals? Your thoughts are always welcome.
Next month I'll round up something to dehydrate in my Georgia kitchen. See y'all in October.
Freundliche Grüsse,

Chef Glenn & Dominique
P.S. Please reply to this email with any questions or comments, or use this contact form.

If you received this newsletter from a friend and would like to subscribe (it's free), subscribe here.
Visit my BackpackingChef Facebook page for the lastest posts. Be sure to "follow" the page to continue seeing posts.